Sunday, 30 April, 2006, 00:00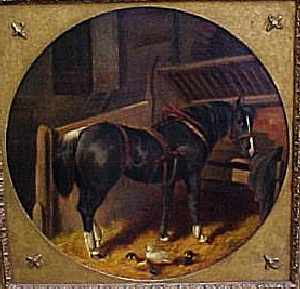 Watch this item
The seller, milesinnj, THE GARDEN STATE, United States:
Oil on canvas signed J.F.Herring.was purchased at an estate sale said to be out of a Nashville Tenn. Estate.
artfakes.dk:
Hundreds of the same falsifications are known.
Take a look at another one
---
Saturday, 29 April, 2006, 11:36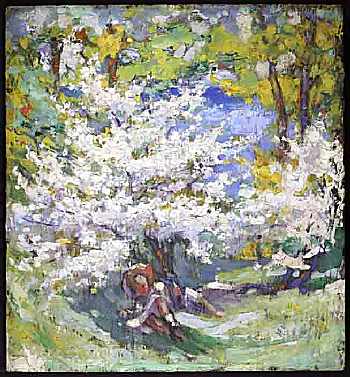 Watch this item
The seller, x2cc, Leeds, United Kingdom. Positive Feedback: 100%:
VLAMINCK (Maurice de) SPRINGTIME, oil on panel probably depicting a young lady under an apple tree in full blossom in the spring.
Early work prior to 1905, undiscovered until now.
Buy it now price: GBP 2,950,000.00 Approximately US $5,374,900.00
artfakes.dk:
Maurice de Vlaminck has never painted in this style.
Never!
Take a look at genuine works by Vlaminck
---
Friday, 28 April, 2006, 00:00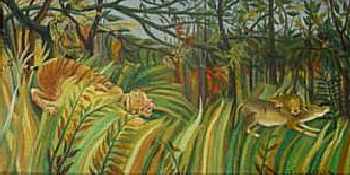 Watch this item
artfakes.dk:
webewin continue selling fakes.
"FRENCH EARLY MODERN OIL. Jungle Scene with Wild Animals
10 x 19 Inches with 4 inch Frame
Signed
Please contact us if you have any questions.
See My Other Auctions
All sales Final"
All paintings offered by webewinn, Mount Clemens, Michigan the United States and lady-frisko, Michigan the United States, one and the same person, are FAKES. They are signed Picasso, Léger, Modigliani, Foujita, Chagall, Rousseau, Picabia, Le Corbusier, Klimt, Magritte, Laurencin, Utrillo, Dali, Paul Fischer and others.
But ALL of them are FAKES.
Curiously enough the seller never mentions the artist's name; she just shows the signature in order to dupe an innocent buyer.
---
Thursday, 27 April, 2006, 00:00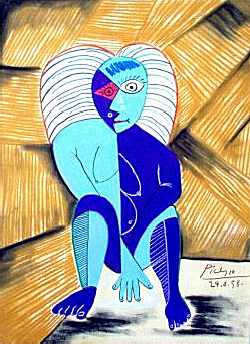 Watch this item
The seller, formathuck, Sheridan, AR, United States:
A Pablo Picasso pastel drawing, this is a great example of Picasso's love of colors. It is titled "La Mono" and I have seen this subject in many of his works, it is said that he love the disguise to make people unrecongnizable in many ways including himself or the use of masks, in such a manner which is what created his abstract work. It came from a private collection of the family that has been past down since original purchase. The work was purchased in Spain in the early 60's . It comes with Provenance from Spain, Size is 20" x 26 1/2 inches. It is from La Malaga da Picasso Galerie of Spain. It is matted and framed. If you have any questions feel free to ask.
artfakes.dk:
Perhaps the pastel comes from a private family but it dosn't com from Picasso's own hand.
10,077 genuine works by Picasso catalogued
---
Wednesday, 26 April, 2006, 19:51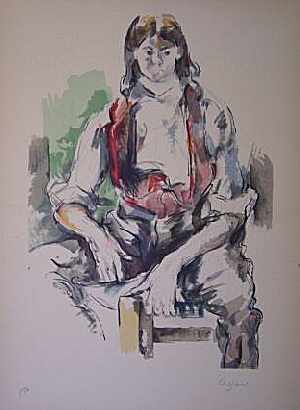 Watch this item
The seller, greasygrass49, Ashby, Massachusetts, United States:
Paul Cezanne lithograph pencil signed artist's proof
I believe it to be ca. 1895...could be a bit later
Penciled "ap" (artist's proof) in bottom left corner
Pencil signature in bottom right corner
Done on cream woven paper...no tears or folds
Slight discoloration on edges of paper
Image size is 9 1/4 in. X 13 1/2 in.
Paper size is 11 3/4 in. X 17 in.
artfakes.dk:
It doesn't look like a genuine work by Paul Cézanne
---
Back
Next