Sunday, 28 September, 2008, 01:28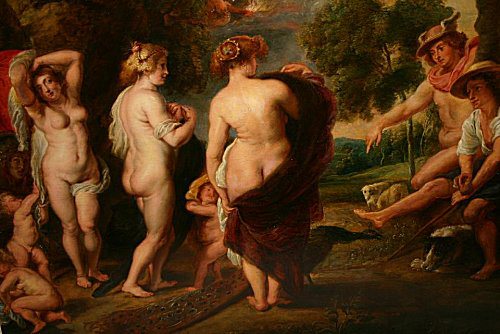 Watch this item
Starting bid: US $20,000,000.00
Item number: 250298603041
End time: Oct-02-08 07:55:47 PDT
Seller: overstockdealers. Member: since Nov-01-02 in United States. Item location: Henderson,NV, United States. Feedback: 99.3 % Positive.
Sir Peter Paul Rubens ''Judgement Of Paris'' Original
Oil on oak cabinet size Authenticated by Hofstede
Christie's and Sotheby's are draging their feet. The person who owns this is getting up there in age and needs to sell it so it's not left to his Inheritance. As I'm sure you all know this is a wonderful piece to add to anyones collection.
Artfakes.dk:
It is hard to believe that Hofstade has authenticated this painting.
The figures are poorly painted and far away from Rubens' style.
In our opinion this is NOT painted by Rubens. We think it's a copy painted by an unknown artist.
Take a look at the genuine Rubens from The National Gallery in London
---
Sunday, 21 September, 2008, 23:00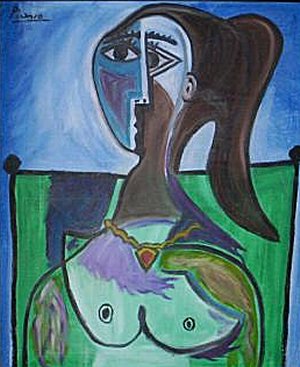 Watch this item
End time: Sep-23-08 10:10:52 PDT
Item number: 320299071933
Current bid: US $65,200.00 (September 21)
Seller: arturo740. Member: since Mar-30-05 in United States. Item location: Miami, FL, United States:
Pablo Picasso's Tete de Femme (Original Oil Canvas)
Description:
Pablo Picasso's Tete de Femme, Bust of a Seated Women, is being sold to art lovers or collectors.
The painting is an original oil on canvas and is currently framed by solid wood. Picasso's signature appears on the top left side of the painting. On the reverse side of the painting it is date 05/05/67.
History:
The work belonged to an elderly gentlemen (who was the first owner), who lived in the French Rivera during the 1960's - 1970's. During this time he acquired his art collection from various artists. He bought the painting from a provincial house sales in Cannes in the 1970's.
The current owner will supply a letter of provenance, a transfer of ownership, (from all previous owners) a Certificat of Assessment of Style & Value and a print transparency for art specialists. It is therefore being sold after Picasso and it is not authenticated.
I do not take the responsibility to assert the authenticity of this painting. This is an excellent piece of art that has not been authenticated since Picasso's death.
Thank you and good luck on your bidding.
Artfakes.dk:
The seller is a FAKE SELLER.
The seller: "Appraise for 2,500.000.00"
He/she is crazy. This painting is worth $50,00.
---
Sunday, 21 September, 2008, 22:31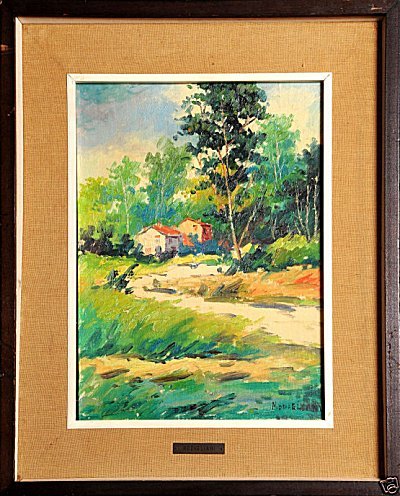 Watch this item
Item number: 300260325543
End time: Sep-30-08 11:59:53 PDT
Buy It Now Price: US $5,000,000.00
Seller: waterfront_express. Member: since Sep-29-04 in Italy. Item location: Milano, Italy. Feedback: 100 % Positive:
Modigliani
LANDSCAPE, oil on canvas,signed MODIGLIANI.
Not yet expertisedArtfakes.dk: Of course NOT. NO art expert at any place in the world will say: This is a genuine work of art by Modigliani.

Read seller's sience fiction description:
"Looking for a possible author, nobody listed jump out, but Amedeo Modigliani [Livorno (IT) 1884 - Paris (FR) 1920].
Amazing painter known for his nudes and long-neck portraits and his bohemian life.
Besides, the painting is different from usual themes of Amedeo Modigliani's works and the signature is different from usual too.
So a such probable attribution was clearly simply ignored untill now.
Last year, during my indipendent studies on my little collection from Impressionism and Expressionism era, I payed my attention on this painting and started to make my research and found very interesting connections.
However the painting offered here it's a landscape and this'd make it one of the RAREST work by Modigliani about subject if it was by him.
Another strangeness is the signature. Usually we can see Amedeo's signatures in cursive, this one instead is in block capital letters. This fact was the worst aspect for my research: the signature of course does not match with his well known one! After a while, unforeseenly, I have made an amazing discovery that strengthened my beginner theory: the same kind of signature could be seen at least in 2 paintings (see last photos, 8th and 9th, at the bottom of this page): "Bride and Groom", oil on canvas 1915, MoMA NYC (Frederic Clay Bartlett donation) and "Portrait of Leon Indenbaum", oil on canvas 1915, Henry Pearlman prop., NYC".
Buy It Now Price: US $5,000,000.00
Artfakes.dk:
Selling this amateur painting being an original oilpainting by Modigliani is a criminal action.
---
Thursday, 11 September, 2008, 22:43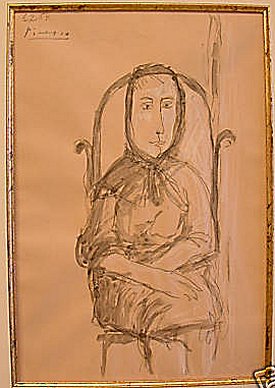 Watch this item
Item number: 270274250220
Seller: bigloo1. Member: since Feb-04-99 in United States. Item location: Naples, FL, United States. Feedback: 93.8 % Positive.
Buy It No Price: US $35,000.00
Picasso - "Jacqueline" - Original 1954
1954 Original Picasso charcoal and ink wash drawing on paper, measures 45cm X 31 cm.(17 1/2" x 12") Professionally framed. Preferred payment by wire transfer within seven (7) days of auction end. Personal checks or bank cashiers checks must clear our bank prior to our shipping the artwork. We will pay shipping and handling costs. This piece was conditionally appraised by a major New England auction house over five years ago for a much higher amount than that being offered in this listing. Interested parties should contact us directly for additional authenticating information.
Artfakes.dk:
The seller: "...appraised by a major New England auction house over five years ago for a much higher amount than that being offered in this listing".
Which major auction house? And how much higher?
Is this "beautiful" drawing an original work of art by Pablo Picasso I am the coming president of America.
---
Monday, 8 September, 2008, 01:43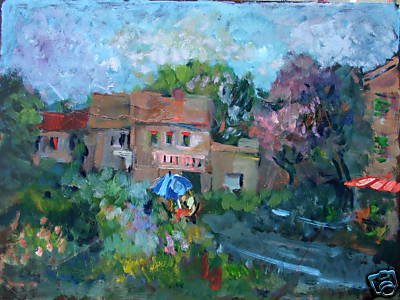 You can not watch this item - the seller's account is closed
Item number 250289599283 (you can not open it)
Starting bid: 01.09.08 15:29:34
End time: 11.09.08 15:29:34
Buy It Now Price:
EUR 385.000,00
(before the seller's account was closed)
Seller: rasgeda. Member: since 28.05.05 in Austria. Feedback 100 % Positive. The item in Eferding, Austria:
Renoir Pierre-Auguste 1841-1919 Echtheits-Garantie
Cagnes-sur-Mer.Renoir als Expressionist,Spähtwerk.
Öl-Dünner weißer- Karton-Schwarz-Grundierung-auf Leinwand aufgezogen.Das expressive Werk Renoirs,entstanden nach 1908 in Cagnes-sur-Mer , ist warscheinlich Beutegut ,deutscher Besatzer (zweiter Weltkrieg) aus Frankreich.Der Zustand, in dem das Werk war, wird an Hand von Fotos nachgewisen.Bei der Restaurierung,wurde darauf geachtet,sowenig wie möglich zu übermalen,in etwa 3%.Das werk hat die Grösse 59x80 cm ungerahmt. Der alte Rahmen kann mitgeliefert werden,ist jetzt allerdings ohne Stuckarbeit und weiß gestrichen.Durch die feuchte Lagerung war der Stuck leicht zu entfernen.Links unten Reste der Signierung.Bilder zum Vergleich. 2006 Fine Arts Museums of San Francisco.Die beiden expressionistische Figuren sind Innhalt des Renoirs in San Francisco,wenn man die beiden Dargestellten ansieht,kommt man nie auf renoir.
Pierre-Auguste Renoir, artist
French, 1841 - 1919
Landscape at Beaulieu, circa 1893
oil on canvas
25 5/8 x 31 7/8 (65.1 x 81 cm)
Artfakes.dk:
This painting is a great FAKE, NOT painted by Pierre-Auguste Renoir.
The sale has stopped several days before deadline and the seller's account on eBay is closed.
---
Next