Monday, 1 September, 2008, 23:54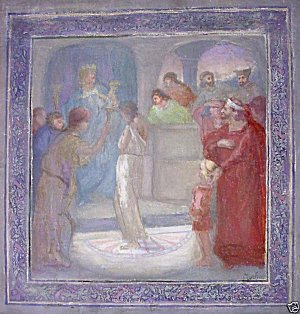 Watch this item
Item number: 230285614258
End time: Sep-06-08 12:33:47 PDT
Seller: reuven8. Bayside, New York, United States. Member: since Jun-13-99 in United States. Feedback: 100 % Positive.:
A very interesting oil on canvas ,I had two of them, one has already sold on E-bay.The painting is by Alphonse Maria Mucha 1860 - 1939 signed lower right Mucha ...the image size is 18" x 18"....45 3/4 x 45 3/4 cm ..it also has a three inch painted border, with its unusual period frame, and probably original to the painting size is 23 1/2" x 23 1/2". condition is good, some minor touchups It has been relined on to what looks like burlap, way back, and has been cleaned. Its signed lower right Mucha, and doesn't flouress... Mucha is very famous , and is known for his Art Nouveau design, figure, and portraits of beautiful woman.
Artfakes.dk:
Alphonse Mucha did NOT paint like this painting.
Just one more falsification from this seller and from eBay - the world's leading place for FAKES.
---
Sunday, 31 August, 2008, 21:11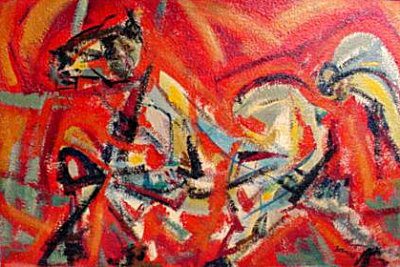 Watch this item
Starting bid: US $750.00
Seller: reuven8. Member: since Jun-13-99 in United States. Item location: Bayside, New York, United States. Feedback: 100 % Positive
AMERICAN/DANISH ABSTRACT OIL SIGNED JORN 46
COBRA INTERNATIONAL EXPRESSIONISM
A very large and colorful mixed media (oil & sand) fine quality abstract painting of a galloping horse. Its painted on an old masonite board..Its signed lower right Jorn 46. Its size is 24" x 36"....61 x 91 1/2 cm.. With its original period frame...25 3/4" x 37 3/4" Its condition is good, no flakeing, cracking, or holes...It also has an old Park Bernet Galleries Inc. label on the back, which was Sotheby's at that time... it probably was in an old sale...I called them, but their records do not go back that far. I've ascribed this interesting painting to the Danish / American artist Asger Oluf Jorgensen, known as Asger Jorn. I'm selling as is, as found in an old estate sale in Jamaica Estates Queens. I've priced it very low accordingly, no reserve... The artist was born in 1914, in Vejrum, Struer Jutland, Demark, and died May 1, 1973, in Arhus....I put him down as Danish, American, because Ask Art .com says he lived and was active in New York, and that he was a painter and a writer.... His auction prices are most impressive. mostly sold in Copenhagen.Asger Jorn worked in Paris for most of his career. He was skilled in a variety of mediums including painting, sculpting, printmaking, ceramics, design, and writing. In 1948, he was a co-founder of the Cobra Group. Colorful abstraction and harsh brushstrokes were characteristic features of his work, such as in this painting.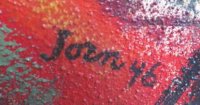 Artfakes.dk:
The painting is a FAKE and the signature is of course not made by Jorn himself. It takes UNDER ONE second to see that.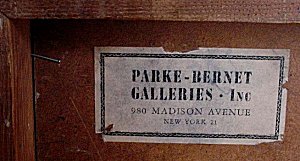 Artfakes.dk:
Anybody can put such a label on the back of a painting. This painting has never been sold at Parke Bernet. NEVER. The famous Danish Cobra artist does NOT paint in this style.
And the seller can NOT attribute the painting to Asger Jorn. Only art experts can do that.
Read more about attributed to
---
Thursday, 28 August, 2008, 10:50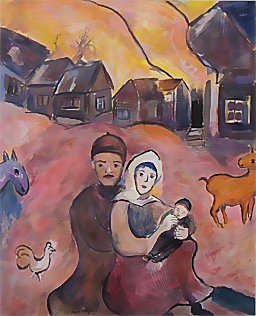 Watch this item
Ended: Aug-27-08 15:09:52 PDT. Buy It Now Price: US $7,900.00.
NOT SOLD (of course NOT)Seller: mirmar!1. Member: since Jun-13-07 in United States. Feedback: 100 % Positive. Item location: Short Hills, New Jersey, United States:
270268842108: Marc Chagall Gouache Painting, Untitled (~1940-1945)Provenance & Documentation:
1946-1968 Acquired from the artist by Stéphane Marceau Nice, France;
1968-1990 Private collection of Georgy V. Adamovich St. Petersburg, Russia;
1990 - ... Private collection of Patrick Kaminski Northbrook, IL, United States.
Sale/Purchase agreement between Stéphane Marceau and Georgy V. Adamovich;
Sale/Purchase agreement between Georgy V. Adamovich and Patrick Kaminski;
Examination letter from Arthur B. Fritz.
COA (Certificate of Authenticity) form Arthur B. Fritz;
The seller's looooooong story selling a FAKE:
Here is your chance to own a piece of fine art:
This is an auction for a scarce Marc Chagall gouache and watercolor painting. Measures measures 19 1/2" x 24" (49,5 x 61 cm), relined. Signed 'Marc Chagall' in the bottom centre margin. Unframed and clean edges. No tears or folds of any kind. There is some foxing and fading caused over a long course of time. Overall condition is good. This is a true collectors choice!
This item is guaranteed as not being a reproduction (pre-printed) in any way. Item comes with a COA and all known provenance is documented. Authenticity of this item has been confirmed by German art expert and historian, Arthur B. Fritz, whose expertise is sought by many galleries and private collectors worldwide. It's his opinion that this artwork is genuine.
IMPORTANT: To qualify for bidding on this auction, you must meet all of the following conditions:
1. We will only be taking bids from buyers with more than 99% positive feedback rating because of the high value of this particular piece;
2. We don't accept bids from members who have zero or negative feedback score (0, -1, -2, -3 etc);
3. We don't accept bids from members who are located in one of the high-risk countries. If your country is listed in the following list, you don't qualify for bidding:
Bosnia, Bulgaria, Croatia, Egypt, Indonesia, Iran, Iraq, Israel, Lebanon, Lithuania, Malaysia, Nigeria, Pakistan, Romania, Russia, Serbia, Ukraine, Yugoslavia;
4. We also expect everybody who visits and uses our auction to abide by the rules set out by eBay.
Artfakes.dk:
And read these wonderful words from the seller:
"All bidders who do not abide by these rules will be reported to eBay and blocked from participating in any future auctions!"
The seller certainly is a marvellous seller.
And he/she finishes: "Welcome to my eBay Store. Please add me to your list of favorite sellers and visit often. Thank you for your business".
How funny! Really a GREAT eBay seller.
---
Thursday, 21 August, 2008, 22:56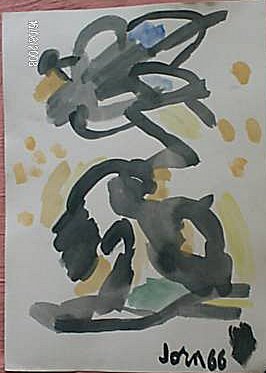 Watch this item
Starting bid: US $99.99 (The painting was NOT sold)
Ended: Aug-21-08 11:55:42 PDT
Seller: upforauction456. Member: since Dec-02-06 in Belgium. Item location: Beernem, Belgium. Feedback: 100 % Positive:
An aquarel sold as attributed to or as is by Asger Jorn, aquarel on white paper, 1966 signed, bought on an antique market in Bruges, Belgium, with provenance papers included of previous ownership.
Artfakes.dk:
A signed work of art is either true or false, it can not be "attributed to" or "as is".
This watercolour has NOTHING to do with the famous Danish Cobra artist Asger Jorn.
Read more about Attributed to
---
Monday, 18 August, 2008, 00:28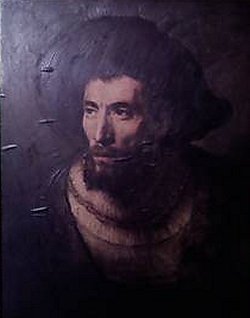 Watch this item
Item number: 260275494152
End time: Aug-20-08 12:56:05 PDT
Seller: 219rcostino. Member: since Dec-01-07 in United States. Item location: Valparaiso, IN, United States. Feedback: 100 % Positive:
You are bidding on what seems to be the original Rembrandt painting of "The Philosopher." The tag on the back dates this painting c. 1650 with an oil medium.
The painting is in beautiful shape with some bubbling on the front. It comes with a beautiful wooden frame.
You can see the brush strokes on the painting itself.
This has not been appraised by any means and I am letting the bidders determine the price of this painting.
Artfakes.dk:
You are NOT bidding on what seems to be an original Rembrandt.
You are bidding on a very poor amateur painting which has nothing to do with Rembrandt.
---
Back
Next