Monday, 31 October, 2005, 13:44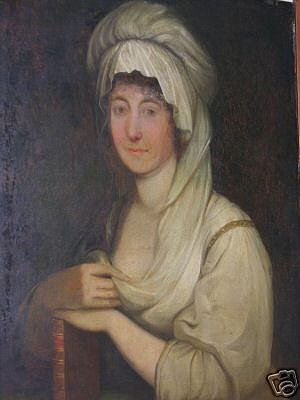 Watch this item
The seller:
Description:You are about to bid on a masterpiece by George Romney of Lady Mary Montague.This painting is rare and important.
artfakes.dk:
This painting is not an important masterpiece. The seller is a liar.
Take a look at original paintings by Romney
---
Sunday, 30 October, 2005, 17:25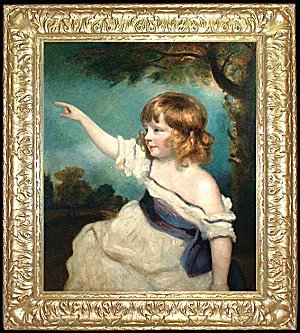 Watch this item
The seller:
Sir Joshua Reynolds, oil on canvas, portrait of a young girl, canvas verso inscribed "Spilman" stretcher annotated with French manufacturer's stamp and dated 1912.
artfakes.dk:
The British portrait painter Joshua Reynolds (1723 – 92) did not paint this picture.
Spilman inscribed on the back of the painting could be the artist's name, the American portrait painter Lucretia Spilman from the 19th century. Spilman is not the most famous artist in the world, and we, artfakes.dk, don't know so much about her.
But could be her.
---
Saturday, 29 October, 2005, 01:00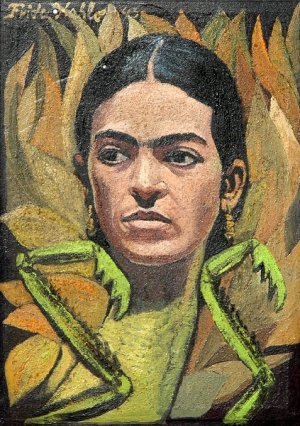 Watch this item
The seller:
Original oil painting on a cardboard photo frame by the immortal Mexican icon, Frida Kahlo. Her insatiable need for expression drove her to choose very creative canvases such as this case, where she found an old photo frame from 1914 and used it to portray herself on it. The board has a few pinholes in it from age but otherwise the piece is in impeccable condition. In this version, she shows herself as a cockroach (Cucaracha Ranchera) with long green legs in front of a fiery garden. The work is signed and dated 1943 on the top left corner. Despite her naïve style, Frida would sometimes achieve a somewhat academic look in her paintings. Diego Rivera once said: "Si te fijas bien, Frida se parecia a sus fotos." (If you look closely, Frida would always look like her pictures). This is one of those works where she strived for perfection in color and shadows. COA by Ruth Alvarado Rivera.
artfakes.dk:
Kahlo does NOT paint in this style. It's a picture painted "some weeks ago".
It's a FAKE.
NOT a bad painting but NOT painted by Frida Kahlo.
---
Friday, 28 October, 2005, 23:37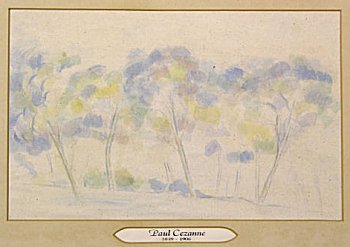 Watch this item
The seller:
Whilst the painting itself is unsigned, the mount bears an inscription 'Paul Cezanne 1839 - 1906'.
artfakes.dk:
Yes, it's very difficult to make a nameplate like this.
The seller:
I don't think that we have to say more, this artwork speaks for itself.
artfakes.dk:
Yes, the seller is right: this artwork speaks for itself.
All art experts can see that this painting has nothing to do with Paul Cézanne.
---
Thursday, 27 October, 2005, 23:56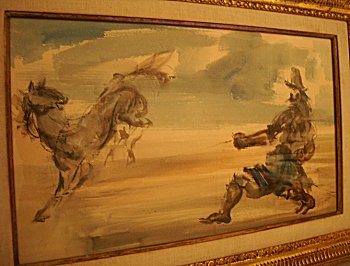 Watch this item
The seller:
This stunning painting has been on display in the main saloon of a luxury Yacht.
In order to make space for a new purchase one of the paintings by Picasso in the main saloon is now offered for sale. To avoid the expensive sellers and buyers premiums now charged by the major auction houses the drawing will initially be offered on Ebay, starting on the 27th October and finishing on the 3rd November 2005.
artfakes.dk:
The yacht is an original boat
but the picture is not an original Picasso
---
Back
Next