Thursday, 8 December, 2005, 01:36
Watch this item
The seller, guada07, BOCA RATON FL, United States:
THIS FANTASTIC PAINTING (GOUACHE ON RICE PAPER) IS SIGNED "DIEGO RIVERA" REPRESENTS: "GIRL" VERY NICE COLORS. VERY GOOD CONDITION - UNFRAMED. UNFORTUNATELY I DON'T HAVE A CERTIFICATE . THIS PIECE WAS PART OF A LATIN AMERICAN ART COLLECTION IN PALM BEACH. BUT I CAN GUARANTEE THE PIECE IS OLD AND HAND MADE. I WAS SOLD 2 PIECES OF THE SAME COLLECTION AND I HAVE 4 MORE PIECES FOR SALE. LOOK THE QUALITY OF THIS WORK OF ART. MEASURES: 25" X 15"
artfakes.dk:
The seller guarantees that the painting is old and handmade.
We guarantee that the painting is an original falsification.
---
Wednesday, 7 December, 2005, 00:00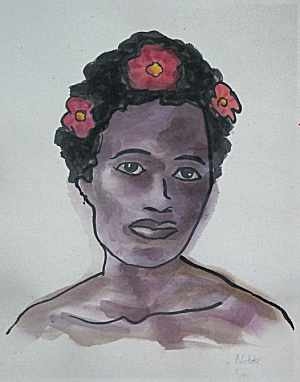 The sale has ended
Winning bid: US $400.00 (Reserve met)
The seller, rarefinearts , Hampshire UK, United Kingdom:
Original Watercolour Painting, Signed Nolde.
Here we have an original work in watercolour and indian ink on paper.
The drawing is signed in pencil to the lower right: 'Nolde'
The subject is of course a lovely portrait of a female with flowers in her hair. This may well date back to Emil Nolde's well-documented expedition to the South Seas in 1913 - 14.
artfakes.dk:
Take a look at original art works by Emil Nolde
---
Tuesday, 6 December, 2005, 00:00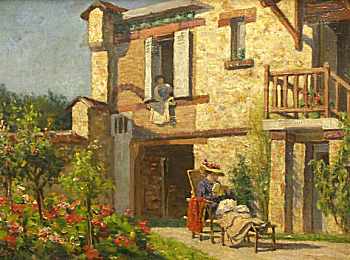 Watch this item
The seller:
BERTHE MORISOT (b1841-d1895) FRENCH - LISTED - ATTRIBUTED w/a Low Reserve. "IN MY GARDEN". PROVENANCE: From The Estate Of A European Collector. OIL on CANVAS: 10.75" X 13.75".
Read about attributed
artfakes.dk:
Take a look at genuine paintings by Morisot at The National Gallery, Washington DC
---
Monday, 5 December, 2005, 00:00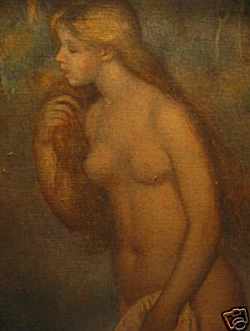 Watch this item
The seller, dvsonemiami, Sunrise, Florida, United States:
Renoir's Woman Bathing , Painting Oil on Canvas is in excellent condition - 81x60 cm - no signature. Part of estate sale in the late 1990's - offers of $5,600 were made earlier this year. Asking price 6,000. Various Antique items are; Pepper Mill Musical Boar'shead, Watercolors of Paris by Arno (set of 3 ).
artfakes.dk:
For the second time within a few days a Renoir falsification is offered for sale at eBay.
Take a look at the other one
according to the seller sold for $20,000,000.00.
---
Sunday, 4 December, 2005, 00:00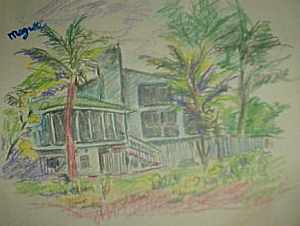 Watch this item
The seller, expaintings, Cornwall, NewYork, United States:
RENE MAGRITTE DRAWING BELGIUM ARTIST
Looks like pencil crayon type drawing please see images, on hard paper? I will stand behind this to be a real drawing and not a print!. Size 9in.x 12 in.good condition good luck. I dont know this artist? So you be the judge no reserve.
artfakes.dk:
You are an art swindler! Off course you know Magritte. It is a lie trying to make somebody believe that you don't.
---
Back
Next