Monday, 28 November, 2005, 00:00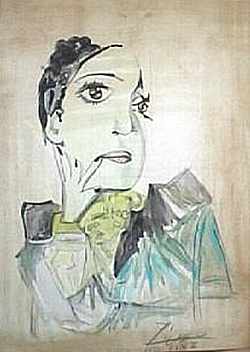 Watch this item
The seller, ratzingerpabst, ebay.uk, Germany:
I have buy this Drawing and a Certificate of Authenticity was enclosed. The Seller has guaranteed, that this Drawing is an original through the Signature and Date.
artfakes.dk:
Make the seller pay back your ten-dollar bill, cause: This is no work of art by Pablo Picasso – far from we'd say.
---
Sunday, 27 November, 2005, 00:00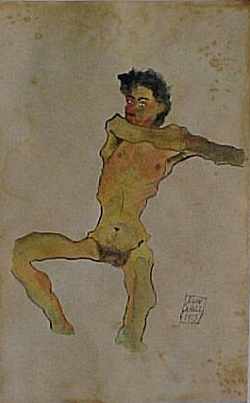 Watch this item
The seller: jgo76, United States, Positive Feedback: 100%, Member since Feb-15-04 in United States:
EGON SCHIELE: 1880 -1918 --- This dramatic nude male figure study is executed in the style of the artist in black ink, pencil, and watercolor paint on medium-weight paper, and measures aprox 11 inches by 7 inches. The work is in good and stable condition; the paper shows expected signs of aging and has aquired a soft patina as visable in the photos, likely due to a previous acidic backing or improper storage.
The artwork is signed in a manner consistent with the artist and is dated 1915. This drawing is being sold unframed. Serious bidders may request additional photographs of the drawing if necessary. Please ask any and all questions before bidding. The winning bidder will pay shipping costs.
artfakes.dk:
This Egon Schiele falsification is of much higher "quality" than are the falsifications coming from Mr. Eric I. Spoutz
---
Saturday, 26 November, 2005, 01:04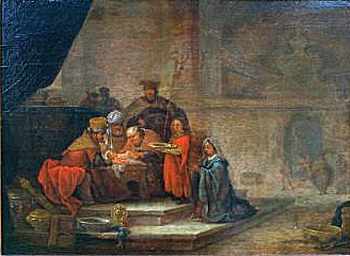 Watch this item
The FAKE-seller, total_fatal, Ostfildern, Germany:
17th century Rembrandt, superb quality, no reserveOriginal 17th century masterpiece of high quality. Oil on panel (fugue), size ca. 15x20 in (37x50 cm), frame size ca. 20x24 in (50x62 cm). Reverse an old attribution to Rembrandt. Blacklight shows retoching in the area of the curtain top left. The painting has previously been varnished. Along the edges small spots of missing paint due to framing. Good condition. Beautiful frame but not original to the painting.
Authenticity is guaranteed
artfakes.dk:
One more unscrupulous art swindler selling at eBay.
Read about attributed
---
Friday, 25 November, 2005, 00:00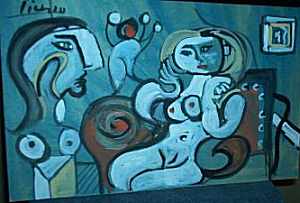 Watch this item
The seller, gerant39, Sainte-Sophie, QC, Canada:
original gouache painting on carton signed picasso Pablo Picasso [Spanish Cubist Painter and Sculptor, 1881-1973] 13 1/2inc by 8 3/8inc.
artfakes.dk:
Picasso is the most imitated painter in the world, often exposed to fraud. (Sometimes you'll even see the letter J, for his father José, altered to P for Pablo). As much as 99% of the Picasso-signed paintings and drawings, there are on the market to day, are not done by Pablo Ruiz Picasso. So to see the difference you'll have to be an expert.
---
Thursday, 24 November, 2005, 00:00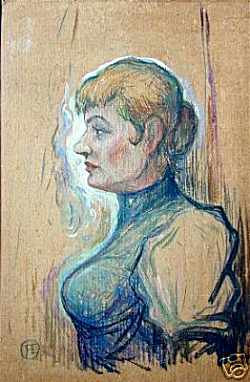 Watch this item
The seller:
I firmly believe that this piece is genuine. Everything feels right about this painting. The monogram feels part of the painting and under black light, it does not appear to be something added to the painting. It is also very clearly an old piece - the cardboard looks worn of the edges etc.. Importantly it also seems to have auctions references on the back with the numbers 46 and 1051.
Now let me tell you something about the story of this painting. It has been in the same Swiss family since the end of world war II. At the death of the father of this family, the widow has decided to sale quite a few pieces of art and has mandated an art dealer to sell it - he has sold a number of pieces this family owned over the years. I bought it at a price of $35,500 at the end of last year. Details of this dealer will be provided to the highest bidder.
Reserve: I will start this auction at £1- with no reserve but be realistic I won't let it go at an "unrealistically low price". If you want to buy it direct from me, I am opened to offers.
artfakes.dk:
The seller doesn't know, he says, whether we have a genuine Toulouse-Lautrec here, but he claims to have bought it for 35.000 dollars a year ago. Now the seller wants to sell it without a minimum prize (no reserve) and he starts with one pound only! After the first six bids the prize has raised to 22 British pounds. This painting is not a work of art by Toulouse-Lautrec, even if it can suggest the opposite, we admit. And the seller is dead sure aware of the fact, we believe, that what we are presented for here is a forgery.
---
Back
Next