Tuesday, 22 November, 2005, 00:00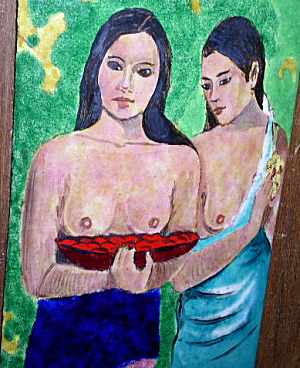 Watch this item
The seller, i-doitall, San Diego, United States:
for auction is a neat colorful enamel picture done on a copper plate by Gauguin. mounted on a solid piece of teak wood. the enamel picture features two semi nude woman one with a bowl of fruit the other with flowers. the colors are bright and bold, blues, greens, red and yellow, even the flesh tone is realistic. expressive eyes with long black hair. the measurement are 5 1/2" by 3 3/4" and the frame is 9" by 7 1/2". the condition is good NO chips or cracks. a really nice find for your gallery and collection. i will have many other vintage items for auction and i will combine the shipping and insurance to the high bidder. thank you for looking and keep the magic.
artfakes.dk:
This is the work of a very poor amateur, practically one-dimensional too. It has nothing to do with the famous painter Paul Gauguin.
---
Monday, 21 November, 2005, 00:00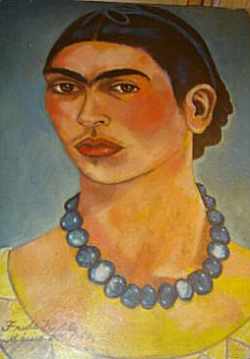 Watch this item
The seller, anasgallery, Miami, FL, United States:
Frida Kahlo oil, dated 1940, oil on masonite
this oil i cannot guarantee it being made from the hand of Frida but I will guarantee it of having the quality,the period,being an oil,signed,and very very beautiful.....no reserve.
artfakes.dk:
A painting signed Frida Kahlo but NOT painted by Frida Kahlo is a FAKE.
---
Sunday, 20 November, 2005, 00:00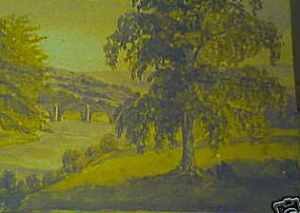 Watch this item
The seller:
I have a Pissarro painting and it is a water colour on card board . It is dated 1821, this painting has been in my family for sixty years now. The sizes are 10 inch by 7 inch. This signed picture. View carefully ladies and gentlemen.
artfakes.dk:
No! You don't have a genuine Pissarro. Your painting has nothing to do with Camille Pissarro. It's a FAKE.
---
Saturday, 19 November, 2005, 00:00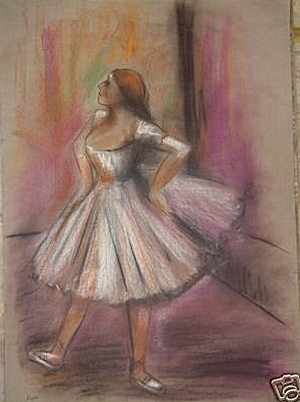 Watch this item
The seller:
Edgar Degas. Pastel and charcoal signed Degas. Done on fabriano paper
This impressive drawing measures 27.5 inches in height by 20 inches in width.it depicts a girl in ballerina movements, the technique is pastel and charcoal,signed on the lower left hand side degas..just purchased it in a huge estate sale,with no papers or certificate very low reserve.guaranteed not to be a print.good luck.
artfakes.dk:
Degas oui!, c'est le fabricant d'articles de danse classique et contemporaine
Meaning: It might be a work of art by the manufacturer Mr. Degas, who designs ballet dress and articles for classical and modern dance, one of his leisure interests? You'll have to ask the seller.
---
Friday, 18 November, 2005, 00:00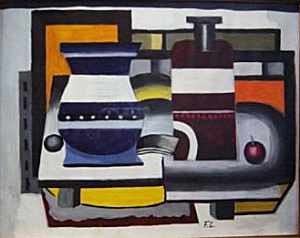 Watch this item
The seller, artprofess, France:
Very beautiful gouache signed in the lower right side F.L. attributed to Fernand Leger. Various letters of source accompany this painting as well as a valuation made by Jacobs Ladder Art Advisory (member of the castle group fine art history). Dimensions: 24 3/4 cm X 31 3/4 cm 9 3/4 inches X 12 1/2 inches. Exceptional part coming from the private collection Julius Wolf New York. A test of painting pigmentation was carried out and determine the dating between 1935 and 1960. The signature is encrusted in painting and was not added thereafter. Gouache realized in 1941. I did not find this gouache in the catalogue reasoned of LEGER this is why I start the biddings with 1 euro without reserved price.
NO RECLAMATION WILL BE ACCEPTED AFTER THE END OF THE AUCTION. POSE YOUR QUESTIONS BEFORE BIDDING.
artfakes.dk:
What a charming seller, he is! When you, as a buyer, have received your Léger falsification the seller won't hear any complaints?
All paintings and drawings coming from the private collection of Mr. Julius Wolf New York really come from the famous art faker Mr. Eric I. Spoutz, Detroit, Mi. This man Wolf must have had a storehouse by the size of a twin tower in order to gather a collection that size -according to Mr. Spoutz that is! But of course he hasn't! Mr. Wolf is just another ghost in Mr. Spoutz's non-artistic imagination - according to artfakes.

---
Back
Next