Friday, 18 November, 2005, 00:00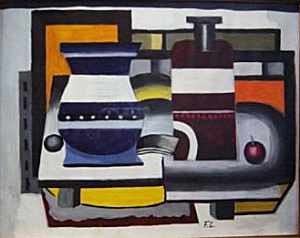 Watch this item
The seller, artprofess, France:
Very beautiful gouache signed in the lower right side F.L. attributed to Fernand Leger. Various letters of source accompany this painting as well as a valuation made by Jacobs Ladder Art Advisory (member of the castle group fine art history). Dimensions: 24 3/4 cm X 31 3/4 cm 9 3/4 inches X 12 1/2 inches. Exceptional part coming from the private collection Julius Wolf New York. A test of painting pigmentation was carried out and determine the dating between 1935 and 1960. The signature is encrusted in painting and was not added thereafter. Gouache realized in 1941. I did not find this gouache in the catalogue reasoned of LEGER this is why I start the biddings with 1 euro without reserved price.
NO RECLAMATION WILL BE ACCEPTED AFTER THE END OF THE AUCTION. POSE YOUR QUESTIONS BEFORE BIDDING.
artfakes.dk:
What a charming seller, he is! When you, as a buyer, have received your Léger falsification the seller won't hear any complaints?
All paintings and drawings coming from the private collection of Mr. Julius Wolf New York really come from the famous art faker Mr. Eric I. Spoutz, Detroit, Mi. This man Wolf must have had a storehouse by the size of a twin tower in order to gather a collection that size -according to Mr. Spoutz that is! But of course he hasn't! Mr. Wolf is just another ghost in Mr. Spoutz's non-artistic imagination - according to artfakes.

---
Thursday, 17 November, 2005, 01:00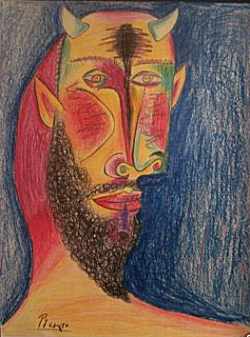 Watch this item
The seller, dav63128, United States:
Here is a beautiful colored pencil drawing signed PICASSO that is offered with no reserve to the highest bidder in this auction. This drawing is GUARANTEED to not be a lithograph or print. It is a drawing done in colored pencil, and is signed PICASSO in the lower left corner. This amazing piece is in excellent condition. Its measurements are about 9 inches in width by 12 inches in height and is done on paper. This piece comes from an extensive collection acquired over the years, mostly from europe. This drawing does not come with any associated paperwork. All auction results are final.
artfakes.dk:
At the same time the drawing is signed Picasso and it therefore cannot be a genuine work! It has to be a FAKE
---
Wednesday, 16 November, 2005, 01:00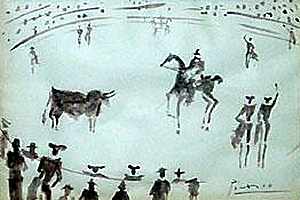 Watch this item
The seller, books8979, Minneapolis, Minnesota, United States:
Featured in this auction is an original ink drawing signed Pablo Picasso that is believed to be created circa 1959.
Although we believe this drawing to be by the hand of Pablo Picasso, we will be selling this item as "Attributed & Ascribed To" the respective artist. This is only because we do not have a letter from the Picasso estate or a Zervos reference number. Again, we have done some research and, it appears to have been created at a time when Picasso did a series of Bullfight drawings. We do have provenance that will be supplied to the successful bidder.
artfakes.dk:
A signed painting is never "attributed", it is either considered genuine, or it is not.
Read more about Attributed
---
Tuesday, 15 November, 2005, 00:59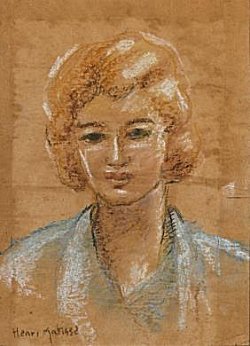 Watch this item
The seller, waddingtons111, Canada.
Henri Matisse (1869-1954), French
YOUNG WOMAN IN BLUE, Colour chalk; signed lower left
6.7" x 4.3" Ñ 17 x 12 cm.
Provenance:
Galerie Armand Drouant, Paris;
Galerie J. Allard, Paris
Note:
Drawn on the inside front cover of the book "Les Beaux Contes", published by Flammarion editor, Paris
artfakes.dk:
We don't believe that any of these galleries have even been near this drawing. The style is not a bit of Matisse.
---
Monday, 14 November, 2005, 01:00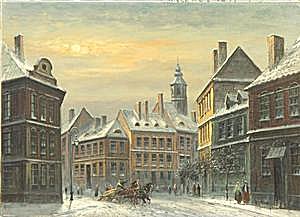 Wath this item
The auction has ended
Sold for DKK 9.600 including 20% salary, about $1,500
The seller, www.lauritz.com, Denmark
W.L. CHMIELINSKI. Olie o canvas. City scene. Sign. WL CHMIELINSKI. 50 x 70 cm.
artfakes.dk:
Thousands of Chmielinski falsifications exist all over the world. This painting is one of them.
---
Back
Next