Thursday, 10 November, 2005, 19:28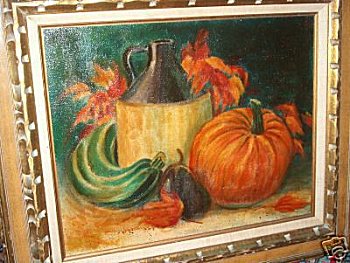 Watch this item
The seller, lvaughn100, Ft Lauderdale, FL, United States:
Lowell Nesbitt-Autumn Still Life-Fine Oil Painting.
This fine, example of American Impressionist oil painting...
artfakes.dk:
This awfully done ten dollars painting has nothing to do with Nowell Nesbitt. He was an "abstract" painter, mostly painting flowers. What we are presented at here is just one more forgery from yet another American fake art trickster. An idle pilgrimage to the staff of artfakes, it seems. Do we ever see the light at the end of this fake-art-tunnel?
---
Wednesday, 9 November, 2005, 00:48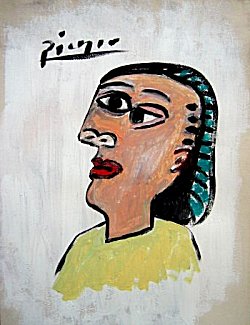 Watch this item
The seller, pavarotti1969, France
This is an exceptionnal piece that is presented here.
It's a gouache painting made on paper and signed PICASSO.
All the talent of the master is present in this piece ; a few lines only and all the poetry of the master is instantly given out from this great work.
It's a must have for any modern art collector since it is a piece of history.
The size of the piece is approx: 12x9 inch and it is in fair condition, although some obvious signs of aging. There is a gallery stamp on the back of it ; it says : "Galerie d'Art de l'Alma", probably a galery in France. I have no specific information on that.
PROVENANCE
This piece has been in my own collection for some time now.
Winning bidder will receive a signed bill of sale stating the "Antique place" and date where this piece was bought (its provenance).
artfakes.dk:
We always love these fairytales. If this painting is a genuine Picasso I am Pavarotti.
pjm
---
Tuesday, 8 November, 2005, 15:21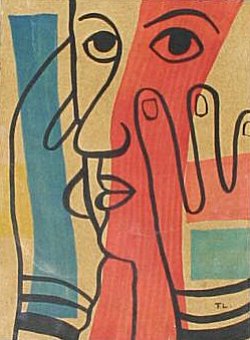 Watch this item
The seller, carmel*arts, Carmel, California, United States. Positive Feedback 100%:
This original artwork is hand drawn on rich brown art paper signed "F. L." It measures 9" x 12". The individual strokes where the color is laid down on the paper are clearly visible. The top edge of paper is deckled. The artwork is preserved under glass with a new frame and acid-free material measures 14 ¾" x 17 ¾".
The style and initials 'F.L.' corresponds with that of Fernand Léger, one of the most famous artists of the twentieth century. He was born in 1881, in Argentan, Normandy, France; died in 1955 in Gif-sur-Yvette, France. After apprenticing with an architect in Caen from 1897 to 1899, Leger settled in Paris in 1900 and supported himself as an architectural draftsman.
artfakes.dk:
Nice painting in Léger style, but NOT an original work of art by Fernand Léger.
---
Monday, 7 November, 2005, 10:33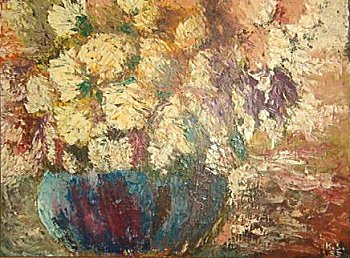 Watch this item
The seller:
Karl Schmidt-Rottluff (1884 - 1976) Still Life Oil Painting. Signed K.S. 55. The Panel Measure:24 x 18".W/Wood worn Frame. One small chip in the paint.
artfakes.dk:
This painting has nothing to do with the famous German expressionist Karl Schmidt-Rottluff. It's a FAKE.
---
Sunday, 6 November, 2005, 08:45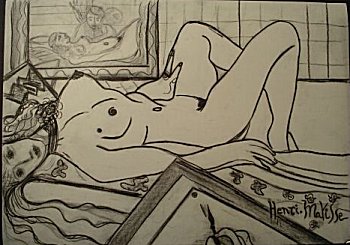 Watch this item
The seller, goldielox2:
This original charcoal drawing signed henri Matisse, is one of a number of paintings and drawings that will be offered for auction on ebay. Not a lithograph or print of any kind. There is no reason to go on about this great artist.......... Henri Matisse the charcoal drawing measures 9 inches in height and 12.7 inches in width. The drawing is in excellent condition, and has been kept unframed for many years. This work, as well as a number of other works of varied artists, has come to me via my grandparents. Grandfather was russian born and traveled extensively as a violinist, and concertmeister for ballets, etc. There were many stories of him traveling and working with famous artists and musicians. As a practical matter this drawing is offered... As is, and will go to the highest bidder. All auction results are final. No reserve, bid with confidence.
artfakes.dk:
Mr. Goldberg otherwise known as goldielox2 (how come I don't feel a sense of "gildness" here?) is in full swing selling grandpa's false paintings. His grandfather, Joseph Goldberg, was born 1881 in Russia. He died in the U.S.A. in 1946.
---
Back
Next