Tuesday, 11 October, 2005, 01:00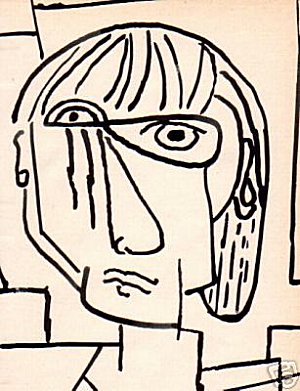 Watch this item
The seller:
This is an unframed, original old black ink drawing. (This is not a print of any kind).
It has been hand signed Picasso and dated in black ink in the bottom right hand corner. The size of the drawing is 150 mm x 240 mm. (5 3/4 x 9 1/4 inches)
artfakes.dk:
The seller: "This is the best I can do, learned it in the nursery school 50 years ago!"
The buyer: "Buying this item makes me a complete fool."
---
Monday, 10 October, 2005, 14:36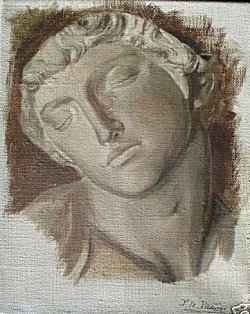 Watch this item
The seller goldielox2, United States, Member since May-15-99, Power Seller, Positive Feedback 100%
This original oil painting signed P R picasso depicts a study of the face of a statue. It is one of a number of paintings and drawings that will be offered for auction on ebay. Not a reproduction of any kind. There is no reason to go on about this great artist ...... Pablo Picasso. Certificate of appraisal reads as follows...... " it is rare to find a painting by picasso signed p r picasso". Circa 1899-1900((technically, at this point he was a starving art student (studying in cafes, not school)" -doing whatever he could to fund his trips between barcelona and paris." the painting was purported to have been brought from europe at or near the turn of the century. It is in good condition for its age.. It measures 19.75 inches in height and 16 inches in width. This oil painting is unknown and has been kept unframed and hidden away in storage for many years. This work, as well as a number of other works of varied artists, has come to me via my grandparents. Grandfather was russian born and traveled extensively as a violinist, and concertmeister for ballets, etc. There were many stories of him traveling and working with famous artists and musicians. As a practical matter this painting is offered as attributable to artist. Certificate of appraisal states "......market value of 1.5 million dollars and replacement value of 1.875 million dollars." have your own expert look before bidding. All auction results are final. Will go to the highest bidder. No reserve. Bid with confidence
artfakes.dk:
goldielox2 is a disreputable fake-art-seller and well known to eBay. Buy nothing from him!
---
Sunday, 9 October, 2005, 01:00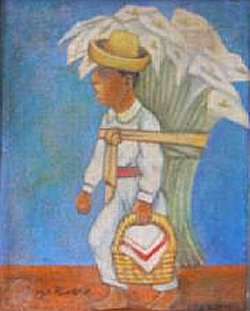 Watch this item
The seller:
Own a masterpiece!! you are bidding for a original paint of Diego Rivera do not have date but i guess is from the age of 40's to 50's this paint is from a particular collection, supporting documentation will be provided
artfakes.dk:
Buying this picture won't get you a masterpiece, you'll receive a falsification signed but not painted by Rivera – as often before we have here another eBay signature, a signature for unreliable and unsafe buying. eBay a thriving Market Place for buying forgeries.
---
Saturday, 8 October, 2005, 01:00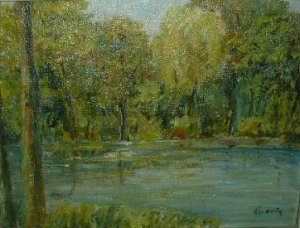 Watch this item
The seller:
excellent impressionist masterwork, landscape in beautiful light colours, oil on canvas, signed in the fresh colour in blue oil lower right "Renoir", approx 15,5 x 11,8 inches, the artist painted the ground from canvas in white oil, on the back old handwritten inventary/auction number 00176, framed, frame is newer date, the painting shows signs of old goldframing, which was a little bit more small, than this frame, excellent oilcolours, simply a masterwork, the painting comes from an estate in Bruxelles, Renoir did always painted on white painted canvas in order to give a light impression of the scene, on the photo I included, you see him working on a white painted canvas, the other photo shows another Renoir canvas from the back (the one with gallery paper), which is lost, the canvasstructure of both paintings is the same, I will attribut this painting to Renoir, it is my only possibility, one of the majorauctionhouses would love to sell it, but before I have to send the painting to the Wildenstein Institute to Paris, but I researched and found articles with clients accusing Wildenstein for strange practices. I will not send and will see what will happen on Ebay. Maybe I will receive some more informations.
artfakes.dk:
Don't be a fool; don't try to sell your painting for a piddling 400 dollars. It is worth a lot more. But it's not an original Renoir; it's a genuine Rembrandt. So take our piece of good advice, don't you sell it below $100.000.000,00.
---
Friday, 7 October, 2005, 22:40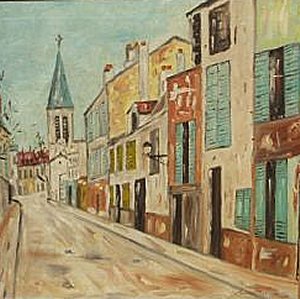 Watch the item
The seller
(antqdog, Cardiff by the Sea, California, United States
Feedback Score: 2006 Positive Feedback: 99.9):
Beautiful French Village Original Oil Painting by Maurice. Utrillo, V, signed lower right.
artfakes.dk:
NO! It's an unsuccessful attempt to copy the master's pure style and choice of colours. Take a look at a genuine Utrillo. And furthermore a fake-seller can have no positive feedback on 99,9% this is an imposture.
---
Back
Next