Thursday, 11 September, 2008, 22:43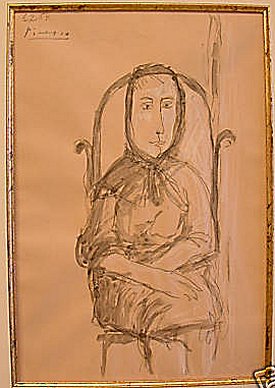 Watch this item
Item number: 270274250220
Seller: bigloo1. Member: since Feb-04-99 in United States. Item location: Naples, FL, United States. Feedback: 93.8 % Positive.
Buy It No Price: US $35,000.00
Picasso - "Jacqueline" - Original 1954
1954 Original Picasso charcoal and ink wash drawing on paper, measures 45cm X 31 cm.(17 1/2" x 12") Professionally framed. Preferred payment by wire transfer within seven (7) days of auction end. Personal checks or bank cashiers checks must clear our bank prior to our shipping the artwork. We will pay shipping and handling costs. This piece was conditionally appraised by a major New England auction house over five years ago for a much higher amount than that being offered in this listing. Interested parties should contact us directly for additional authenticating information.
Artfakes.dk:
The seller: "...appraised by a major New England auction house over five years ago for a much higher amount than that being offered in this listing".
Which major auction house? And how much higher?
Is this "beautiful" drawing an original work of art by Pablo Picasso I am the coming president of America.
---
Monday, 8 September, 2008, 01:43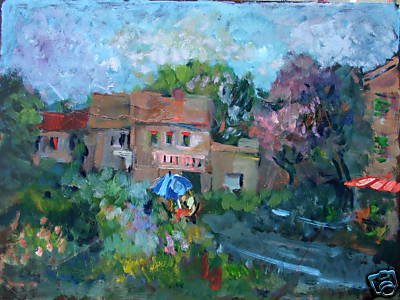 You can not watch this item - the seller's account is closed
Item number 250289599283 (you can not open it)
Starting bid: 01.09.08 15:29:34
End time: 11.09.08 15:29:34
Buy It Now Price:
EUR 385.000,00
(before the seller's account was closed)
Seller: rasgeda. Member: since 28.05.05 in Austria. Feedback 100 % Positive. The item in Eferding, Austria:
Renoir Pierre-Auguste 1841-1919 Echtheits-Garantie
Cagnes-sur-Mer.Renoir als Expressionist,Spähtwerk.
Öl-Dünner weißer- Karton-Schwarz-Grundierung-auf Leinwand aufgezogen.Das expressive Werk Renoirs,entstanden nach 1908 in Cagnes-sur-Mer , ist warscheinlich Beutegut ,deutscher Besatzer (zweiter Weltkrieg) aus Frankreich.Der Zustand, in dem das Werk war, wird an Hand von Fotos nachgewisen.Bei der Restaurierung,wurde darauf geachtet,sowenig wie möglich zu übermalen,in etwa 3%.Das werk hat die Grösse 59x80 cm ungerahmt. Der alte Rahmen kann mitgeliefert werden,ist jetzt allerdings ohne Stuckarbeit und weiß gestrichen.Durch die feuchte Lagerung war der Stuck leicht zu entfernen.Links unten Reste der Signierung.Bilder zum Vergleich. 2006 Fine Arts Museums of San Francisco.Die beiden expressionistische Figuren sind Innhalt des Renoirs in San Francisco,wenn man die beiden Dargestellten ansieht,kommt man nie auf renoir.
Pierre-Auguste Renoir, artist
French, 1841 - 1919
Landscape at Beaulieu, circa 1893
oil on canvas
25 5/8 x 31 7/8 (65.1 x 81 cm)
Artfakes.dk:
This painting is a great FAKE, NOT painted by Pierre-Auguste Renoir.
The sale has stopped several days before deadline and the seller's account on eBay is closed.
---
Wednesday, 3 September, 2008, 22:01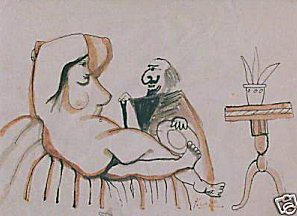 Watch this item
Item number: 200250914256
End time: Sep-03-08 11:34:40 - NOT sold.
Starting bid: US $8,000.00
$8,000.00 is a lot of money for a fake.
(Today it is eBay's birthday born September 3, 1995)
CONGRATULATIONS from artfakes.dkSeller: provenkl. Member: since Dec-01-03 in United States. Item location: Manchester, NH, United States. Feedback: 100 % Positive:
Original Picasso Watercolor
This is from Cuba, a family member who personally knew Picasso received the painting as a gift.
Very small smudge in lower part of water color. Size: 9 x 7 in.
This is an incredible deal for any art collector!!! True original Picasso - must sell - our loss is your big gain!!!
On Sep-02-08 at 09:19:22 PDT, seller added the following information:
Just a little more history: This painting came to the US from Cuba 2 years ago, it has been in the same family since it was given by Picasso. Finincial needs so we must sell now - price is an incredible deal!
Artfakes.dk:
What a nice story and birthday present to eBay!
The seller is a FAKE SELLER. This watercolour has never been given as a gift by Pablo Picasso.
The seller is a liar.
---
Monday, 1 September, 2008, 23:54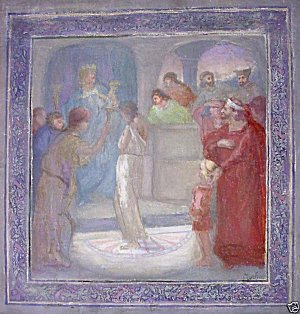 Watch this item
Item number: 230285614258
End time: Sep-06-08 12:33:47 PDT
Seller: reuven8. Bayside, New York, United States. Member: since Jun-13-99 in United States. Feedback: 100 % Positive.:
A very interesting oil on canvas ,I had two of them, one has already sold on E-bay.The painting is by Alphonse Maria Mucha 1860 - 1939 signed lower right Mucha ...the image size is 18" x 18"....45 3/4 x 45 3/4 cm ..it also has a three inch painted border, with its unusual period frame, and probably original to the painting size is 23 1/2" x 23 1/2". condition is good, some minor touchups It has been relined on to what looks like burlap, way back, and has been cleaned. Its signed lower right Mucha, and doesn't flouress... Mucha is very famous , and is known for his Art Nouveau design, figure, and portraits of beautiful woman.
Artfakes.dk:
Alphonse Mucha did NOT paint like this painting.
Just one more falsification from this seller and from eBay - the world's leading place for FAKES.
---
Sunday, 31 August, 2008, 21:11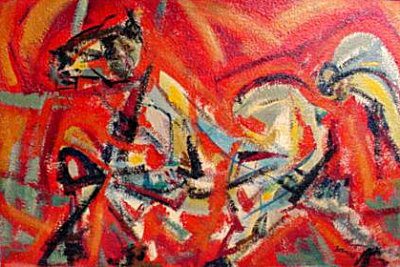 Watch this item
Starting bid: US $750.00
Seller: reuven8. Member: since Jun-13-99 in United States. Item location: Bayside, New York, United States. Feedback: 100 % Positive
AMERICAN/DANISH ABSTRACT OIL SIGNED JORN 46
COBRA INTERNATIONAL EXPRESSIONISM
A very large and colorful mixed media (oil & sand) fine quality abstract painting of a galloping horse. Its painted on an old masonite board..Its signed lower right Jorn 46. Its size is 24" x 36"....61 x 91 1/2 cm.. With its original period frame...25 3/4" x 37 3/4" Its condition is good, no flakeing, cracking, or holes...It also has an old Park Bernet Galleries Inc. label on the back, which was Sotheby's at that time... it probably was in an old sale...I called them, but their records do not go back that far. I've ascribed this interesting painting to the Danish / American artist Asger Oluf Jorgensen, known as Asger Jorn. I'm selling as is, as found in an old estate sale in Jamaica Estates Queens. I've priced it very low accordingly, no reserve... The artist was born in 1914, in Vejrum, Struer Jutland, Demark, and died May 1, 1973, in Arhus....I put him down as Danish, American, because Ask Art .com says he lived and was active in New York, and that he was a painter and a writer.... His auction prices are most impressive. mostly sold in Copenhagen.Asger Jorn worked in Paris for most of his career. He was skilled in a variety of mediums including painting, sculpting, printmaking, ceramics, design, and writing. In 1948, he was a co-founder of the Cobra Group. Colorful abstraction and harsh brushstrokes were characteristic features of his work, such as in this painting.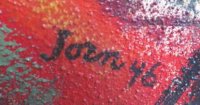 Artfakes.dk:
The painting is a FAKE and the signature is of course not made by Jorn himself. It takes UNDER ONE second to see that.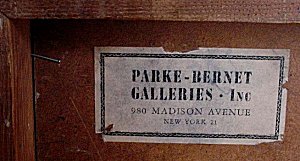 Artfakes.dk:
Anybody can put such a label on the back of a painting. This painting has never been sold at Parke Bernet. NEVER. The famous Danish Cobra artist does NOT paint in this style.
And the seller can NOT attribute the painting to Asger Jorn. Only art experts can do that.
Read more about attributed to
---
Back
Next