Sunday, 25 September, 2005, 12:10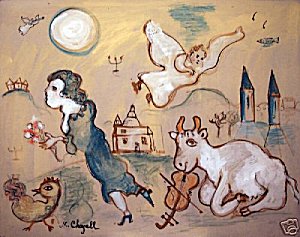 Watch the sale:
http://cgi.ebay.com/Chagall-Orginal-Hand-Signed_W0QQitemZ7352910149QQcategoryZ20133QQrdZ1QQcmdZ
The seller:
Chagall Signed Gouache on hard board with provenance, This work is hand signed (not a print of any kind) measuring 18"x14". This work was acquired by Capt. Dan Parker M.B.E. of Southampton, England from the G.L. Watson & Co., Royal Yacht Builders of England, Est. 1873. Purchased by Mr. Allan Formhals, fine arts and antiques dealer of Falmouth, England from the Parker Estate. Purchased from the collection of Mr. Allan Formhals by the Times-Herald Corporate Art Collection. This work will be accompanied with an affidavit of provenance from the Times-Herald Corporate Art Collection with all information listed above as well as supporting documentation and certificate of registration by the National Fine Arts Title Registry, LLC.
artfakes.dk:
Here we are witnessing the seller deluding potential buyers by laying his words on thick: "This work is hand signed", he claims, "not a print of any kind" (note the stress mend to confuse people!)
Of course it is hand signed you dummy! You signed it yourself by your illegible scrawl. No question! But to make people believe that Marc Chagall has anything to do with this piece of child minded sketching most likely done by you, is a despicable act of crime.
---
Saturday, 24 September, 2005, 01:00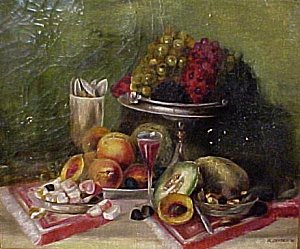 Watch the sale:
http://cgi.liveauctions.ebay.com/ws/eBayISAPI.dll?ViewItem&category=28244&item=6561578485&sspagename=rvi%3A1%3A1v_home
The seller:
J.L. JENSEN ATTRIBUTION (1800-1856) O/C STILL LIFE. Wonderful piece attributed to the Danish artist Johan Laurentz Jensen. Still life depicts fruit, petit fours and an aperitif and is signed J.L. Jensen
artfakes.dk:
It's a daub all right probably from a photo with the dauber hiding himself behind a false signature.
You're abusing I. L. Jensen's good name Sir! He painted in a quite different, artistic style.
---
Friday, 23 September, 2005, 18:36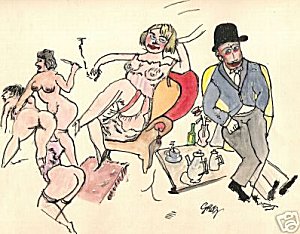 Watch the sale:
http://cgi.ebay.com/Original-Drawing-signed-GROSZ_W0QQitemZ7351585633QQcategoryZ20121QQrdZ1QQcmdZ
The seller:
We guarantee this is a drawing.
artfakes.dk:
It is obvious that the seller wants people to believe that George Grosz painted this picture. In a tortuous way he gives the impression that in fact this famous artist has something to do with it. This makes you even worse than a common crook Sir! Over here we call you a confidence trickster.
---
Thursday, 22 September, 2005, 22:25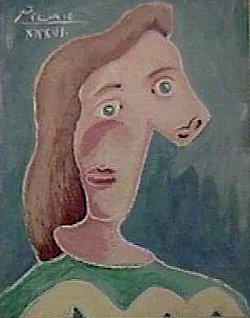 Watch the sale:
http://cgi.ebay.com/PABLO-PICASSO-painting-Tete-de-femme-36-prov-drawing_W0QQitemZ7351867342QQcategoryZ20132QQrdZ1QQcmdZ
The seller:
Verso: dedicated to first owner and signed again by Picasso in Paris, 15 juin 1936 (June 15, 1936), various collector's stamps
Provenance paperwork from previous owners included (originals). This artwork originates from the Bruno Lion Collection (France). If you have any questions ---ebay has a new e-mail system going on so if you have any questions include your e-mail address so I know where to send info to or if you need additional photos, We are selling this item without the frame. All original provenance history papers from previous owners will be included. A Notarized legal transfer of ownership to be supplied to winning bidder. We reserve the right to end this auction at any time for any reason. Thank you for your interest.
artfakes.dk:
You are an unscrupulous criminal liar. Picasso has NEVER seen this picture,
and he certainly has no knowledge about it either.
---
NOT two original drawings by Jean Cocteau but two original fakes from the famous fake "art" seller goldielox2
Wednesday, 21 September, 2005, 22:56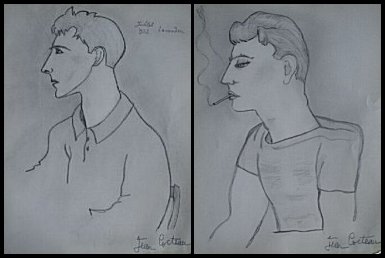 Watch the sale:
http://cgi.ebay.com/ws/eBayISAPI.dll?ViewItem&item=7352010055
and
http://cgi.ebay.com/ORIGINAL-DRAWING-JEAN-COCTEAU-NO-RESERVE_W0QQitemZ7352012821QQcategoryZ20121QQssPageName
The seller, Goldielox2, one of the leading art fakers at eBay:
These original graphite drawings signed Jean Cocteau are of a number of paintings and drawings that will be offered for auction on ebay. Not a lithograph or print of any kind.
There is no reason to go on about this great artist ...... Jean Jocteau. This work speaks for itself.
They are in excellent condition. The drawings have been kept unframed for many years. These two works, as well as a number of other works of varied artists, have come to me via my grandparents. Grandfather was russian born and traveled extensively as a violinist, and concertmeister for ballets, etc. There were many stories of him traveling and working with famous artists and musicians. As a practical matter this drawing is offered as attributable to artist. Will go to the highest bidder. No reserve. Bid with confidence.
artfakes.dk:
You can shout yourself hoarse in your fairy shit story, we ain't gonna believe you! No Sir.
---
Back
Next