Saturday, 27 August, 2005, 23:55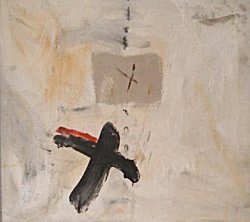 Watch the sale:
http://cgi.ebay.com/TAPIES-50-S_W0QQitemZ7345593289QQcategoryZ20136QQrdZ1QQcmdZViewItem#ebayphotohosting
The seller:
Tapies 50`s not signed 95 x 87 cm 107 x 90 cm this painting was bought in spain ( 50`s ), not signed. The original owner wrote the name of the author to remember who made this painting.
artfakes.dk:
He wrote the wrong name.
---
Friday, 26 August, 2005, 20:06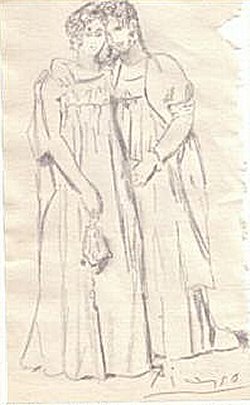 Watch the sale:
http://cgi.ebay.com/Pablo-Picasso-Exquisite-Sketch-C1952_W0QQitemZ7345487382QQcategoryZ20121QQrdZ1QQcmdZ
The seller:
Beautiful Subject , Museum Quality , with Provenance
For auction is an excellent piece by Pablo Picasso C1952. This piece was purchased back in 1982 from Reykjavic (Iceland) and has been framed and matted ever since. Artwork is in mint condition for age C1952 , there are no age spots , there is slight discolouration but to be expected due to the age. Along one side there is a tear - believed to be when page was torn out of book . Subject is of 2 women embracing one another.Piece is full of emotion and mystique , ive looked at for years and never really knew or thought whether they are happy or upset/morning etc . It has been talking point for years. I have provenance by way of verbal trade , i will provide details of names , locaitions and dates for winning bidder only . Please do not email asking for details of provenance as it is only given to the winning bidder to preserve integrity of sale and its provenance. Piece has been hand-signed by the artisit bottom left. Worldwide shipping .
artfakes.dk:
The seller is just another art swindler. What a stupid text.
---
Thursday, 25 August, 2005, 17:31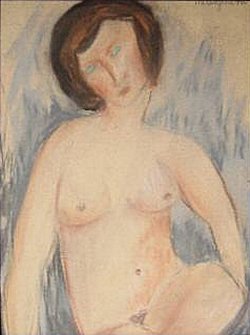 http://cgi.ebay.fr/Nu-assis-signee-Amadeo-Modigliani-ami-de-picasso_W0QQitemZ7344652473QQcategoryZ46936QQrdZ1QQcmdZ
The seller:
Gouache pastel and pencil on paper of Modigliani year 1918. Format: 15.24 X 20.32 Signature in top on the right. Exceptional part coming from the private collection Julius Wolf New York. Exposed in London at Arthur Tooth and Sounds in 1921. Certificates accompany this work with dry stamp by notary. Several letters of sources also accompany this work. Undeniable characteristics of the portraits of Amedeo Modigliani: - blue almond eyes - acute nose and end which continues the harmonious crescent of the arcade sourcilliaire. - projecting profiles
artfakes.dk:
Don't trust anything coming from Julius Volf and the art faker Eric I. Spoutz, Detroit, Mi.
The seller writes: Undeniable characteristics of the portraits of Amedeo Modigliani.
NO! This painting is NOT a characteristic Modigliani. He does NOT paint like this.
---
Wednesday, 24 August, 2005, 22:32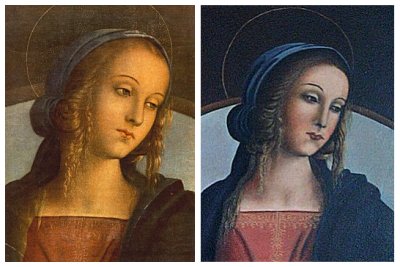 The painting to the left is the original Perugino (in detail).
The painting to the right is just another copy.
It isn't really hard to recognize the fake from the genuine piece.
Read also the tekst on our front page starting with:
"So many visitors have asked artfakes"
To be honest, $62.000 really is too much for a copy.
Don't you think so too?
http://cgi.ebay.com/Perugino-Study-Virgin-Mary-Oil-Painting_W0QQitemZ7345351179QQcategoryZ20132QQssPageName
The seller:
This Perugino Virgin Mary has been in my family for over 60 years. The story behind it is what makes this piece so unique. My great-aunt received this painting in 1942 in recognition for her humanitarian work in hospitals during World War II. I was told it was painted by a nun who was captured by the Nazis and later died in a concentration camp. The story is very similar to Edith Stein's story. Edith Stein was canonized by Pope John-Paul II as Saint Teresa Benedicta of the Cross. The painting is signed htide (Edith backwards) and a reflective view also shows a distinct "st" after the name. I have no way to verify this story, but have no reason to believe it was fabricated (the painting stayed in a Catholic rectory in Remagen, Germany until the 1970's, when my great-aunt passed away.) This beautiful painting needs to be displayed in a proper and safe location.
---
Dear visitor! Please pay no attention to libels in the "add comments" blanks!
Some of the art forgers mentioned on artfakes not only falsify art they also place wicked libels in our name in the "add comments" blanks. Especially one persistent crook, Mr. Eric I. Spoutz from Detroit, Mi. is pissed off with us and for good reason. So please pay no attention to unsavoury contributions, these are pure fakes too, and with the sole purpose of blacken our good name. Artfakes is and will always be a sober-minded place to learn about art and art forgers.
---
Tuesday, 23 August, 2005, 22:58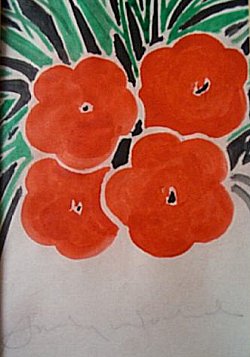 Watch the sale:
http://cgi.ebay.com/ws/eBayISAPI.dll?ViewItem&item=7344809683
The seller:
ARTIST: Andy Warhol (1928-1987) American School
PROVENANCE:It has been consigned to us from a private household estate,were it formed just a small part of a huge rather important collection.Many works from this collection have already been sold with major sale rooms.The pieces without any documentation,have found themselves in smaller sale rooms and in private collections.This piece has no documentation,so please satisfy your own opinion before bidding.We feel it is still rather an important item and although we offer without reserve,we start the open bid sensibly.
AUCTION ESTIMATE: £5,000 - £8,000
artfakes.dk:
This painting has nothing to do with the famous pop artist Andy Warhol.
It's a fake. And so are all the rest offered by the same seller: Diego Riviera, Edouard Vuillard and Henri Lebasque – all pure fakes.
---
Back
Next