Thursday, 15 June, 2006, 00:00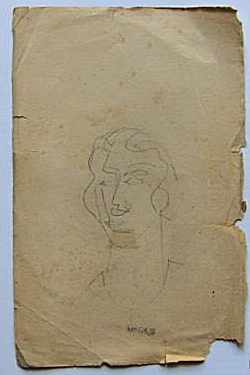 watch this item
The seller, cassibbar, Italia, Italy:
HENRY MATISSE PENCIL DRAWING
Original pencil drawing signed H. Matisse. The subject represents two overlapping faces of woman. The drawing is in overall good condition for its age. It has been executed on a sheet of paper lightly yellowed for the age. It is guaranteed not a print of any kind and has been stored unframed. The measurements are 12 cm. Wide and 19 cm. High.
This work was purchased in france approximately forty years ago at an estate art sale that contained a large collection of european and american fine art.
Sold as is (as described). This work come wthout confirmed attribution or provenance. Do your own research prior to bidding. Bring your own experts and feel free to ask questions. There is no reserve price and auction results are final.
artfakes.dk:
Nice "old" drawing but not old and good enough to be an original work by Matisse.
---
Wednesday, 14 June, 2006, 00:24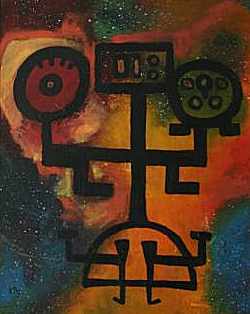 Watch this item
The seller, wjawsk, Oak Brook, Illinois, United States. Feedback:100% Positive. Member: since Mar-13-98 in United States:
Paul Klee was one of the greatest colorists in the story of painting, and a skilled utilizer of line. His paintings have an undercurrent of humor, and his powers of formal invention seem infinite. Klee died relatively young of a slow and wasting disease. His death is horribly mimicked by the death of peace that signified World War II. His last paintings are unlike any of his others. They are larger, with the forms often enclosed by a thick black line, as if Klee were protecting them against a violent outrage. The wit is gone and there is a huge sorrow, not for him personally, but for a foolish and wilful humanity. This painting is representative of this style. This work of art signed 'Klee.' measures 24.5 x 29 inches with the frame and 15.25 x 19.5 inches without the frame. This work was donated through the generosity of an estate of a couple who were life-long art collectors to the seller, Humanitarian Services Project. HSP is a not-for-profit agency in West Chicago, Illinois that has served the poor for many years. All proceeds of the sale will go to Humanitarian Services Project. There is no provenance or COA available and Humanitarian Services makes no guarantee as to the authenticity of the work. Terms of sale will be "as is" and will not be subject to return to seller for any reason. Thank you for your interest, and we will do our best to answer any questions you may have on this piece.
artfakes.dk:
The seller: There is no provenance or COA available and Humanitarian Services makes no guarantee as to the authenticity of the work.
Off course not! The painting is a FAKE.
---
Saturday, 10 June, 2006, 21:58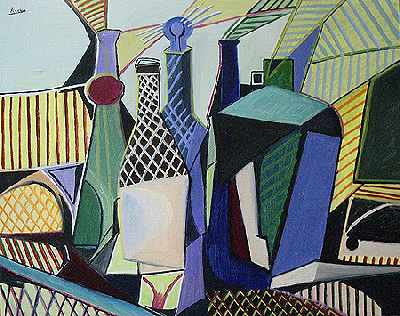 Watch this item
The seller, usa24h, Nice, French Riviera, France:
Attributed Pablo Picasso Painting, untitled. Still-Life, Cubism. Unframed, measures 15.76" x 19.7" (40cm x 50cm). ~1954. Oil on canvas.
Here is your chance to own a piece of fine art: A rare Pablo Picasso cubist still-life painting; This is a true collectors choice! No tears or damage of any kind, clean edges. Overall condition is very good. This item is guaranteed as not being a reproduction (pre-printed) in any way. Item comes with a COA.
artfakes.dk:
Why sell it attributed when it comes with a COA?
Read about attributed
---
Friday, 9 June, 2006, 00:00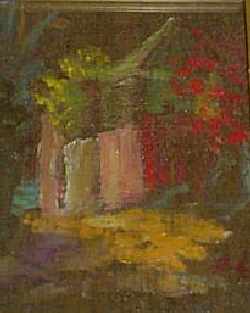 Watch this item
The seller, zuriels, Central FL, United States:
VINTAGE LISTED ARTIST HENRI MATISSE OIL PAINTING.
artfakes.dk:
A vintage FAKE.
---
Thursday, 8 June, 2006, 00:00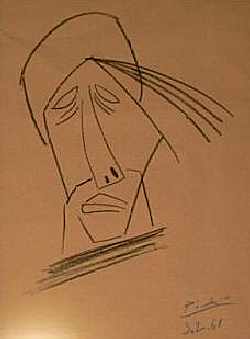 Watch this item
The seller, chudubu, Elkhart, Indiana, United States:
Original drawing by Pablo Picasso done in Cannes in 1961 from his Population Studies series. Exhibited in Milan in 1993. Provenance available upon request; serious bidders only, please!
artfakes.dk:
Fake drawing. Fake provenance.
One more fake seller.
---
Back
Next