Sunday, 28 May, 2006, 00:00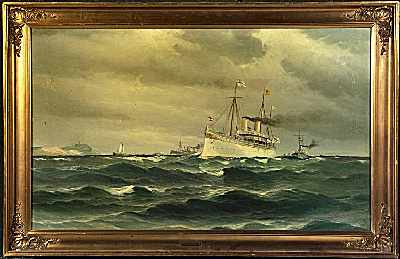 Winning bid: US $1,025.00
Watch this item
The seller, galleryduval, London (No pickup), United Kingdom:
Signed and dated "Villy Bille" for Vilhelm Victor Bille (1864-1908), a listed Danish marine painter. He studied with his father the marine painter Carl Ludvig Bille and briefly visited the Royal Academy in Copenhagen
Buying from Gallery Duval is your guarantee for a qualified partner.
Sincerely Gallery Duval.
artfakes.dk:
Willy Bille is not Vilhelm Bille (1864-1908)
Willy Bille (1889-1944) is a son of Vilhelm Bille.
---
Saturday, 27 May, 2006, 13:57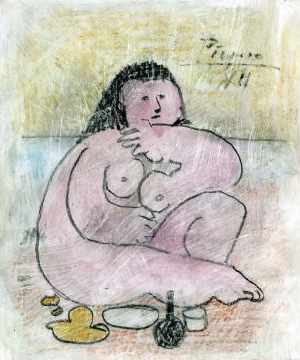 Wath this item
The seller, dennydoodit, San Marcos, California, United States:
Right off the bat I must tell you that I obtained this mixed media drawing, along with another that I may list on eBay next week, from my grandmother long ago and until recently it has been sitting in storage. She loved art and gave a lot of what she had to me because she knew that I was also fond of art. Now, I don't know where she obtained it and there are no docs (I mean...it was my grandmother...I didn't ask for any) so I have to offer this art as a replica or decorative art to comply with eBay rules. The other two pieces of art we have presently listed on eBay are authentic and have been appraised (Kees Van Dongen and David Roberts). This mixed media drawing of a woman on a beach (?) looks like watercolor and either crayon or colored pencil. I can't tell. It looks a little beat up and I appologize for that but maybe it adds to the 'character' of the piece in some respects. Some of the close ups show brush strokes and/or scratches. The art is about 8.75" X 11.5" and was framed about 2 years ago with a kind of antique-looking frame. It looks quite nice. Money back guarantee (see shipping info). No reserve but a fair starting price. NOTE: We'll be in Palm Springs for a little R&R over Memorial Day weekend (Thurs pm thru Mon pm) and won't be able to answer questions at that time. If there is a winner and the art is paid via PayPal, we can ship Tuesday. Thanks for looking. This is a great looking piece of art.
artfakes.dk:
Nice story. Nice drawing. Nice fake.
---
Friday, 26 May, 2006, 00:14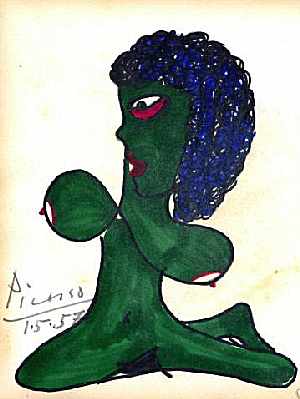 Watch this item
The seller, vintageboston, Burlington, Massachusetts, United States:
Pablo Picasso. Signed Original Drawing.
Incredible piece of Original Art created by Pablo Picasso. This piece was obtained in trade through another collector and need to sell. It measures 8 inches tall by just over 6 inches wide. It is pretty much a "Nude Abstract" and is done in pastel, (not an oil), which is a catagory that is very entertaining. The signature is on the left side in Pencil and is dated 1/5/57.
When people think of Picasso they think of large oil paintings. Picasso always painted or did drawings. Many of his "doodles" were never published due to the offensive nature. Many of his pieces would have been outlawed at the time. This piece comes from that era and therefore makes it at least as rare as many of his famous oils. The quote below the image confirms this statement.
artfakes.dk:
It's funny picture all right! But Picasso didn't draw it.
---
Thursday, 25 May, 2006, 14:20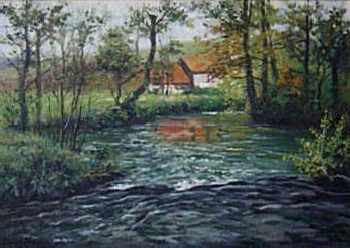 Watch this item
The seller, webewinn, Mount Clemens, Michigan United States:
NORWEGIAN IMPRESSIONIST OIL. Cottage by a River
Oil on Canvas. 10 x 14 inches plus 2 inch frame Signed. Please contact us if you have any questions. See My Other Auctions. All sales Final.
artfakes.dk:
All paintings offered by webewinn, Mount Clemens, Michigan United States and lady-frisko, MIchigan United States, one and the same person, are FAKES. They are signed Picasso, Léger, Modigliani, Foujita, Chagall, Picabia, Le Corbusier, Klimt, Magritte, H. Rousseau, Laurencin, Utrillo, Dali, Frits Thaulow, Paul Fischer and others. But ALL of them are FAKES.
---
Wednesday, 24 May, 2006, 00:00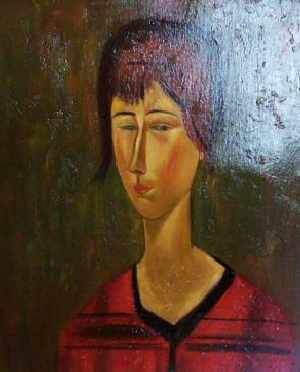 Watch this item
The seller, herbavarious, Winnipeg, Manitoba, Canada:
This painting is from a retired art dealer's collection.We are helping him sell off some of his paintings.On the back is some kind of certificate in spanish.
artfakes.dk:
Burn the certificate! It's a fake too.
---
Back
Next