Friday, 14 April, 2006, 12:11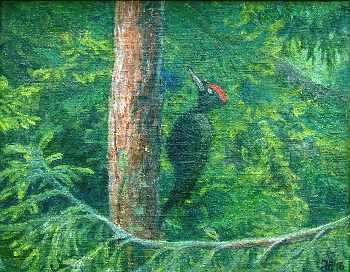 Watch this item
The seller: lauritz.com, Denmark:
Johannes Larsen 1867-1961 cd. Black woodpecker
Lot number: 713552
Description:
JOHANNES LARSEN Oil on canvas. Motif from Båxhult, Sweden with large black woodpecker in a fir-tree. Dim: 47 x 59 cm. Signed in monogram. J.H. 1916.
artfakes.dk:
WARNING! artfakes advises you to make a long detour round this Danish auction house.
Johannes Larsen (1867-1961) is one of the most famous Danish artists but in our opinion this painting is NOT an original work by him.
---
Thursday, 13 April, 2006, 00:00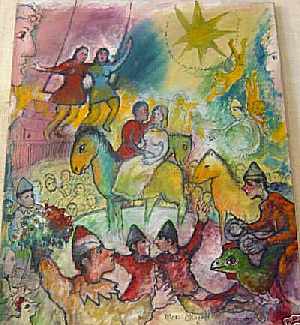 Watch this item
The seller, lady-frisko, MIchigan United States:
RUSSIAN FRENCH POST-IMPRESSIONIST OIL, Circus scene
Oil canvas, 28 3/4 X 23 3/4 inches, SIGNED Marc Chagall.
Please contact us if you have any questions.
All sales are final. Buyer must contact the seller within 3 days of auction end. We ship UPS. Attention foreign buyers; In the past some items have been stopped at customs and given additional charges and taxes. Should these occur, they are the responsiblity of the buyer.
artfakes.dk:
If you feel like buying a genuine painting by Chagall don't go for this. It's a FAKE.
---
Wednesday, 12 April, 2006, 00:00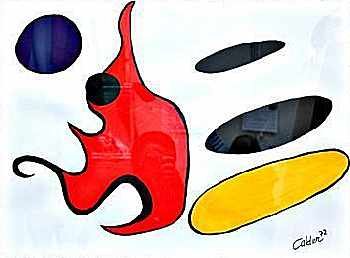 Watch this item
The seller, isoldit.ca0184, Alamo, CA 94507, United States:
ALEXANDER CALDER - ORIGINAL GOUACHE ON PAPER - NO RES!
artfakes.dk:
Signed Calder but not painted by Calder.
---
Tuesday, 11 April, 2006, 00:00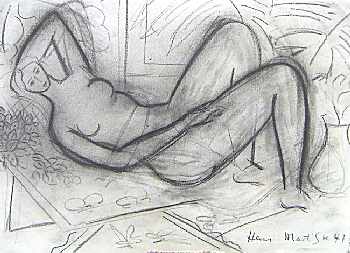 Watch this item
The seller, cubogall, Canada:
PENCIL DRAWING NUDE FIGURE SIGNED MATISSE WITH COA.
This is the auction of a wonderful scene of a beautiful nude girl, reclining on a pillow. The work of art comes with documents.
artfakes.dk:
Thousands of falsifications signed Matisse are for sale all over the world. This drawing is one of them.
---
Monday, 10 April, 2006, 21:55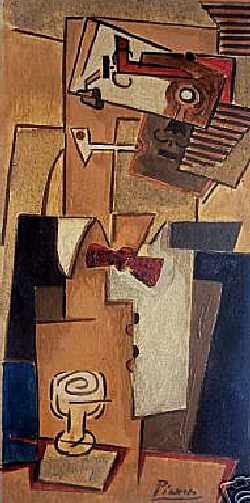 Watch this item
The seller, timber2120, Olathe, KS, United States. Feedback: 100% Positive.
Oil and Sand on Board
Man with Pipe
Approximately 30.5 cm tall, 16.5 cm wide
Owned by family member-but not much is known.
No paperwork when family member bought it, but taken to an art expert and received the following comment:
During 1914-1915 Picasso depicted the figure of a pipe-smoker in many of his compositions - see for instance "Homme à la pipe (Le fumeur)", "Homme à la pipe attablé", "Homme à la pipe attablé", "Homme à la pipe attablé, or "Homme" .
The painting is definitely interesting, and it has some of the characteristic features of
other works by Pablo Picasso such as the shapes of the glass - see "Verre, as de trèfle, bouteille sur une table" - and the pipe - see "Pipe, verre, boîte d'allumettes" . For instance, the simple, flat-color-panel depth representation clearly places the work after 1914.
Also, the constitution of the face as made up of superimposed clear-cut patterns is also frequently found around that year.
The glass properly corresponds to the abstract interpretation of the face, but the table it
rests on is left undefined and the area under the glass is not convincing either as a shadow or as saucer. Finally, while the corrugated-cardboard pattern of the face is quite common in works executed soon after 1917, the different planes do not show the harmonious relations of other works by Pablo Picasso.
The work is not a mere "copy" of an existing work and it has enough potential to be purchased as "attributed to Pablo Picasso".
A full study will probably tell more.
We don't have the proper paperwork or know the process to authenticate and need the money right now.
artfakes.dk:
It's a long story telling nothing.
If you must know: A genuine Picasso or not? You're free to ask Sotheby's, Christie's or all other well-known auction houses. If you own an original Picasso they'll probably kiss your bum...and on top of that you'll get 10-20 million dollars.
---
Back
Next