Thursday, 9 March, 2006, 00:00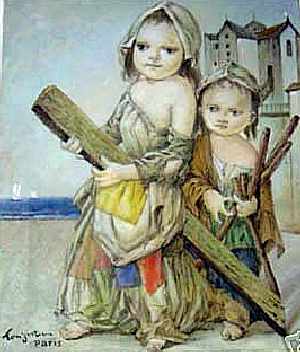 Watch this item
The seller, webewinn, Mount Clemens, Michigan United States:
JAPANESE-FRENCH Early Modern oil. Two Children At The Seashore. Oil on canvas, 20 1/4 X 16 inches. Note patch on back of painting. Repair on front is difficult to see from a short distance. SIGNED Foujita. Please contact us if you have any questions. See My Other Auctions. All sales Final.
artfakes.dk:
The seller is known selling falsifications signed Picasso, Léger, Modigliani, Foujita, Chagall, Picabia, Klimt, Utrillo and Paul Fischer.
Buy nothing from this fake art seller.
---
Wednesday, 8 March, 2006, 02:12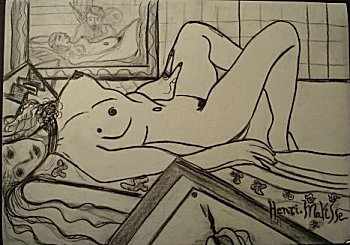 Watch the item
The seller, nonivillageinc, Flushing, NY United States:
Artist: HENRI MATISSE (1869-1954)
Title: ORIGINAL CHARCOAL DRAWING
Medium: CHARCOAL
Subject: ARTIST WITH MODEL
Date: EARLY 20TH CENTURY
100% GUARANTEED AUTHENTICITY OR YOUR MONEY BACK!
artfakes.dk:
The same drawing was sold November 8, 2005 by the famous art faker, Mr. Goldberg, for US $6,601.00.
Mr. Goldberg otherwise known as goldielox2 (how come I don't feel a sense of "gildness" here?) is in full swing selling grandpa's false paintings. His grandfather, Joseph Goldberg, was born 1881 in Russia. He died in the U.S.A. in 1946.
---
Tuesday, 7 March, 2006, 00:00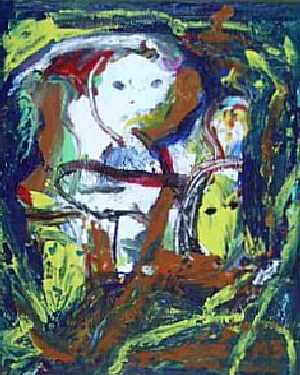 Bidding has ended for this item. Winning bid: Euro 520.00 (Approximately US $624.10)
The seller, milauth, NRW Germany:
Mogens Balle (1921-1989) Abstrakte Figuren sign.bedeutender dänischer COBRA Künstler.
artfakes.dk:
Mogens Balle has never painted Mogens Balle-forgeries.
---
Monday, 6 March, 2006, 01:12
Watch this item
The seller, mayfaircollectibles, Texas, United States:
Provenance:
This kind of pieces of Picasso were done on the 40's-60's and are not easy to find pieces, any serious collector should know that this is a jewel from the master of the xx century. Direct to the market from the private / personal collection of the actual owner. Includes important collectors. It will be sold with an original sales receipt giving the property to the new owner for include in the historial of the piece, a label attached at the back from an important gallery (that corroborates the history and the words "original work" regarding picasso), a coa by a serious gallery (that confirms the given provenance) and the expensive frame, the full provenance in a letter that the previos owner gave to the actual one.
Museum quality gouache w/ fully notarized documentation.
artfakes.dk:
Fairytales by Hans Christian Andersen are better.
---
Sunday, 5 March, 2006, 00:00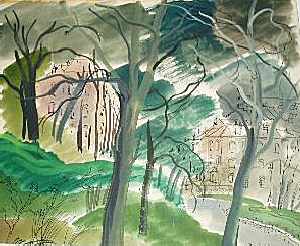 Watch this item
The seller, likeschool, Korea, South:
Rare Raoul Dufy Watercolor Landscape (Double Images)
Market Value: $ 10,000.00
Replacement Value: $ 12,500.00
APPRAISER COMMENTS(Emailappraisals.com):
This is another watercolor by Raoul Dufy, a landscape in the artist's distinctive style. This particular piece is unique in that it is actually two pictures – one on each side of the paper. It also comes with interesting provenance, which adds to the value somewhat. Based on comparative data for other Dufy watercolors recently sold, and considering the similarities and differences for the condition, size, artistic merit, and age, we have valued the subject piece as indicated.
History/Provenance: Provenance: Given personally to famous Jewish artist and survivor of the Nazi Kovno Ghetto, "Ester Lurie" by Raoul Dufy. Painting was purchased from Ester Lurie by the "Yard Gallery" Tel Aviv, Israel. Was in the owners private collection until 1992, then passed on to his family and sold to me.
artfakes.dk:
"...sold to me!". Yes, for $10,00.
---
Back
Next