Sunday, 22 January, 2006, 00:00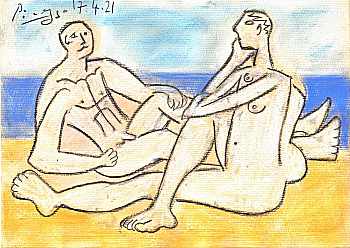 Watch this item
The seller, palm-beach-gallery, Melbourne, Australia:
This interesting pastel painting measures approx. "11 x 8". The painting appears to be early C20th and it is in good condition. It is indistinctly signed and dated. It was found amongst a large number of works and does not have any provenance.
artfakes.dk:
It's quite obvious that the seller knows quite well that the signature says Picasso. He doesn't say so, he doesn't tell anybody, he plays the dummy, and he isn't thick either as two short planks selling a valuable piece of art for a slam, he just want potential buyers to think just that hoping to play the fool with somebody, who might think on the other hand that the seller doesn't know, what he is up to, namely trying to foist a fake off upon somebody. What a way to con a man we'd say! But didn't he forget artfakes?, 'cause there is one thing, you just can't do: You can't fool artfakes!
---
Saturday, 21 January, 2006, 00:00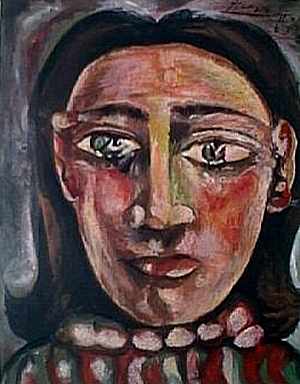 Watch this item
The seller, abdallah10, Saudi Arabia:
This Drawing from Picasso with Dimensions 29,8 X 23,7 cm and handpainted with Color Aquatint & Etching, titled Dora Maar, it is signed Picasso II X, dated 6.3.39 and it is on Carton and this Drawing comes with a Certificate of Authenticity from Jonathan Rosenberg Gallery, Bern and it has a Value of GBP 80.000 - 180.000.
artfakes.dk:
"...handpainted with Color Aquatint & Etching"
This is not an original Picasso.
This is not a colour aquatint & etching.
This is merely a piece of paper. Sell it for a copy for $10 and FBI will not come visiting you early in the morning at two o'clock.
---
Friday, 20 January, 2006, 00:10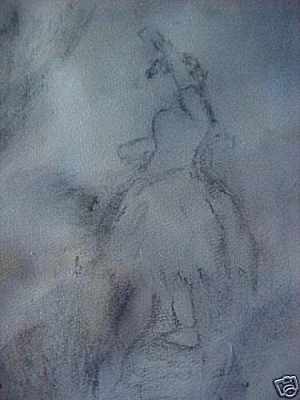 Watch this item
The seller, jgo76 (private), United States:
The artwork clearly bears the signature 'Degas" on the bottom right corner.
artfakes.dk:
Yes, but NOT a genuine work of art by the famous Degas.
---
Thursday, 19 January, 2006, 00:00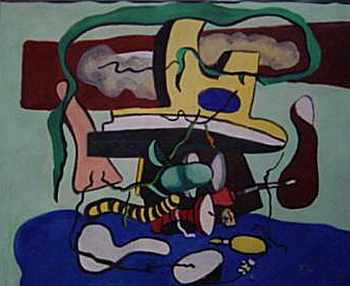 Watch this item
The seller, artprofess, France:
Very beautiful gouache signed in the lower right side F.L. attributed to Fernand Leger. Exceptional part coming from the private collection Julius Wolf New York.
NO RECLAMATION WILL BE ACCEPTED AFTER THE END OF THE AUCTION
artfakes.dk:
Off course not! No reclamation on paintings coming from Mr. Eric I. Spoutz and his private Julius Wolf Collection of fakes.
---
Wednesday, 18 January, 2006, 01:08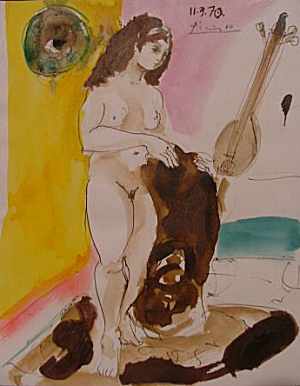 Watch this item - Bidding has ended January 17. Winning bid: GBP 831.00
(Approximately US $1,472,12)
The seller, order9080, United Kingdom:
Original painting signed Picasso & dated 11.3.70.
On 15-Jan-06 at 23:38:58 GMT, seller added the following information:
Thank you to bidder who emailed to say that Picasso never signed in ink & all his ink drawings were signed in pencil. I am no expert so cannot comment on this but bidders can do their own research. Thank you.
artfakes.dk:
A nice watercolour. Not a painting and not a genuine work of art by Pablo Picasso.
---
Back
Next