Tuesday, 30 August, 2005, 17:12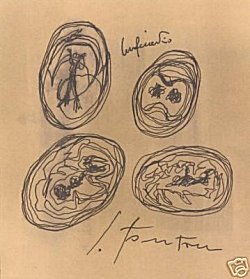 Watch the sale:
http://cgi.ebay.com/ws/eBayISAPI.dll?ViewItem&item=7346409250
The seller:
Drawing signed l. Fontana (lucio fontana) – infinite – 1960 ca. – ink on paper – inches 6,54 x 5,83
I'm an art consultant and you see my work in www.amorarte.it, a web site that i founded and where you can find outline of the contemporary italian art in rome about artists, exhibitions, galleries, memories, discussion and publishing trade. Artwork of one of the more important italian artists, absolutely genuine, guarantees the authenticity being responsible of that i put in auction! The work is signed. These works amount to high quotations in the more important world-wide houses of auction like: vincent, sotheby' s, christies, finarte. Being an auction i start from a low price, naturally the artwork will have to amount an adequate quotation, otherwise will have to withdraw the artwork from the auction. I confide in your artistic competence.
Prefere private collector and i direct these artworks to the nort-america and australia.
artfakes.dk:
All of the drawings offered by the above mentioned seller seem to be made by the same "artist".
Compare the drawings for yourself:
http://search.ebay.com/_W0QQsassZrobertosavi
---
Monday, 29 August, 2005, 20:17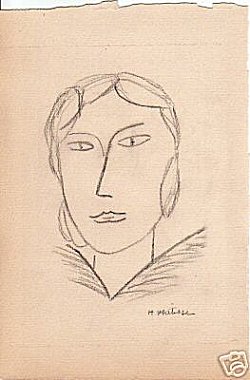 Watch the sale:
http://cgi.ebay.com/rare-Matisse-pencil-drawing-hand-signed_W0QQitemZ7345922389QQcategoryZ20121QQrdZ1QQcmdZ
Seller:
I am retiring and selling my collection of artwork that I have spent a lifetime carefully selecting. Over the next 2 or 3 months, I will be selling on eBay a number of lithos, prints and drawings that I acquired in Europe from reputable art dealers in the 60's and 70's.
I've owned this particular Matisse drawing since 1973, when it was originally purchased from a Berlin art dealer.
artfakes.dk:
You are a lier! This drawing has NOTHING to do with Matisse. And you know that.
This is a child's five dollar drawing.
---
Sunday, 28 August, 2005, 22:20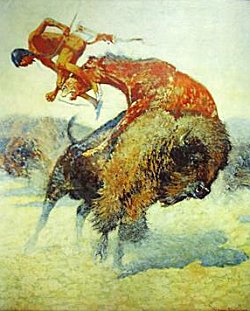 Watch the sale:
http://cgi.ebay.com/Original-Oil-Painting-Frederic-Remington-Buffalo-Horse_W0QQitemZ7346605695QQcategoryZ20128QQrdZ1QQcmdZ
The seller:
Original Oil Painting Frederic Remington Buffalo Horse
You are bidding on a Frederic Remington original oil painting entitled, " Buffalo Horse." The painting is serial Number 0022129. It is a Limited Edition - only a few more than 100 of these are in existence. This is actually from Frederic Remington's Estate Sale and is an oil painting from his home. Frederic Remington was an American painter living from 1861 to 1909. The painting appears to be in great condition and is also framed. The dimensions of the painting with the frame are: 2.5" X 27" X 30".
Bid on this original piece of artwork that was once showcased in the artist house now!
artfakes.dk:
This is a copy, NOT a genuine painting by Fredric Remington (1861-1918).
Original oil paintings by Remington or by any other artists are NOT painted in "a limited Edition". And this picture does not derive from the Remington's Estate Sale. As I said: It's merely a copy.
---
Saturday, 27 August, 2005, 23:55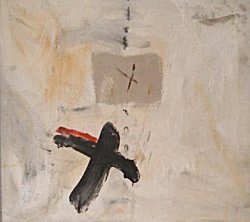 Watch the sale:
http://cgi.ebay.com/TAPIES-50-S_W0QQitemZ7345593289QQcategoryZ20136QQrdZ1QQcmdZViewItem#ebayphotohosting
The seller:
Tapies 50`s not signed 95 x 87 cm 107 x 90 cm this painting was bought in spain ( 50`s ), not signed. The original owner wrote the name of the author to remember who made this painting.
artfakes.dk:
He wrote the wrong name.
---
Friday, 26 August, 2005, 20:06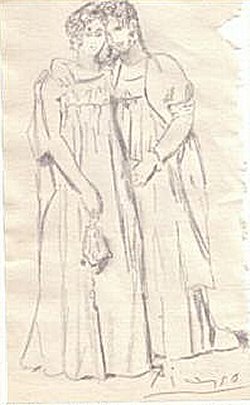 Watch the sale:
http://cgi.ebay.com/Pablo-Picasso-Exquisite-Sketch-C1952_W0QQitemZ7345487382QQcategoryZ20121QQrdZ1QQcmdZ
The seller:
Beautiful Subject , Museum Quality , with Provenance
For auction is an excellent piece by Pablo Picasso C1952. This piece was purchased back in 1982 from Reykjavic (Iceland) and has been framed and matted ever since. Artwork is in mint condition for age C1952 , there are no age spots , there is slight discolouration but to be expected due to the age. Along one side there is a tear - believed to be when page was torn out of book . Subject is of 2 women embracing one another.Piece is full of emotion and mystique , ive looked at for years and never really knew or thought whether they are happy or upset/morning etc . It has been talking point for years. I have provenance by way of verbal trade , i will provide details of names , locaitions and dates for winning bidder only . Please do not email asking for details of provenance as it is only given to the winning bidder to preserve integrity of sale and its provenance. Piece has been hand-signed by the artisit bottom left. Worldwide shipping .
artfakes.dk:
The seller is just another art swindler. What a stupid text.
---
Back
Next