Monday, 30 January, 2006, 00:00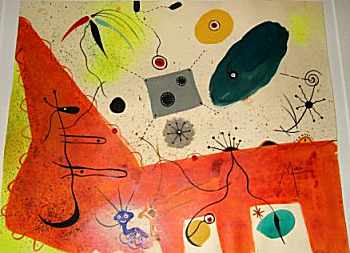 Watch this item
The seller, sandra_girl, Weltweit, Germany:
Here are the facts: This painting does not have a provenance.
This is not stolen.
This item has been examined by many experts and dated all experts believe this is an original Miro but because it does not have a provenance it has not been authenticated. Offers had been made to purchase it without this authentication but were declined because they were too low, and at the time I thought it would be easy to get it authenticated.
An art dealer had it in her possession for several months trying to get a provenance for it and was going to take it to Europe to be examined by members of the Miro family for authentication, which i could not afford, which is why I am selling it here.
If I had the connections or the money to get a provenance for this painting I would and then try selling it at Sothebys or Christys.
artfakes.dk:
This is not a question of having the proper connections, neither is it money problem. The watercolour is not a genuine work of art by Joan Miró. He certainly would never make such a lousy composition. The red figure! Is that a dog? It's far too big and furthermore: The other figures are composed in an inartistic way.
---
Sunday, 29 January, 2006, 00:00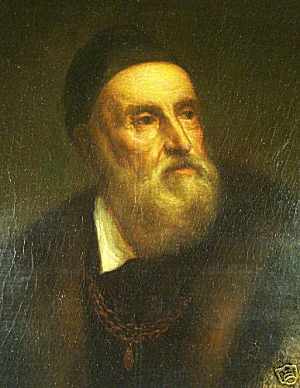 Watch this item
The seller, 2lcollectorsfun, Luxembourg: No reserve!
Estate liquidation: Important self portrait of Titian Vecellio.
The winner has 3 possibilities for this genuin old master painting: 1.) in that state with great impression as the unfinished picture is over a long time. 2.) to cut down the format to a smaller size. 3.) or to add the unfinished area dark by a restorer ( but it is much better to keep this important old master of history in its state as it is over a long time).
artfakes.dk:
"Cut down the format to a smaller size"! An original Titian!
What a wonderful art lover.
---
Saturday, 28 January, 2006, 12:00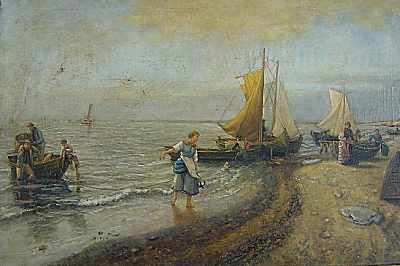 Watch this item
The seller, gosfineart, Australia:
Finest antique Norwegian seascape marine oil painting, artist: H.F.Gude.
artfakes.dk:
NO, it is NOT a fine seascape by Hans Fredrik Gude (1825-1903). An amateur painted it.
---
Friday, 27 January, 2006, 20:30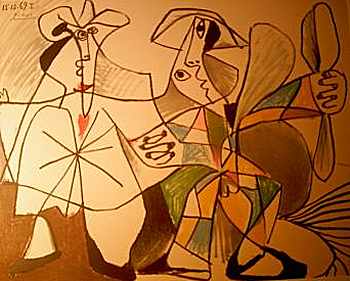 Watch this item
The seller, 2005rainhardt, Hannover, Germany:
Pablo Picasso handsigned painting from 1969. This incredible oppertunity for all art-collectors was purchased by a state-approved auctioneer in December 2005 in Germany. The auctioneer is officially and sworn by the state! Copy from the original bills is nearby. The size of the picture measures 24,4 inch by 20,4 inch. The date is exactly the 15th of December 1969 and the signature is very clear just need to be sized bigger!!!1)I believe the painting is from France.
Starting bid: US $150,000.00.
artfakes.dk:
NO original paintings by Picasso were sold in Germany in the month of December 2005.
The painting is a FAKE.
---
Thursday, 26 January, 2006, 00:00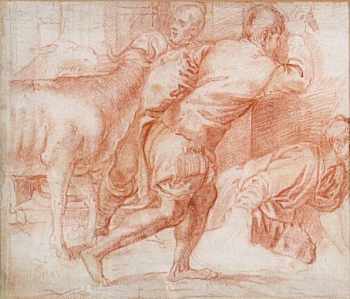 Watch this item
The seller, dargate, Pittsburgh, PA USA:
PONTORMO RED CHALK DRAWING 16th c Italian Red chalk study for Adoration of the Shepherds by Jacopo Pontormo. Double matted and framed. No mark. Size: image 7 1/2''H, 9''W. frame: 16''H, 17''W. Condition: age appropriate wear. Some dirt between mat and glass. Provenance: Purchased at Sothebys New York, then listed as 16th c. Italian.
artfakes.dk:
Why not sell it at Christie's if the drawing is an original Pontormo, one of the most expensive artists in the world?
---
Back
Next