Tuesday, 29 November, 2005, 00:24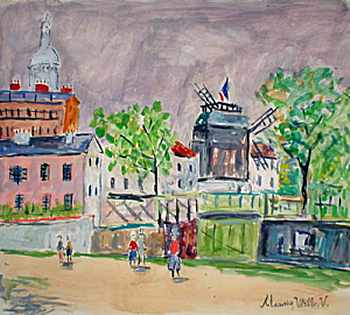 Watch the item
The seller, antiksandmore, Southern USA, United States:
Aquarelle sur papier signee Maurice Utrillo (Valadon), early part of the century. In excellent condition. Looks like the subject is Moulin de la galette a Montmartre. Possible dating is 1940's. In excellent condition and beautifully executed. The size is 14.75 x 13.25 inches. Expertise from an art expert is to be included with this piece. Provenance is private collection ancienne Belgique, to be included. Paper is mid century and slightly tanned around the edges. Payment in checks, money orders and wires are acceptable only to be received by us within seven days. Zero feedback bidders must email first for the bids to be valid.
artfakes.dk:
The seller: "Expertise from an art expert is to be included with this piece".
NO art expert will claim this miserable amateur painting to be a genuine Utrillo.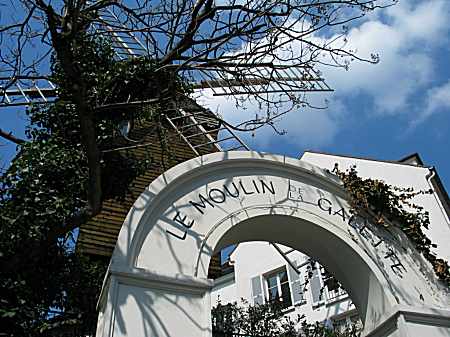 Moulin de la Galette today. Copyright: artfakes.dk
---
Monday, 28 November, 2005, 00:00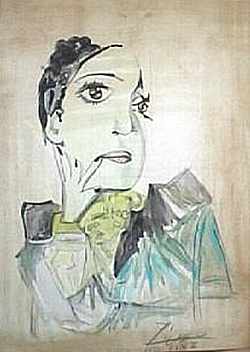 Watch this item
The seller, ratzingerpabst, ebay.uk, Germany:
I have buy this Drawing and a Certificate of Authenticity was enclosed. The Seller has guaranteed, that this Drawing is an original through the Signature and Date.
artfakes.dk:
Make the seller pay back your ten-dollar bill, cause: This is no work of art by Pablo Picasso – far from we'd say.
---
Sunday, 27 November, 2005, 00:00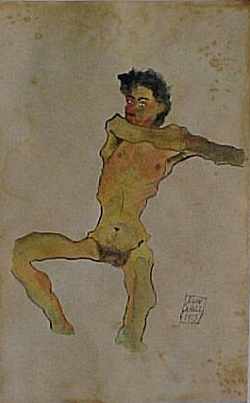 Watch this item
The seller: jgo76, United States, Positive Feedback: 100%, Member since Feb-15-04 in United States:
EGON SCHIELE: 1880 -1918 --- This dramatic nude male figure study is executed in the style of the artist in black ink, pencil, and watercolor paint on medium-weight paper, and measures aprox 11 inches by 7 inches. The work is in good and stable condition; the paper shows expected signs of aging and has aquired a soft patina as visable in the photos, likely due to a previous acidic backing or improper storage.
The artwork is signed in a manner consistent with the artist and is dated 1915. This drawing is being sold unframed. Serious bidders may request additional photographs of the drawing if necessary. Please ask any and all questions before bidding. The winning bidder will pay shipping costs.
artfakes.dk:
This Egon Schiele falsification is of much higher "quality" than are the falsifications coming from Mr. Eric I. Spoutz
---
Saturday, 26 November, 2005, 01:04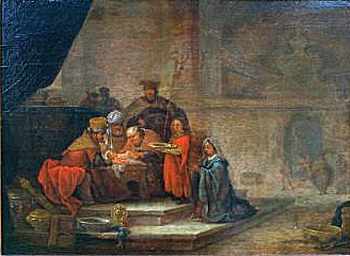 Watch this item
The FAKE-seller, total_fatal, Ostfildern, Germany:
17th century Rembrandt, superb quality, no reserveOriginal 17th century masterpiece of high quality. Oil on panel (fugue), size ca. 15x20 in (37x50 cm), frame size ca. 20x24 in (50x62 cm). Reverse an old attribution to Rembrandt. Blacklight shows retoching in the area of the curtain top left. The painting has previously been varnished. Along the edges small spots of missing paint due to framing. Good condition. Beautiful frame but not original to the painting.
Authenticity is guaranteed
artfakes.dk:
One more unscrupulous art swindler selling at eBay.
Read about attributed
---
Friday, 25 November, 2005, 00:00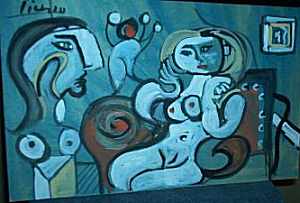 Watch this item
The seller, gerant39, Sainte-Sophie, QC, Canada:
original gouache painting on carton signed picasso Pablo Picasso [Spanish Cubist Painter and Sculptor, 1881-1973] 13 1/2inc by 8 3/8inc.
artfakes.dk:
Picasso is the most imitated painter in the world, often exposed to fraud. (Sometimes you'll even see the letter J, for his father José, altered to P for Pablo). As much as 99% of the Picasso-signed paintings and drawings, there are on the market to day, are not done by Pablo Ruiz Picasso. So to see the difference you'll have to be an expert.
---
Back
Next