Saturday, 28 June, 2008, 11:31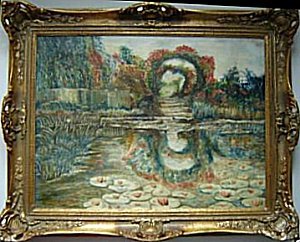 Watch this item

June 29, 2008: Latest news: The seller excluded from eBayThe fake seller, nora.1111 Germany (Feedback 100 % Positive)
Item number: 250263459727:
"Claude Monet - Painting from Garden in Giverny
A real Oil on canvas Painting
This Auction is for a real Oil on canvas painting with a beautiful wooden baroque frame, included in this Auction.
Claude Monet born: November 14, 1840 in Paris died: December 5, 1926 in Giverny
This piece comes with german Provenienz / Letter of Provenance
Claude Monet, the Painter who founded the Impressionist School lived in Giverny for 43 Years. His House and his Garden, the
Village of Giverny and its Surroundings, were his subject matter and they still attract half a Million Visitors each year from all over the World, as well as painters, charmed by the unique Light of the Seine Valley.
Before he moved to Giverny, Monet lived and worked at Le Havre, Sainte-Adresse, Argenteuil, Paris, Louveciennes, Vetheuil - all practically Synonymous with the History of Impressionism. None of these Places held his Attention as did Giverny, where he settled in 1883 and where he died in 1926.
This Oil on canvas Painting is one from 3 Paintings of this kind, which was sold to private.
The Frame measures 79 x 99 cm, the Painting measures 60,5 x 81 cm. The Painting is signed Claude Monet and dated 1917. The Condition of the Painting is amazing.
I sell worldwide to the highest Bidder without any Shipping Costs and personally pick up is also possible.
I guarantee satisfaction of this unique Artwork.
I am a private individual. With your bid you do not have any claims against the seller. I sell the painting as shown.
The Buyer will be Top Secret
Contract:
Your bid is a Contract.
Place a bid only if you're serious about buying the item. If you are the successful and winning Bidder, you have entered into a legally binding Contract to purchase the Property bid on from the Seller. You should contact the Seller to resolve any questions before bidding.
No Return and no Refund !".
Artfakes.dk:
The seller sells this phony for $13,000,000.00.
He/she must be crazy.
Dear seller: You have to inform the FBI about this painting.
We think it will bring you about two-three years in jail selling this
falsification.
---
Friday, 21 July, 2006, 00:31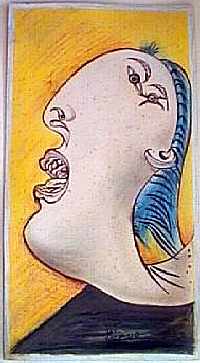 Watch this item
The seller, spock3003, ebay, Germany:
Please have a Look at this Picasso Drawing "Guernica Étude I".
I offer this very rare Item together with a Certificate (it was enclosed behind the Drawing) to interested People, who like such Artworks from Pablo Picasso.
I got this Piece from my Father as a Wedding Present in 1999.
This beautiful Drawing has the Measurements 24 cm x 45,4 cm and it is handdrawn with Pencil & Crayon on Paper.
The Drawing is in good Condition with a Picasso Signature.
The lucky Winner of my Auction will get the Drawing as is with the Certificate in a professionally Package.
artfakes.dk:
The "lucky" winner will receive a fake.
---
Wednesday, 28 June, 2006, 22:44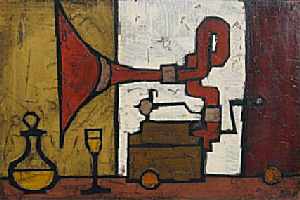 Watch this item
The seller, realfineone, Houston, Texas, United States:
Wonderful authentic, original painting by the famous French Mid Century artist, Bernard Buffet. Signed.
artfakes.dk:
Wonderful authentic, original fake signed Buffet, the famous French Mid Century artist.
---
Sunday, 25 June, 2006, 21:00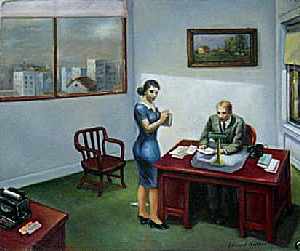 Watch this item
The seller, webewinn, Mount Clemens, Michigan, United States:
AMERICAN Regionalist oil. New York City Office After Hours
Description: Oil on artists board, 13 X 15 inches. SIGNED.
artfakes.dk:
Webewinn is a wellknown fake seller and this painting is NOT a genuine work by the famous American artist Edward Hopper (1882-1967) but one of the sellers many falsifications offered on ebay.
---
Saturday, 24 June, 2006, 00:00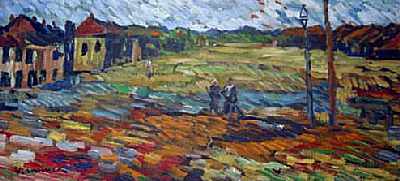 Watch this item
The seller, webewinn, Mount Clemens, Michigan, United States:
FRENCH Early Modern oil. Fauve Landscape With Figures
Description: Oil on canvas, 12 X 24 inches. SIGNED
Please contact us if you have any questions.
See My Other Auctions.
artfakes.dk:
webewinn has a lot of fakes on his walls.
This painting is not a genuine work by the French artist Maurice de Vlaminck (1876-1958).
---
Back
Next