Saturday, 28 January, 2006, 12:00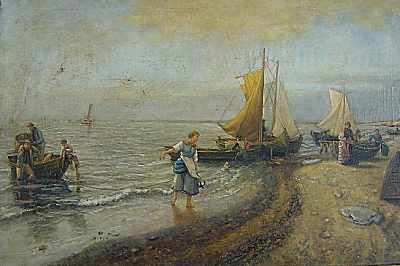 Watch this item
The seller, gosfineart, Australia:
Finest antique Norwegian seascape marine oil painting, artist: H.F.Gude.
artfakes.dk:
NO, it is NOT a fine seascape by Hans Fredrik Gude (1825-1903). An amateur painted it.
---
Friday, 27 January, 2006, 20:30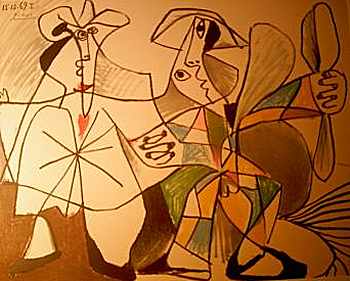 Watch this item
The seller, 2005rainhardt, Hannover, Germany:
Pablo Picasso handsigned painting from 1969. This incredible oppertunity for all art-collectors was purchased by a state-approved auctioneer in December 2005 in Germany. The auctioneer is officially and sworn by the state! Copy from the original bills is nearby. The size of the picture measures 24,4 inch by 20,4 inch. The date is exactly the 15th of December 1969 and the signature is very clear just need to be sized bigger!!!1)I believe the painting is from France.
Starting bid: US $150,000.00.
artfakes.dk:
NO original paintings by Picasso were sold in Germany in the month of December 2005.
The painting is a FAKE.
---
Thursday, 26 January, 2006, 00:00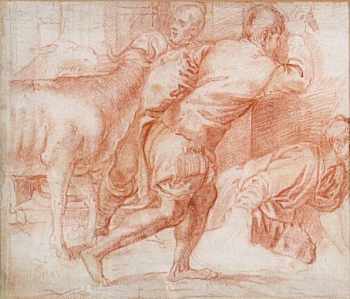 Watch this item
The seller, dargate, Pittsburgh, PA USA:
PONTORMO RED CHALK DRAWING 16th c Italian Red chalk study for Adoration of the Shepherds by Jacopo Pontormo. Double matted and framed. No mark. Size: image 7 1/2''H, 9''W. frame: 16''H, 17''W. Condition: age appropriate wear. Some dirt between mat and glass. Provenance: Purchased at Sothebys New York, then listed as 16th c. Italian.
artfakes.dk:
Why not sell it at Christie's if the drawing is an original Pontormo, one of the most expensive artists in the world?
---
Wednesday, 25 January, 2006, 12:13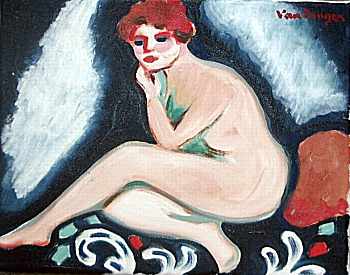 Watch this item
The seller, palm-beach-gallery, Melbourne, Australia:
This interesting impressionist painting is oil on board and measures approx. "13 x 9". The painting appears to be early C20th and it is in good condition. It is signed with a monogram. The style of painting is certainly french turn of the C19th/C20th. It was found amongst a large number of works and does not have any provenance.
artfakes.dk:
It's quite obvious that the seller knows quite well that the signature says Van Dongen. He doesn't say so, he doesn't tell anybody, he plays the dummy, and he isn't thick either as two short planks selling a valuable piece of art for a slam, he just want potential buyers to think just that hoping to play the fool with somebody, who might think on the other hand that the seller doesn't know, what he is up to, namely trying to foist a fake off upon somebody. What a way to con a man we'd say! But didn't he forget artfakes?, 'cause there is one thing, you just can't do: You can't fool artfakes!
---
Tuesday, 24 January, 2006, 00:00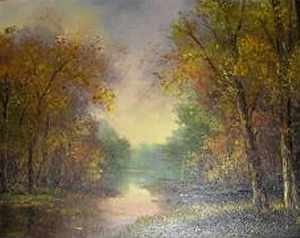 Watch this item
The seller, cyprussj, litchfield park, AZ, United States:
Original Landscape painting by Renoir.
artfakes.dk:
This painting has nothing to do with the famous French painter Pierre-Auguste Renoir (1841-1919). It's a FAKE offered by an art faker.
---
Back
Next