Wednesday, 26 October, 2005, 20:10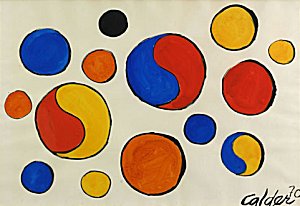 Watch this item
The seller, Pook & Pook, Inc. 463 East Lancaster Ave. Downingtown, PA USA 19335:
AlexanderCalder(American, (1898-1976), brush and ink with gouache on paper drawing, signed lower right "Calder 1970", 30" x 43".
artfakes.dk:
We have informed Calder Foundation about the falsification.
Calder Foundation
---
Tuesday, 25 October, 2005, 01:00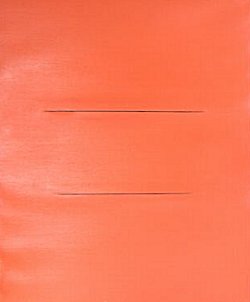 Watch this item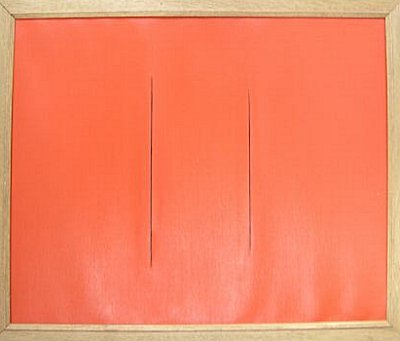 artfakes.dk:
If you try and turn the picture 90 degrees it looks more like a Fontana, but we donít think it is
---
Monday, 24 October, 2005, 01:00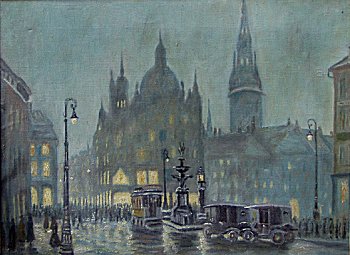 Sold Oct. 15, 2005 by Fine-Scandinavian-art, Copenhagen for the amount of $348 to kjemalle, Sweden, who is now early to sell it for 4.300 dollars (this is more than ten times this amount!)
Watch the Swedish sale
The Swedish seller:
Description: No reserve price auction!!!
Genuine oil on canvas. No visible signatures? The painting dates back to about 1910-1915.
Fabulous impressionistic evening scene from the Square of Amagertorv located downtown in Copenhagen. Marvelously detailed painted! Notice the tiny well-dressed people rushing down the streets, the old yellow streetcar and the vintage folk wagons. The light and colors in this scene are simply breathtaking. Notice how the warm lights from the shops reflects on the wet pavement from the boulevard. The fountain seen in the middle is called : Storkespringvandet, meaning: The fountain of storks. It still stands today along with most of the buildings seen in the scene. We attribute this wonderful oil to the Danish artist Paul Fischer (1860-1934). Paul Fischer is above all known for his evening scenes from downtown Copenhagen and this scene contains many of the beautiful characteristic that Paul Fischer is known for. The frame is the original and is a rare silver painted Berliner frame.
Auction prices / estimated value.
Paul Fischer is listed in artprice.com. His oils has been sold for 18.000 dollars!
Attributed works has been sold for 1500 dollars.
artfakes.dk:
This painting is bleating false, the famous Copenhagen painter Paul Fischer did not paint it. The two auction houses, the Danish and the Swedish, don't know anything about Paul Fischer. The painting is a FAKE and in June 2005 a genuine Paul Fischer was sold at Sotheby's in London for about $350.000.

Take a look at the painting sold in London and at another genuine Paul Fischer
---
Sunday, 23 October, 2005, 01:00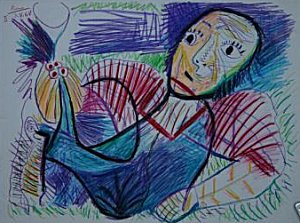 Watch this item
The seller, moebeeps, United States:
This piece is offered to you as an impressive work of art consistent with Picasso's style in the later years of his life.
artfakes.dk:
One more Picasso falsification from yet another Picasso fake-art-seller.
---
Saturday, 22 October, 2005, 01:00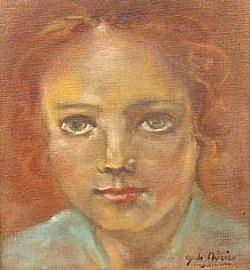 Watch this item
The seller:
Description:
GIORGIO DE CHIRICO, (Italian, 1888-1978), oil on canvas, depicting the head of a woman, 9-3/4" x 9-1/8", signed l.r.
artfakes.dk:
NOT an original work by de Chirico. Painted yesterday by the seller himself.
Always remember: Let the paintwork dry through before you put it in for sale!
---
Back
Next