Saturday, 26 July, 2008, 15:07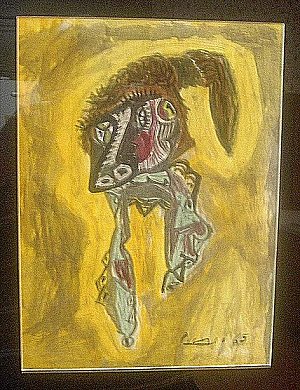 Watch this item
Item number: 140251509107
Seller: itishappening. Member: since Dec-01-98 in United States. Feedback: 95.9 % Positive. Item location: Lexington, SC, United States.
Starting time: Jul-21-08 06:56:19 PDT
End time: Jul-28-08 06:56:19 PDT

The seller's description:
PICASSO, PABLO Original Painting(signed/dated) MUST C
Offering a vintage painting by Spanish abstract-cubist painter Pablo Picasso(1881-1973) Signed "Picasso" and dated '65, lower, right-hand corner. Subject: portrait of tribal woman. Medium: looks like watercolor and/or gouache on vintage rice paper. Painting comes in it's original, antique frame with textured black mat, and original glass dust-cover. Art work measures 8 inches across and 11 inches high; frame measures 26 x 30 inches. Sorry folks, no coa or provenance. This painting is being sold for an acquataince of mine out of Atlanta, who is selling pieces she's collected over the years due to financial issues. She purchased the painting at an estate sale back in the 1980's. PLEASE NOTE: this painting looks to be original. Image looks right for the period, paint and paper look older(appropiate fading/discoloration, and very slight uneveness of paper, see photos..) signature looks correct(see close-up..) and frame and matt are vintage. I have set a very reasonable opening bid, and no reserve, so take advantage, or be sorry... Good luck..

Artfakes.dk:
Again a wonderful fairytale of Hans Christian Andersen.
When the seller tells: »Sorry folks, no coa or provenance« we can only add: Of course not. But the seller can be lucky because the last idiot is not born.

The seller: »PLEASE NOTE: this painting looks to be original«.
Arfakes.dk: NO, it does NOT. It looks awfully BAD.
The painting is just one more FAKE and the seller just one more FAKE seller
---
Friday, 25 July, 2008, 21:22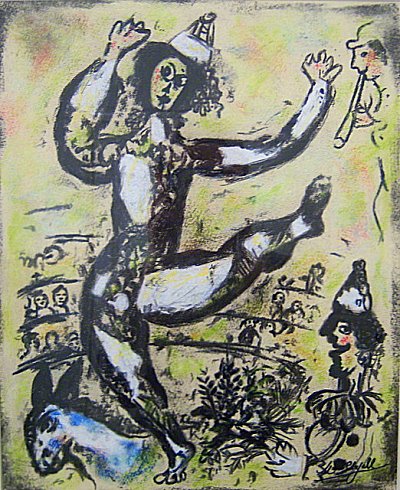 Watch this item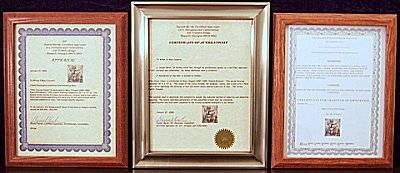 Three certifications IMPOSSIBLE to readSeller: nrus1892. Member: since Nov-26-05 in United States. Item location: Gilbert, AZ, United States. Feedback: 100 % Positive. Item number: 270256505552.

MAR CHAGALL SIGNED DRAWING PAINTING COA (Picasso Era)
COA & Documents
MARC CHAGALL (1888-1985, French/Russian)
Pastel Hand signed on lower left corner M Chagall
Has signs of old age. No damage whatsoever. In very good condition.
Please excuse any reflection and/or flash. Images on photos were taken under glass
Paypal Verified. 100% PFB since 2005. Sold as is (as described). All sales are final.

Artfakes.dk: What can we say about the painting? We can say that it's NOT an original work of art by Chagall. Is that enough?

---
Thursday, 24 July, 2008, 22:35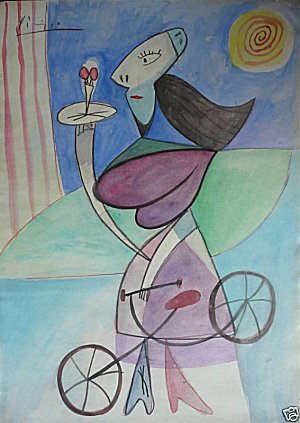 Watch this item
Seller: manino90. Member: since Aug-20-01 in United States. Item location: Clark County,NV., United States. Feedback: 100 % Positive. Starting time: Jul-19-08 19:30:00 PDT
End time: Jul-26-08 19:30:00 PDT
Starting bid: US $1,499.00

The FAKE seller: PABLO PICASSO DRAWING GOUACHE W/COA femme et bicyclette

Artfakes.dk:
It is Picasso falsification about No 1.000.000 for sale on eBay
---
Wednesday, 23 July, 2008, 21:44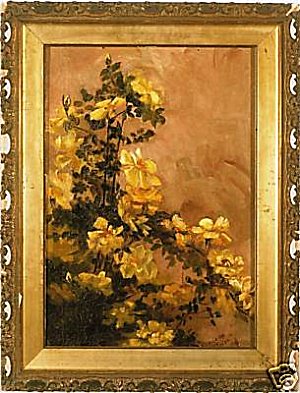 Watch this item
Seller: tbarles13r0. Member: since Nov-04-98 in United States. Feedback: 0%.
Item number: 190237575320. Item location: West Hollywood, CA, United States.
Starting time: Jul-16-08 17:24:56 PDT
Duration: 7-day listing
Starting bid: US $3,000,000.00
Buy It Now price: US $5,000,000.00

Seller's information:
Yellow Roses by Van Gogh. Lost van Gogh.
This painting was done in Arles, France. It is a painting of yellow roses that was painted over a painting of yellow Iris'es. The Irises were dedicated to Anton Mauve who died in 1888. Vab gogh painted over the Irises and then painted the Yellow Roses over the Irises. The dedication cab be seen in x-ray. The provenence Is strong, the original owner was Helen Henderson Chain. Who owned the first Book story art gallery in Denver, Colorado. The original sticker from the gallery is still on the back of the painting,
The gallery closed when the Chains died when they where on a ship called the Balkar in a typhoon in the South China Seas in 1892.Artfakes.dk:
Just one more van Gogh falsification and one more FAKE seller.
The painting has never been close to Vincent van Gogh. IT'S A FAKE.
---
Tuesday, 22 July, 2008, 22:58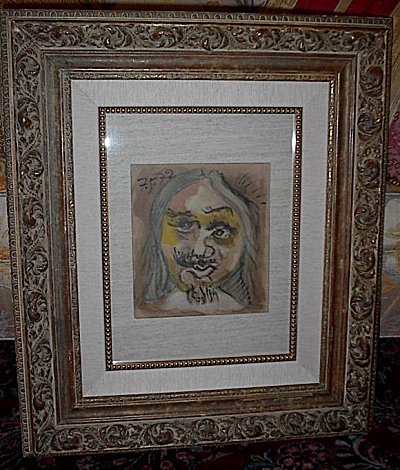 Watch this item
Seller: estates_and_plus. Member: since Mar-04-08 in United States. Item location: FRESH MEADOWS, NY, United States. Feedback: 95.2 % Positive.
Starting bid: US $3,998.55.
Buy It Now: US $375,000.00.
Item number: 160263015294Read the seller's five kilometers long description: Pablo Picasso.20'c MASTER Painting Gouache Spanish @N/R
100% Guarantee!$500K-$700,000 Start @ $4K*& NO RESERVE!
Please, read all my Description!
*1* About The Painting!
*2* About The Guarantee!
*3* About me!

*1* About The Painting:
Pablo Picasso (October 25,1881 - April 8, 1973) THE 20th Century Spanish Master
***IN MY PROFESSTIONAL OPINION, THIS PAINTING IS BY- The Greatest 20th Century Master Pablo Picasso!!!
***This IMPORTENT Masterpiece Painting NEED, AND EVEN MUST TO HAVE A COMPLIT RESARCH!!!
I WISH I HAVE THE TIME, AND THE AFFORDS FOR THAT!!!
***THIS IS AN AMAZING, and a QUALETY MASTERPICE PAINTING, AND IN A VERY NICE MUESEM FRAME!!!
ARTIST: (???) Pablo Picasso
TITLE: Le Mouquitaire
SIGNED: Not Signed (Like many other by Picasso)
MEDIUM: Crayon and Gouache on Cardboard
DATE: May 7th, 72
UNFRAMED SIZE: About 8 5/8" by 9 5/8" inch (1 inch= 2.54 cm)
FRAMED SIZE: 23" by 27"
*** Sold, With this Museum Frame!!!
CONDITION: This Painting is in a VERY GOOD Condition!!!
*Some age spots on the Cardboard
*Frame is in VERY GOOD condition!!!.
GUARANTEES: 100% Guaranteed: Painting Medium, And Painting Age!!!
ESTIMATE: *IF IT IS BY PABLO PICASSO (I'm 99.99% sure it is) = $500,000-$700,000- AT THE Gallery!!!
PRICE: START @ $3,998.55 *AND NO RESERVE!!!

***AS A COLECTOR, AND A DEALER OF FINE ARTS FOR MANY YEARS,
I WILL GIVE YOU TOO, MY GOOD, AND OLD ADVICE: "IF YOU LIKE IT VERY MUCH...AND YOU CAN AFFORD IT PURELY MUCH...YOU MUST TO BUY IT...AND FORGET HOW MUCH, BECAUSE YOU WILL APPRECIATED ALL YOUR LIFE VERY MUCH" !!!

2* About The Guarantee:
My auctions descriptions, are made to the best of my knowledge!!!
*THE GUARANTEESS IS PROVIDED, ONLY FOR THE ORIGINAL PURCHASER!!!
*****Item are 100% guaranteed, For a Period Of Five (5)Years!*****
*****Returns For full refund *****
*Minus shipping charges & e-bay fees!
*In original condition
*****THE BUYR MUST GIVE WRITTEN NOTICE OF CLAIM TO US WITHIN FIVE YEARS FROM DATE OF THE SALE . WE SHALL HAVE THE RIGHT, TO REQUIRE THE BUYER TO OBTAIN THE WRITTEN OPINIONS OF TWO RECOGNISED EXPERTS IN THE FIELD, MUTULLY ACCEPTABLE TO US AND THE BUYER, BEFORE WE DECIDES TO CANCEL THE SALE UNDER THE WARRANTY!!!
*****THE BUYER MUST RETURN THE LOT TO US, AND, IN THE SAME CONDITION AS AT THE TIME OF THE SALE !!!

*3* About me:
I owned several years ago a gallery store in Greenwich Connecticut.
One of the most wealthy, and richness city in the U.S.A.
In this gallery I was selling, and buying, and taking on consignments, a very good, and very Hi fine arts, mostly from a very Hi end estate sale's, and collectors, and some time even dealers.
Few years ago I closed the gallery, and now I work from home.
I keep looking for fine art treasury in this Hi ends estate sale's
Every week I hope to list on eBay some of my treasury discovers, mostly fine art paintings, some will be a very good, and very Hi fine art paintings, all the way from Old Master, to 20th century fine art.
Artfakes.dk:
What a wonderful fairy tale. The painting is a genuine FAKE.
---
Back
Next