Sunday, 26 February, 2006, 11:36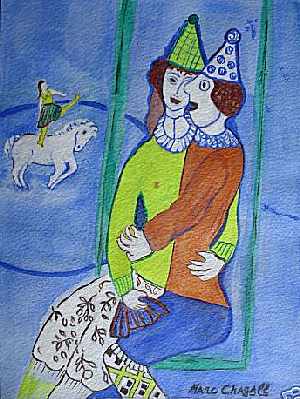 Watch this item
The seller, goldielox2, United States of America:
This original watercolor signed Marc Chagall, is one of a number of paintings and drawings that will be offered for auction on ebay. Not a lithograph or print of any kind. There is no reason to go on about this great artist.......... Marc Chagall. This watercolor painting measures 12.2 inches in height and 9 inches in width.
It is in overall excellent condition for its age, and has been kept unframed for many years. This work, as well as a number of other works of varied artists, has come to me via my parents and grandparents. Grandfather was Russian born and traveled extensively as a violinist, and concertmeister for ballets, etc. There were many stories of him traveling and working with famous artists and musicians. As a practical matter this painting is offered... As is,with no paperwork, and will go to the highest bidder....do your own research before bidding, as all auction results are final. No reserve, bid with confidence.
artfakes.dk:
Mr. Goldberg otherwise known as goldielox2 (how come I don't feel a sense of "gildness" here?) is in full swing selling grandpa's false paintings. His grandfather, Joseph Goldberg, was born 1881 in Russia. He died in the U.S.A. in 1946.
---
Saturday, 25 February, 2006, 21:03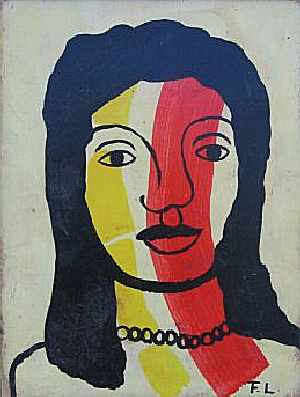 Winning bid: US $2,720.00 (Reserve met)
History: 45 bids (US $99.00 starting bid)
The seller, rfumatilla, Central Florida, United States:
This auction is for an original oil on board, created circa 1920, by Fernand Leger. Measuring approximately 10" by 13" within a frame of 12.5" by 15.5", the work is in good condition with some surface grime and abrasion. The consignor found this painting at a used-goods sale in Central Florida and does not have provenance for the work; bearing that in mind, he estimates its value at $2,100.
artfakes.dk:
What a happy buyer! $2,720.00 for an original Léger!
---
Friday, 24 February, 2006, 18:07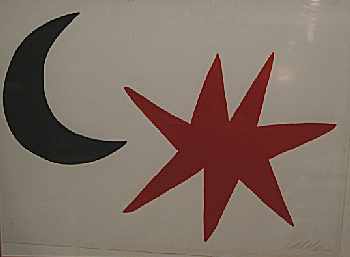 Watch this item
The seller, jmpandjsp, South Park, Pennsylvania, United States:
ORIGINAL WATERCOLOR....SIGNED...MUST SEE
Original signed watercolor....please see signature right corner
Original watercolor signed by artist
22 by 31" original watercolor by known artist
Signed lower right hand corner.
artfakes.dk:
Yes, Alexander Calder is a known artist.
But this watercolour is NOT a genuine work by the known Calder.
---
Thursday, 23 February, 2006, 19:03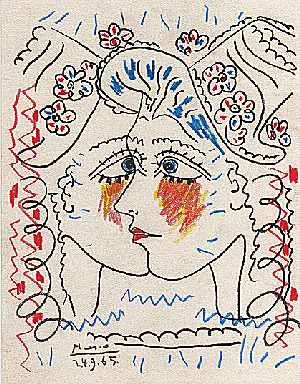 Watch this item
The seller: usa24h, Rhode Island, United States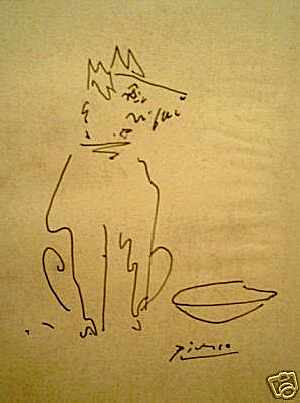 Watch this item
The seller: debbymancini, Windsor, United Kingdom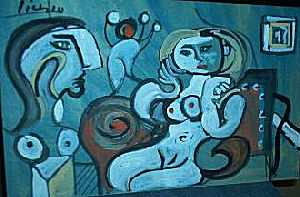 Watch this item
The seller: gerant39, Sainte-Sophie, QC, Canada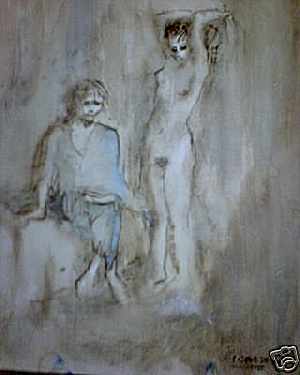 Watch this item
The seller: jacqui5purple, leeds, West Yorkshire, United Kingdom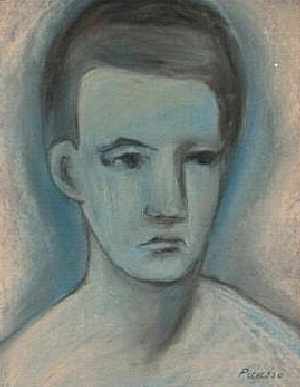 Watch this item
The seller: superhappy_anonymous, North Arlington, New Jersey, United States
artfakes.dk:
All these pictures are FAKES
---
Wednesday, 22 February, 2006, 18:40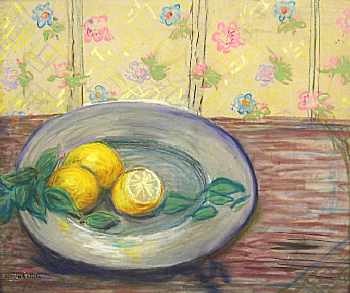 Watch this item
The seller, palmbeachauctioneer, Palm Beach, United States:
The seller, palmbeachauctioneer, Palm Beach, United States:
The Palm Beach Auctioneer Presents:
Henri Matisse Original Pastel on Cardboard-Circa 1926
Item Description:
The Palm Beach Auctioneer presents this Original Pastel by Henri Matisse. This pastel is done on cardboard and is believed to be a study for his Oil entitled "Les Citrons Au Plat D etain". This piece is framed under glass in the original frame and is signed H. Matisse in the lower left corner. The cardboard is separated at the bottom approximately .75" up, but below the signature, but is still in perfect apposition. The pastel is in excellent condition, however the frame has some wear.
The last photo shows the oil we believe came from this piece. It is referenced on page 182 of Henri Matisse, The Early Years in Nice 1916-1930.
artfakes.dk:
This is NOT an original pastel painted by Matisse. Matisse wasn't an amateur artist. This painting is painted by an amateur.
---
Back
Next