Friday, 25 November, 2005, 00:00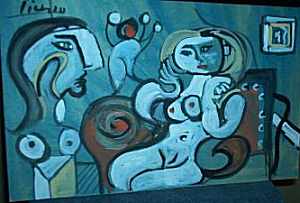 Watch this item
The seller, gerant39, Sainte-Sophie, QC, Canada:
original gouache painting on carton signed picasso Pablo Picasso [Spanish Cubist Painter and Sculptor, 1881-1973] 13 1/2inc by 8 3/8inc.
artfakes.dk:
Picasso is the most imitated painter in the world, often exposed to fraud. (Sometimes you'll even see the letter J, for his father Josť, altered to P for Pablo). As much as 99% of the Picasso-signed paintings and drawings, there are on the market to day, are not done by Pablo Ruiz Picasso. So to see the difference you'll have to be an expert.
---
Thursday, 24 November, 2005, 00:00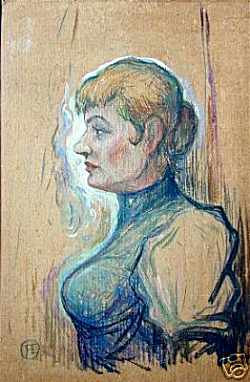 Watch this item
The seller:
I firmly believe that this piece is genuine. Everything feels right about this painting. The monogram feels part of the painting and under black light, it does not appear to be something added to the painting. It is also very clearly an old piece - the cardboard looks worn of the edges etc.. Importantly it also seems to have auctions references on the back with the numbers 46 and 1051.
Now let me tell you something about the story of this painting. It has been in the same Swiss family since the end of world war II. At the death of the father of this family, the widow has decided to sale quite a few pieces of art and has mandated an art dealer to sell it - he has sold a number of pieces this family owned over the years. I bought it at a price of $35,500 at the end of last year. Details of this dealer will be provided to the highest bidder.
Reserve: I will start this auction at £1- with no reserve but be realistic I won't let it go at an "unrealistically low price". If you want to buy it direct from me, I am opened to offers.
artfakes.dk:
The seller doesn't know, he says, whether we have a genuine Toulouse-Lautrec here, but he claims to have bought it for 35.000 dollars a year ago. Now the seller wants to sell it without a minimum prize (no reserve) and he starts with one pound only! After the first six bids the prize has raised to 22 British pounds. This painting is not a work of art by Toulouse-Lautrec, even if it can suggest the opposite, we admit. And the seller is dead sure aware of the fact, we believe, that what we are presented for here is a forgery.
---
Wednesday, 23 November, 2005, 00:00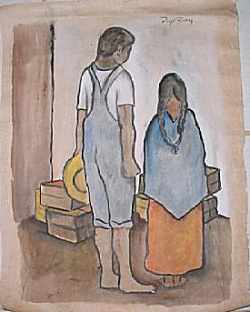 Watch this item
The seller:
This fantastic painting (gouache on rice paper) is signed "Diego Rivera" represents: "figures" very nice colors. Very good condition - unframed. Unfortunately i don't have a certificate . This piece was part of a latin american art collection in palm beach. But I can guarantee the piece is old and hand made. I was sold 2 pieces of the same collection and I have 3 more pieces for sale. Look the quality of this work of art. Measures: 16" x 23" big piece.
artfakes.dk:
If the two paintings already sold were as blind fakes as this, the seller is to be considered a big-time swindler. The painting is light-years from Rivera's way of painting.
---
Tuesday, 22 November, 2005, 00:00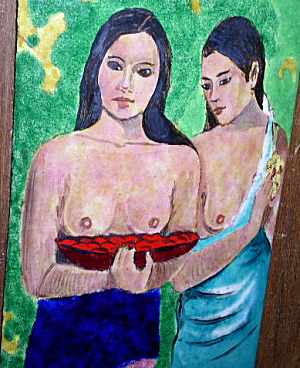 Watch this item
The seller, i-doitall, San Diego, United States:
for auction is a neat colorful enamel picture done on a copper plate by Gauguin. mounted on a solid piece of teak wood. the enamel picture features two semi nude woman one with a bowl of fruit the other with flowers. the colors are bright and bold, blues, greens, red and yellow, even the flesh tone is realistic. expressive eyes with long black hair. the measurement are 5 1/2" by 3 3/4" and the frame is 9" by 7 1/2". the condition is good NO chips or cracks. a really nice find for your gallery and collection. i will have many other vintage items for auction and i will combine the shipping and insurance to the high bidder. thank you for looking and keep the magic.
artfakes.dk:
This is the work of a very poor amateur, practically one-dimensional too. It has nothing to do with the famous painter Paul Gauguin.
---
Monday, 21 November, 2005, 00:00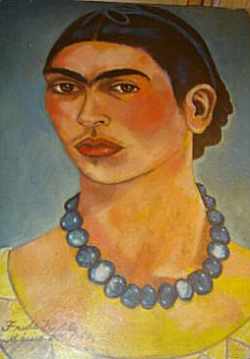 Watch this item
The seller, anasgallery, Miami, FL, United States:
Frida Kahlo oil, dated 1940, oil on masonite
this oil i cannot guarantee it being made from the hand of Frida but I will guarantee it of having the quality,the period,being an oil,signed,and very very beautiful.....no reserve.
artfakes.dk:
A painting signed Frida Kahlo but NOT painted by Frida Kahlo is a FAKE.
---
Back
Next