Thursday, 25 August, 2005, 17:31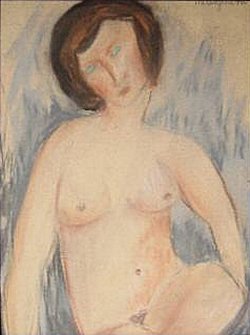 http://cgi.ebay.fr/Nu-assis-signee-Amadeo-Modigliani-ami-de-picasso_W0QQitemZ7344652473QQcategoryZ46936QQrdZ1QQcmdZ
The seller:
Gouache pastel and pencil on paper of Modigliani year 1918. Format: 15.24 X 20.32 Signature in top on the right. Exceptional part coming from the private collection Julius Wolf New York. Exposed in London at Arthur Tooth and Sounds in 1921. Certificates accompany this work with dry stamp by notary. Several letters of sources also accompany this work. Undeniable characteristics of the portraits of Amedeo Modigliani: - blue almond eyes - acute nose and end which continues the harmonious crescent of the arcade sourcilliaire. - projecting profiles
artfakes.dk:
Don't trust anything coming from Julius Volf and the art faker Eric I. Spoutz, Detroit, Mi.
The seller writes: Undeniable characteristics of the portraits of Amedeo Modigliani.
NO! This painting is NOT a characteristic Modigliani. He does NOT paint like this.
---
Wednesday, 24 August, 2005, 22:32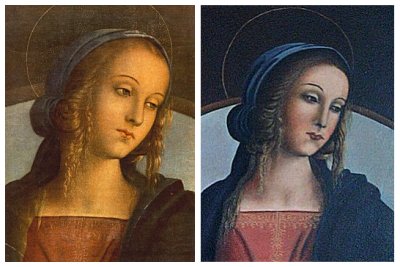 The painting to the left is the original Perugino (in detail).
The painting to the right is just another copy.
It isn't really hard to recognize the fake from the genuine piece.
Read also the tekst on our front page starting with:
"So many visitors have asked artfakes"
To be honest, $62.000 really is too much for a copy.
Don't you think so too?
http://cgi.ebay.com/Perugino-Study-Virgin-Mary-Oil-Painting_W0QQitemZ7345351179QQcategoryZ20132QQssPageName
The seller:
This Perugino Virgin Mary has been in my family for over 60 years. The story behind it is what makes this piece so unique. My great-aunt received this painting in 1942 in recognition for her humanitarian work in hospitals during World War II. I was told it was painted by a nun who was captured by the Nazis and later died in a concentration camp. The story is very similar to Edith Stein's story. Edith Stein was canonized by Pope John-Paul II as Saint Teresa Benedicta of the Cross. The painting is signed htide (Edith backwards) and a reflective view also shows a distinct "st" after the name. I have no way to verify this story, but have no reason to believe it was fabricated (the painting stayed in a Catholic rectory in Remagen, Germany until the 1970's, when my great-aunt passed away.) This beautiful painting needs to be displayed in a proper and safe location.
---
Dear visitor! Please pay no attention to libels in the "add comments" blanks!
Some of the art forgers mentioned on artfakes not only falsify art they also place wicked libels in our name in the "add comments" blanks. Especially one persistent crook, Mr. Eric I. Spoutz from Detroit, Mi. is pissed off with us and for good reason. So please pay no attention to unsavoury contributions, these are pure fakes too, and with the sole purpose of blacken our good name. Artfakes is and will always be a sober-minded place to learn about art and art forgers.
---
Tuesday, 23 August, 2005, 22:58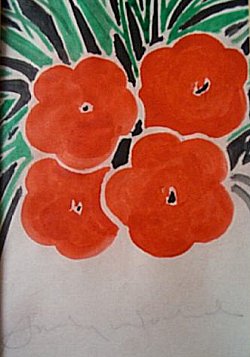 Watch the sale:
http://cgi.ebay.com/ws/eBayISAPI.dll?ViewItem&item=7344809683
The seller:
ARTIST: Andy Warhol (1928-1987) American School
PROVENANCE:It has been consigned to us from a private household estate,were it formed just a small part of a huge rather important collection.Many works from this collection have already been sold with major sale rooms.The pieces without any documentation,have found themselves in smaller sale rooms and in private collections.This piece has no documentation,so please satisfy your own opinion before bidding.We feel it is still rather an important item and although we offer without reserve,we start the open bid sensibly.
AUCTION ESTIMATE: £5,000 - £8,000
artfakes.dk:
This painting has nothing to do with the famous pop artist Andy Warhol.
It's a fake. And so are all the rest offered by the same seller: Diego Riviera, Edouard Vuillard and Henri Lebasque – all pure fakes.
---
Monday, 22 August, 2005, 22:40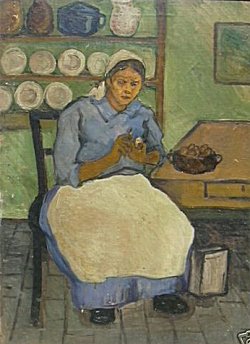 http://cgi.ebay.com/Paul-Cezanne-oil-C-1890-Impressionist-French-Exquisite_W0QQitemZ7344720036QQcategoryZ20129QQrdZ1QQcmdZ
The seller:
I am offering here original, unsigned oil on canvas mounted on board, circa 1890, by the master 19th century French post Impressionist, Paul Cézanne. Many of Cezanne paintings were left unsigned, because he did not feel that they were perfectly complete. While untitled, this oil depicts a portrait of a kitchen maid peeling potatoes. In good condition, this oil measures 67.7cm x 49.1 cm (26.9" x 19.1"), mated measures 77 cm x 59.5 cm (30.3"x 23.5"). Because that this work was mounted on the board there is a possibility that the painting in its original stage was slightly larger.
This Cezanne has an interesting provenance. My late father in law acquired this work in 1961 as a genuine Cezanne from the estate of a wealthy German born physician. This doctor managed to escape Berlin in the early 1930's with some of his prized possessions, before the Nazi onslaught. He immigrated to Palestine, setting up his practice in the same building in Tel Aviv where my father in law ran his art gallery. Being of modest means, my father in law was able to acquire only few of the paintings from the estate of this doctor. This work resided in my father's in law home until his death, and has been in my possession ever since. Unfortunately no Certificate of Authenticity exists for this Cezanne; therefore I am selling this work as attributable to the artist. This work was never shown to art expert and it is fresh on the market.
In my opinion this is an authentic, unsigned Cezanne. It is not a print, facsimile, nor any kind of mechanical reproduction. It is guaranteed to be identical to the photographs you see in this auction. Although this Cezanne is over 110 years old, the colors are very strong, and the images vibrant. For anyone knowledgeable in the unique style of Paul Cezanne, the hand of this master is highly visible in this work. (Please excuse my photography, it does not due justice to this work).
artfakes.dk:
What a wonderful fairytale by Hans Christian Andersen.
---
Sunday, 21 August, 2005, 13:43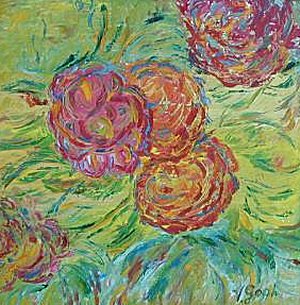 http://cgi.ebay.com/Van-Gogh-Original-canvas-oil-flowers-70-70-No-Reserve_W0QQitemZ7344676921QQcategoryZ20136QQrdZ1QQcmdZ
The seller:
Van Gogh Original canvas oil flowers.
artfakes.dk:
The seller is an art swindler.
---
Back
Next