Friday, 24 March, 2006, 00:00
Watch this item
The seller, art_paris, Maisons Alfort, France:
Huile sur toile de Claude MONET (1840-1926). Signé en bas à droite. Taille avec cadre: 60cm x 50cm. Taille sans cadre: 50cm x 40cm. Vendu avec facture, sans certificat.
artfakes.dk:
art_Paris is an art faker; it's as simple as that.
---
Thursday, 23 March, 2006, 16:14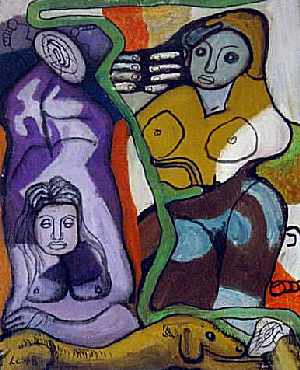 Watch this item
The seller:
SWISS-FRENCH Early Modern Oil. Two Women and a Dog.
Oil on Canvas 18 x 14 ", initialed LC 48 (Le Corbusier) .
artfakes.dk:
All paintings offered by webewinn, Mount Clemens, Michigan United States and lady-frisko, MIchigan United States, one and the same person, are FAKES.They are signed Picasso, Léger, Modigliani, Foujita, Chagall, Picabia, Le Corbusier, Klimt, Utrillo, Dali, Paul Fischer and others. But ALL of them are FAKES.
---
Wednesday, 22 March, 2006, 00:00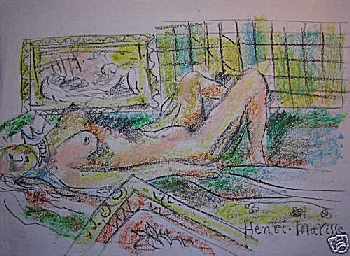 Watch this item
The seller, artisurf, UK, United Kingdom:
An Original Pastel Drawings Henri Matisse. This original drawings is not a print or reproductions of any kind, it has been hand drawn in pastel. This piece was bought at a car boot sale on the south coast with no documents or reliable provenance.
March 23, 2006: Current bid: $0,99. Reserve not met.
artfakes.dk:
"Bought at a car boot sale!".
Was it a car boot sale arranged by Sotheby's or by Christie's?
Does the seller live on "Forgers Rd." in London?
---
Tuesday, 21 March, 2006, 21:23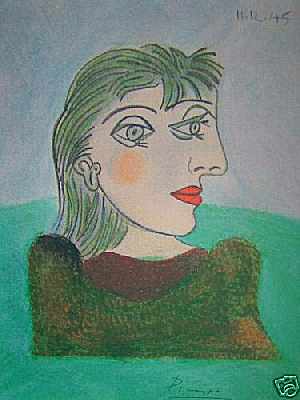 Watch this item
The seller, artenoux, Frascati, RM Italy:
I am honoured to offer this remarkable drawing titled "BUSTE DE FEMME" by Pablo Ruiz Picasso (1881-1973).The medium used is wax pencil, coloured pencil and sanguine. The drawing's actual measurements are 24.4cm x 18.6cm.It is dated 11.12.1945 on the top right hand corner and signed Picasso bottom right. The Motif is of a woman's bust and face profile and precisely that of Dora Maar which reflects very much Picasso's themes of the time.
This remarkable drawing is fresh to the market with no catalogued status or prior auction history.However, a letter from an Art Gallery in Rome did accept the drawing for an Exhibtion that was held between May 21st and June 20th, 1965.The first owner is a highly documented individual in the life of the artist.
artfakes.dk:
Up till now, and by this we mean from the very first day artfakes went to the Internet almost a year ago, artfakes hasn't witnessed as much as one single original painting or drawing done by Pablo Ruiz Picasso being offered for sale at eBay.com They were all fakes. We really shall be looking forward to seeing this. And of course: You shall be the first to know.
---
Monday, 20 March, 2006, 00:30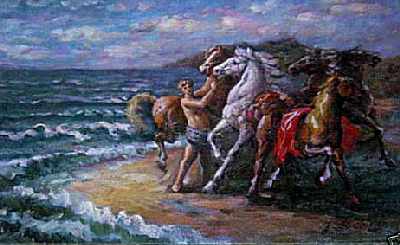 Wath this item - bidding ended March 19
The seller, webewinn, Mount Clemens, Michigan United States:
GREEK-ITALIAN Surrealist oil. Herder and Horses On Beach. Description: Oil on canvas, 10 3/4 X 16 inches, SIGNED G. De Chirico. Please contact us if you have any questions. See More Great Items From This Seller. All sales Final.
artfakes.dk:
Is this fake seller Mr. Eric I. Spoutz?
---
Back
Next