Tuesday, 23 August, 2005, 22:58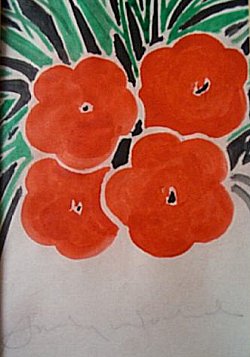 Watch the sale:
http://cgi.ebay.com/ws/eBayISAPI.dll?ViewItem&item=7344809683
The seller:
ARTIST: Andy Warhol (1928-1987) American School
PROVENANCE:It has been consigned to us from a private household estate,were it formed just a small part of a huge rather important collection.Many works from this collection have already been sold with major sale rooms.The pieces without any documentation,have found themselves in smaller sale rooms and in private collections.This piece has no documentation,so please satisfy your own opinion before bidding.We feel it is still rather an important item and although we offer without reserve,we start the open bid sensibly.
AUCTION ESTIMATE: £5,000 - £8,000
artfakes.dk:
This painting has nothing to do with the famous pop artist Andy Warhol.
It's a fake. And so are all the rest offered by the same seller: Diego Riviera, Edouard Vuillard and Henri Lebasque – all pure fakes.
---
Monday, 22 August, 2005, 22:40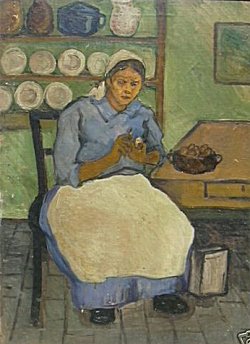 http://cgi.ebay.com/Paul-Cezanne-oil-C-1890-Impressionist-French-Exquisite_W0QQitemZ7344720036QQcategoryZ20129QQrdZ1QQcmdZ
The seller:
I am offering here original, unsigned oil on canvas mounted on board, circa 1890, by the master 19th century French post Impressionist, Paul Cézanne. Many of Cezanne paintings were left unsigned, because he did not feel that they were perfectly complete. While untitled, this oil depicts a portrait of a kitchen maid peeling potatoes. In good condition, this oil measures 67.7cm x 49.1 cm (26.9" x 19.1"), mated measures 77 cm x 59.5 cm (30.3"x 23.5"). Because that this work was mounted on the board there is a possibility that the painting in its original stage was slightly larger.
This Cezanne has an interesting provenance. My late father in law acquired this work in 1961 as a genuine Cezanne from the estate of a wealthy German born physician. This doctor managed to escape Berlin in the early 1930's with some of his prized possessions, before the Nazi onslaught. He immigrated to Palestine, setting up his practice in the same building in Tel Aviv where my father in law ran his art gallery. Being of modest means, my father in law was able to acquire only few of the paintings from the estate of this doctor. This work resided in my father's in law home until his death, and has been in my possession ever since. Unfortunately no Certificate of Authenticity exists for this Cezanne; therefore I am selling this work as attributable to the artist. This work was never shown to art expert and it is fresh on the market.
In my opinion this is an authentic, unsigned Cezanne. It is not a print, facsimile, nor any kind of mechanical reproduction. It is guaranteed to be identical to the photographs you see in this auction. Although this Cezanne is over 110 years old, the colors are very strong, and the images vibrant. For anyone knowledgeable in the unique style of Paul Cezanne, the hand of this master is highly visible in this work. (Please excuse my photography, it does not due justice to this work).
artfakes.dk:
What a wonderful fairytale by Hans Christian Andersen.
---
Sunday, 21 August, 2005, 13:43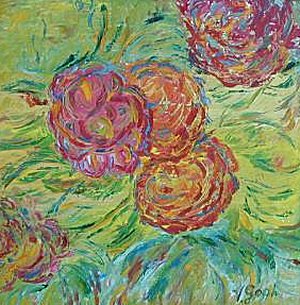 http://cgi.ebay.com/Van-Gogh-Original-canvas-oil-flowers-70-70-No-Reserve_W0QQitemZ7344676921QQcategoryZ20136QQrdZ1QQcmdZ
The seller:
Van Gogh Original canvas oil flowers.
artfakes.dk:
The seller is an art swindler.
---
Saturday, 20 August, 2005, 21:16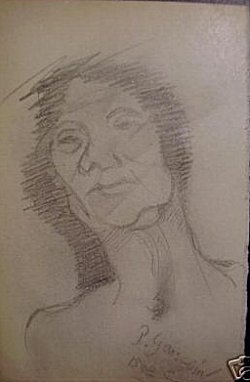 Watch the sale:
http://cgi.ebay.com/ws/eBayISAPI.dll?ViewItem&item=7343869543
The seller:
In the bottom corner there is the autograph P. Gauguin and a date that says 1902. I had googled this name and it seems that this artist enjoyed painting island women and girls and that is what this drawing seems to be or perhaps and indian? I also found out that he was french and lived in paris and that is where my father had gone to school atthe american university in paris many years ago. I was told to put a reserve and a higher price on the art but I don't know what to do with it and someone else can take more pleasure out of it than me. I please ask the auction winner to wait until recieving an invoice for payment until payment is made it just makes it easier for myself.
artfakes.dk:
We love such wonderful stories.
---
Friday, 19 August, 2005, 23:17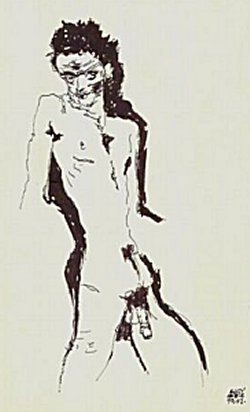 Watch the sale:
http://cgi.ebay.com/EGON-SCHIELE-nude-man-signed-drawing_W0QQitemZ7344628005QQcategoryZ20121QQrdZ1QQcmdZViewItem
The seller:
EGON SCHIELE (1890 - 1918) "Nude man - self portrait" Black ink drawing on yellowed paper. Signed and dated on the lower right side (Egon Schiele 10.12.)
Italian private art estate sales without COA or guarantee.
artfakes.dk:
An original drawing by Egon Schiele without COA or guarantee!
Eric I. Spoutz could NOT write it any better.
---
Back
Next