Tuesday, 22 July, 2008, 22:58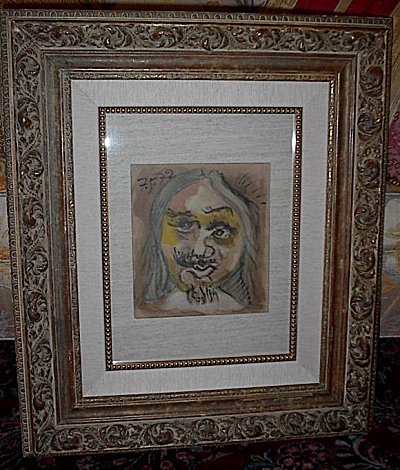 Watch this item
Seller: estates_and_plus. Member: since Mar-04-08 in United States. Item location: FRESH MEADOWS, NY, United States. Feedback: 95.2 % Positive.
Starting bid: US $3,998.55.
Buy It Now: US $375,000.00.
Item number: 160263015294Read the seller's five kilometers long description: Pablo Picasso.20'c MASTER Painting Gouache Spanish @N/R
100% Guarantee!$500K-$700,000 Start @ $4K*& NO RESERVE!
Please, read all my Description!
*1* About The Painting!
*2* About The Guarantee!
*3* About me!

*1* About The Painting:
Pablo Picasso (October 25,1881 - April 8, 1973) THE 20th Century Spanish Master
***IN MY PROFESSTIONAL OPINION, THIS PAINTING IS BY- The Greatest 20th Century Master Pablo Picasso!!!
***This IMPORTENT Masterpiece Painting NEED, AND EVEN MUST TO HAVE A COMPLIT RESARCH!!!
I WISH I HAVE THE TIME, AND THE AFFORDS FOR THAT!!!
***THIS IS AN AMAZING, and a QUALETY MASTERPICE PAINTING, AND IN A VERY NICE MUESEM FRAME!!!
ARTIST: (???) Pablo Picasso
TITLE: Le Mouquitaire
SIGNED: Not Signed (Like many other by Picasso)
MEDIUM: Crayon and Gouache on Cardboard
DATE: May 7th, 72
UNFRAMED SIZE: About 8 5/8" by 9 5/8" inch (1 inch= 2.54 cm)
FRAMED SIZE: 23" by 27"
*** Sold, With this Museum Frame!!!
CONDITION: This Painting is in a VERY GOOD Condition!!!
*Some age spots on the Cardboard
*Frame is in VERY GOOD condition!!!.
GUARANTEES: 100% Guaranteed: Painting Medium, And Painting Age!!!
ESTIMATE: *IF IT IS BY PABLO PICASSO (I'm 99.99% sure it is) = $500,000-$700,000- AT THE Gallery!!!
PRICE: START @ $3,998.55 *AND NO RESERVE!!!

***AS A COLECTOR, AND A DEALER OF FINE ARTS FOR MANY YEARS,
I WILL GIVE YOU TOO, MY GOOD, AND OLD ADVICE: "IF YOU LIKE IT VERY MUCH...AND YOU CAN AFFORD IT PURELY MUCH...YOU MUST TO BUY IT...AND FORGET HOW MUCH, BECAUSE YOU WILL APPRECIATED ALL YOUR LIFE VERY MUCH" !!!

2* About The Guarantee:
My auctions descriptions, are made to the best of my knowledge!!!
*THE GUARANTEESS IS PROVIDED, ONLY FOR THE ORIGINAL PURCHASER!!!
*****Item are 100% guaranteed, For a Period Of Five (5)Years!*****
*****Returns For full refund *****
*Minus shipping charges & e-bay fees!
*In original condition
*****THE BUYR MUST GIVE WRITTEN NOTICE OF CLAIM TO US WITHIN FIVE YEARS FROM DATE OF THE SALE . WE SHALL HAVE THE RIGHT, TO REQUIRE THE BUYER TO OBTAIN THE WRITTEN OPINIONS OF TWO RECOGNISED EXPERTS IN THE FIELD, MUTULLY ACCEPTABLE TO US AND THE BUYER, BEFORE WE DECIDES TO CANCEL THE SALE UNDER THE WARRANTY!!!
*****THE BUYER MUST RETURN THE LOT TO US, AND, IN THE SAME CONDITION AS AT THE TIME OF THE SALE !!!

*3* About me:
I owned several years ago a gallery store in Greenwich Connecticut.
One of the most wealthy, and richness city in the U.S.A.
In this gallery I was selling, and buying, and taking on consignments, a very good, and very Hi fine arts, mostly from a very Hi end estate sale's, and collectors, and some time even dealers.
Few years ago I closed the gallery, and now I work from home.
I keep looking for fine art treasury in this Hi ends estate sale's
Every week I hope to list on eBay some of my treasury discovers, mostly fine art paintings, some will be a very good, and very Hi fine art paintings, all the way from Old Master, to 20th century fine art.
Artfakes.dk:
What a wonderful fairy tale. The painting is a genuine FAKE.
---
Friday, 18 July, 2008, 23:05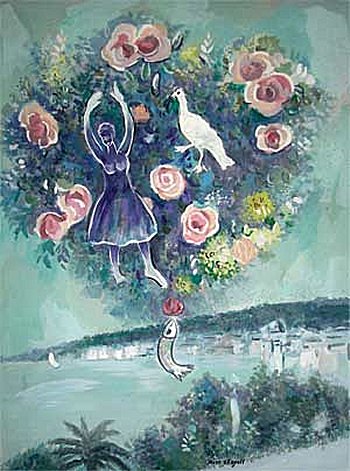 Watch this item
NOT sold:
July 23, 2008: Good news. You've got another chance to win item MARC CHAGALL GOUACHE PAINTING, UNTITLED (~1967). The item has been relisted.
Watch the second sale
Seller: mirmar!1. Member: since Jun-13-07 in United States. Item location: Short Hills, New Jersey, United States. Feedback: 100 % Positive:
Here is your chance to own a piece of fine art:
This is an auction for a scarce Marc Chagall gouache and watercolor painting. Measures measures 24" x 18" (61 x 45,5 cm), relined. Signed 'Marc Chagall' in the bottom right margin. Unframed and clean edges. No tears or folds of any kind. There is some foxing and fading caused over a long course of time. Overall condition is good. This is a true collectors choice!
This item is guaranteed as not being a reproduction (pre-printed) in any way. Item comes with a COA and all known provenance is documented. Authenticity of this item has been confirmed by English art expert and historian, Calvin Forte, whose expertise is sought by many galleries and private collectors worldwide. It's his opinion that this artwork is genuine.
Artfakes.dk:
Who is Calvin Forte? An art expert? We can hardly believe that an art expert guarantees that this 50 dollars painting is an original work of art by Marc Chagall. We think he needs a new pair of glasses, and not dark sunglasses.
The gouache/watercolour is NOT painted by Chagall.
---
Thursday, 17 July, 2008, 23:12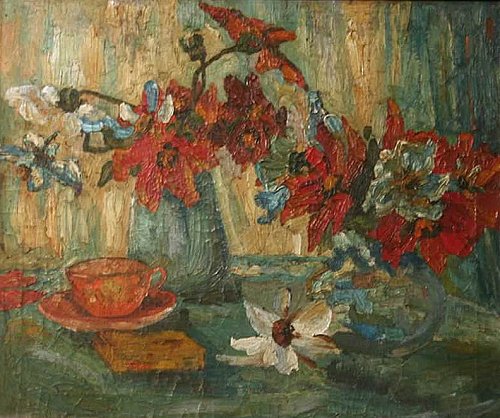 Watch this item
The seller: aogiftshopcom. Member: since Oct-29-00 in United States. Item location: Brookville, Indiana, United States. Feedback: 98.9 % Positive:
Original Oil on Canvas Probably by Vincent Van Gogh
NOT A PRINT, POSTER, COPY, JOKE OR SCAM! **FOR REAL**
Buy It Now Price: US $1,500,000.00
Probable VINCENT VAN GOGH
Original Oil on Canvas
Not authenticated
This beautiful painting resided in a private collection since it was brought to the United States from France in 1905. It was purchased by the current owner from the proceeds of an early 1980's auction at an estate on the north side of Indianapolis.
It is believed the owners at the time never recognized the artist because the painting is unsigned. The present owner did not recognize it as Van Gogh until 1992 or 1993 when he had two art dealers assisting him in inventorying his entire collection of fine art. In the course of creating and cataloging the paintings, one of the art dealers recognized the style and stated what then became obvious to all who saw the painting - that it had all the "makings" of a genuine Van Gogh. The impasto style, richness of the red color in the flowers, etc.
The painting is on stretched canvas, about 25 7/8 inches (66 cm) wide by 21 3/4 inches (55 cm) high. It is in good condition, but perhaps would benefit from a good cleaning. The frame, while included with the sale, is not original - the painting was unframed until its recognition in the early 1990's when the canvas was framed to protect it. Detailed photographs, including a number of close-ups and the back side of the canvas, are included below. They will need a few minutes to load on slower internet connections.
During Van Gogh's last years, experts know from his letters and their studies that Vincent heard there were Americans coming to France, and knowing of American's love for still life paintings, he started pumping them out for sale because (as throughout his life) he desperately needed the money. We believe this painting at auction is likely one of those florals.
It takes little research to learn that there are a number of Van Gogh paintings that were known to exist but whose location today is not known. We believe we have come across one of those missing paintings here in central Indiana.
This painting was viewed/inspected by a number of art experts over the course of a few years in the early 1990's, both American and European. Several of those experts, none of whom can be named, verified the canvas as definitely late 19th century, but none was willing or qualified to authenticate the painting as a missing Van Gogh. Significantly, none of them dismissed the painting as NOT a Van Gogh original. However, the cost of testing to authenticate exceeded the means of the owner.
So the owner allowed this painting to sit quietly in collection until today, waiting for its return to the art world.
The purchaser takes the gamble. Should this turn out to be an authenticated Van Gogh, the value would clearly be many millions of dollars, far beyond the asking price. Even if the painting was authenticated as an original by a Van Gogh contemporary, instead of by Vincent himself, the value would still likely be far in excess of the asking price of $1.5 million.
Please, serious inquiries only. Payment is expected to be made by Cashier's Check or inter-bank wire transfer. Other payment means can be considered, but not personal checks. The purchaser takes title to the painting at the time of payment, and is responsible for packaging and shipping. We will help in any way possible of course, but it will be the buyer's responsibility to get the painting safely to its new home.
I know that eBay auctions are a trust thing. I offer my assurance that every word put forth above as fact is true to the best of my knowledge. My eBay standings will testify to my trustworthiness, as would my resume (I spent twenty years in the US Navy Submarine Force.) However, I acknowledge and advise that I am not an art expert, and the opionions and beliefs stated above should be taken as exactly that- my unsubstantiated opinon or belief.
Artfakes.dk
What a wonderful fairytale by Hans Christian Andersen.
This painting has nothing to do with the world-famous Vincent van Gogh. And the seller knows that.
Anyone with a coffee table book about van Gogh can see it.
The seller sent a letter:
I have reviewed the comments in the artfakes.dk website as you suggested. The author of that website is clearly a fanatic who either does not read or understand english very well. My auction is 100% accurate and honest- I never made the claim the painting is ABSOLUTELY by Van Gogh, only that I BELIEVE it to be, along with a number of other art experts. I even said in the auction that a purchaser takes a "gamble". I am not trying to hoodwink, swindle or cheat anyone. I believe there is a very good chance this painting is a Van Gogh- any casual study into Van Gogh's life will tell of the many possiblities of "lost" Van Gogh's, and I believe I may be on to one. I have a hard time respecting the opinion of a person who makes such rash comments based solely on the eBay auction with no personal viewing and no contact with me, the auctioner. Artfakes.dk:We have not claimed it to be sold as a genuine van Gogh but the seller is trying to make potential buyers believe that the painting could be a genuine painting by van Gogh. The seller writes: »I believe there is a very good chance this painting is a Van Gogh«
NO, there is NO chance that this ordinary picture is painted by van Gogh. NOT a single percent. The seller obviously does NOT know anything about van Gogh. $1,500.000,00 for this amateur painting is in our view a criminal action.
---
Tuesday, 15 July, 2008, 15:23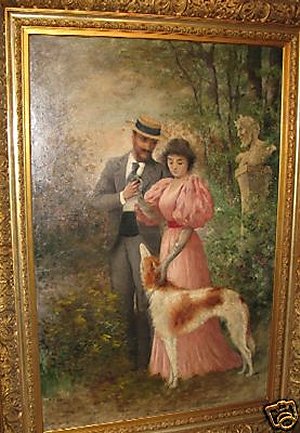 Watch this item
The seller ended this listing early because the item is no longer available for saleThe seller: constancegoldstein. Member: since Jan-13-03 in Belgium. Item location: Amsterdam, Netherlands. Positive Feedback the last 12 months: 0 (which means that the seller will not tell about his/her feedback to potential buyers):
Original RENOIR Pierre Auguste 1841-1919 Oilpainting.
TOP Original large 19th Century Oilpainting on Canvas painted by RENOIR Pierre Auguste (1841-1919). It is a selfportret of Renoir painted together with a lady and a Barsoi dog. A real photo of Renoir is also given to compare. Size 75 x 54 Inches.
Item number: 120282430324
Starting bid: US $950,000.00 End time: Jul-21-08 03:57:14 PDT
Artfakes.dk:
Is this painting really a genuine work of art by Renoir?
Of course NOT.
It is an amateur painting on sale by a professional ART FAKER at eBay, the World's leading place for ART FAKERS.
---
Sunday, 13 July, 2008, 16:52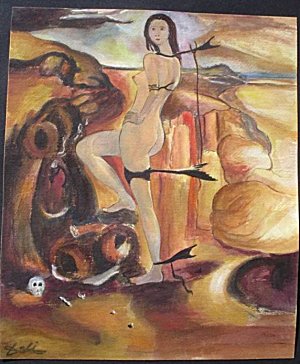 Watch this item
Seller: one-leonardo. Member since May-15-99 in United States. Item location: CA, United States. Feedback: 94.4 % Positive:
Item number: 180262086927
ORIGINAL DALI SIGNED PAINTING -- NO RESERVE
ORIGINAL DALI SIGNED WATERCOLOR PAINTING
THIS WATERCOLOR PAINTING IS BEING SOLD AS IS--AS DESCRIBED
Artfakes.dk:
One more falsification by the American fake seller from California
one-leonardo
The picture is a twenty dollar painting NOT an original art of work by famous Salvador Dalí.
The seller one-leonardo is an art swindler
---
Back
Next