Friday, 22 July, 2005, 00:19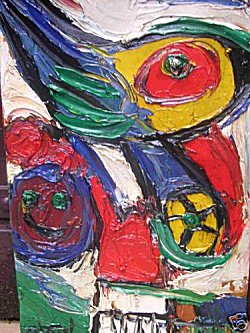 Watch the sale:
http://cgi.ebay.com/ws/eBayISAPI.dll?ViewItem&item=7333758800
The seller:
I am happy to offer this: ABSTRACT OIL signed APPEL
This has not been officially approved, so I have to sell it as attributed to.
artfakes.dk:
The painting can't be officially approved, because the painting isn't painted by Appel
---
Thursday, 21 July, 2005, 00:17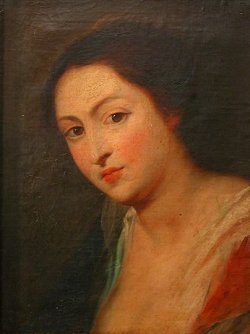 Watch the sale:
http://cgi.ebay.com/ws/eBayISAPI.dll?ViewItem&item=7336936284
The seller:
PETER PAUL RUBENS 1577-1640 RARE FLEMISH PORTRAIT
Age: The painting age is not exactly known but definitely older than the 19th century
Artist: PETER PAUL RUBENS (1577-1640)
artfakes.dk:
If Peter Paul Rubens painted this picture, as declared by the seller, it must be at least from the 17' century.
The seller:
This painting is accmpanied by a certificate and a picture. The face in the painting and the picture are very similar and I can only guess that is why the picture accompanies the certificate. The painting in the picture is titled THE HOLY FAMILY. This is another guess that cannot be ruled out which this painting is a cut out of that painting. Noneoftheless it is a great painting with 2 old repairs as seen in the back and surface grime as the painting has not been cleaned for many years.
---
Wednesday, 20 July, 2005, 00:49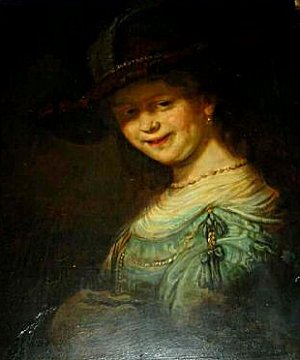 Watch the sale:
http://cgi.ebay.com/ws/eBayISAPI.dll?ViewItem&item=7337717445&category=20129&rd=1
The seller:
Antique old master painting
Rembrandt Harmensz. van Rijn 1606 – 1669 portrait of a lady
oil on woodplate, excellent master quality
artfakes.dk:
All genuine paintings by Rembrandt are registered.
This one is not.
And Rembrandt has never painted portraits showing "Mona Lisa" smiles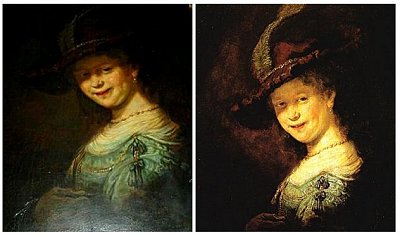 Take a look for yourself, the woman at the left is grinning, the genuine Rembrandt shows a smiling lady.
Furthermore there is a huge difference in quality of the two paintings. Our guess: The left one is a genuine Spoutz.
---
Tuesday, 19 July, 2005, 17:01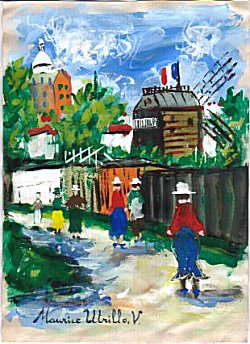 Watch the sale:
http://cgi.ebay.com/ws/eBayISAPI.dll?ViewItem&item=7336517754&category=20132&rd=1
The seller:
This beautiful gouache painting measures approx. "11.5 x 8.25". Probably early C20th and signed 'Maurice Utrillo V.' which looks like this could be by the well known french painter. This picture appears to be old but in fairly good condition. It was found amongst a large number of works and does not have any provenance.
artfakes.dk:
You can easily find thousands of falsifications signed Utrillo spread all over the Globe. This picture is just one of them.
---
Monday, 18 July, 2005, 16:01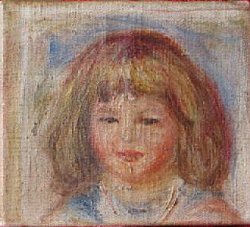 Bidding has ended for this item
Winning bid: GBP 3.860.00 approximately US $6,767.74
http://cgi.ebay.com/ws/eBayISAPI.dll?ViewItem&item=7335476615
The Seller:
Certainly one of the most interesting oil that has gone for sale on Ebay this year. I bought this oil from a lady in her fifties: She has been given this painting by her grand father before this death.
The person whom dealt with the painting at the Wildenstein summarises the situation as follows: The next meeting of the "Comite Renoir" at the Wildenstein is in October.
Value: If confirmed by the Wildenstein, this painting will be worth between 65,000euros to 125,000euros.
artfakes.dk:
Why not wait for Wildenstein instead of selling for $ 6,767?
Artfakes.dk don't believe this painting is a genuine Renoir.
---
Back
Next