Monday, 22 May, 2006, 17:48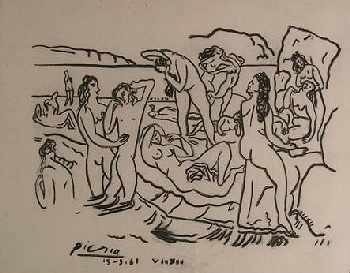 Watch this item
The seller, gouyrand, West Coast, Canada:
PICASSO DRAWING "LES BAIGNEUSES". WITH COA.
Re listed due to non-payment by a "0" feedback winning bid
A 33 x 25 cm drawing signed Picasso and dated September 15, 1961. The COA has wax seal with monogram applied, pristine condition, glazed. The same monogram wax seal is applied at the back of the frame. Low starting bid, considering the possible value of this piece.
Overall size: 39.5 x 50 cm. Provenance U.K.
artfakes.dk:
The COA is a fake too.
---
Sunday, 21 May, 2006, 14:53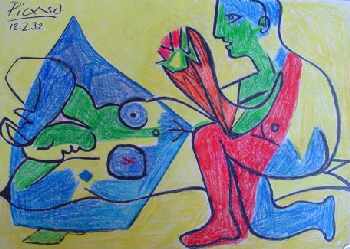 Watch this item
The seller, cahillart, California, United States:
Offered for auction is this crayon/colored graphite drawing signed Picasso.the drawing is dated 12.2.32 -- it is in overall excellent condtion for its age. Guaranteed not a print of any kind. It has been stored unframed. The measurements are 12.6 inches wide and 9.2 inches high. It was acquired in france approximately thirty years ago at an estate art sale that contained a large collection of european and american fine art. The estate sale was held aboard a luxury yacht near cannes on the French riviera. An appraisal only, will acompany the drawing. Sold as is, (as described). Do your own research prior to bidding. No reserve price and auction results are final.
artfakes.dk:
Thousands of paintings, pastels and drawings signed Picasso have been offered for sale at eBay during the past ten years, but not a single of them was executed by him.
---
Saturday, 20 May, 2006, 00:16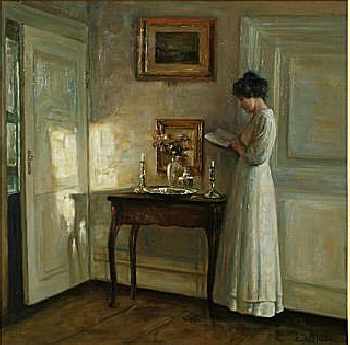 Watch this item
The seller, catherine_long, SHANGHAI, China:
This is an oil paiting sunlit interior.The painting is in a very good condition.This is an oil painting on canvas signed"C.Holsoe",a nice painting from the early 20th century .Please visit all my other good oil paintings.
artfakes.dk:
This painting is for sure NOT Made in Denmark it's Made in China.
A good copy, yes! But not good enough to be a genuine painting by Holsöe.
---
Friday, 19 May, 2006, 23:27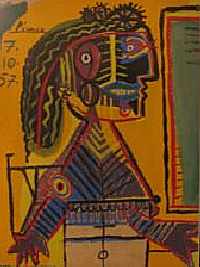 Watch this item
The seller, 007ck0_0, surrey, United Kingdom:
Pablo Picasso - Tete de Femme
For sale an amazing gouache painting signed Picasso and dated 7.10.57. From a private collection. It comes with the ornate gold frame. It is mounted behind UV protective glass and has an acid free mount. The dimensions are 16 x 12 inches. It comes with a letter of provenance and transfer of ownership letter, which will be given to the winning bidder. It is not a print ,lithograph or facsimlie.
artfakes.dk:
Not a print.
Not a lithograph.
Not a facsimile.
It's purely and simply another fake
---
Thursday, 18 May, 2006, 00:00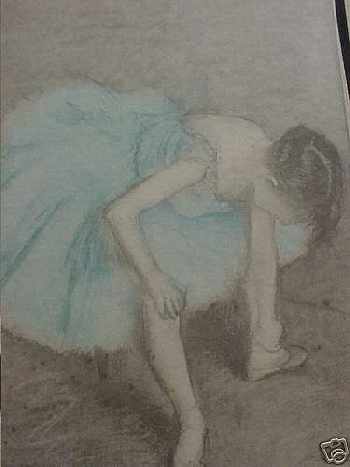 Watch this item
The seller, grantgarza, San Francisco, California, United States:
EDGAR DEGAS (1834-1917)
"Danseuse Nouant son Brodequin" Circa 1900
Dancer Adjusting her Slipper.
artfakes.dk:
Take a look at the right arm and the fingers! Too bad painted to be a genuine work by Edgar Degas.
---
Back
Next