Saturday, 22 April, 2006, 20:20
Watch this item
The seller, estates-2000, SUNNY,FLORIDA, United States:
Attributed to Marc Chagall - gouache on paper - circa 1964 - untitled - framed under glass.
Originally purchase by our client in new york city at the Andrew Crispo gallery - please review all images for complete description and condition of this piece.
artfakes.dk:
Is the seller in fact Mr. Eric I. Spoutz from Florida?
The seller: And the painting bought at the Andrew Crispo Gallery!
Seek for yourself the information you need on Google about Andrew Crispo.
Read more about attributed to
---
Friday, 21 April, 2006, 00:00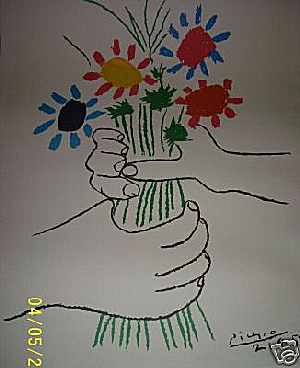 Watch this item
The seller, miketin1, Los Angeles, California, United States:
Item number: 7409253492
Description: PABLO PICASSO PAINTING SIGNED.
artfakes.dk:
This is a famous motif by Picasso but this painting is NOT a genuine work of art by Pablo Picasso.
This is af FAKE.
---
Thursday, 20 April, 2006, 00:00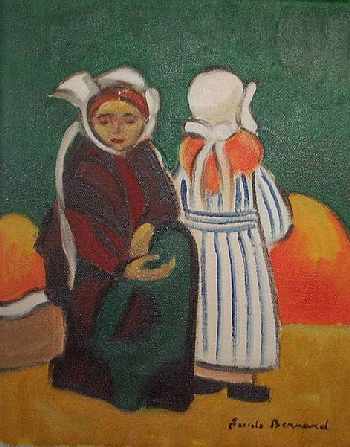 Watch this item
The seller, c20th-paintings, Melbourne, Australia:
This impressionist portrait is oil on canvas and measures approx. "10 x 8". The painting appears to be early C20th and it is in good condition. It is signed indistinctly. The style of painting looks to be french, early C20th. It was found amongst a large number of works and does not have any provenance.
artfakes.dk:
Has the seller never heard about the famous French painter Emile Bernard or is he just playing stupid?
---
Wednesday, 19 April, 2006, 00:00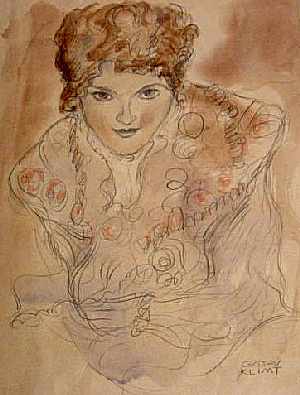 Watch this item
The seller, lady-frisko, MIchigan United States
GERMAN EXPRESSIONIST watercolor. Art-Deco Female portrait
Pencil and watercolor on heavy cream-colored paper, 16 1/2" X 11"1/2 SIGNED Gustav Klimt. Please contact us if you have any questions.
All sales are final. Buyer must contact the seller within 3 days of auction end. We ship UPS. Attention foreign buyers; In the past some items have been stopped at customs and given additional charges and taxes. Should these occur, they are the responsiblity of the buyer.
artfakes.dk:
All paintings offered by webewinn, Mount Clemens, Michigan United States and lady-frisko, MIchigan United States, one and the same person, are FAKES.
They are signed Picasso, Léger, Modigliani, Foujita, Chagall, Picabia, Le Corbusier, Klimt, Utrillo, Dali, Paul Fischer and others. But ALL of them are FAKES.
---
Tuesday, 18 April, 2006, 00:00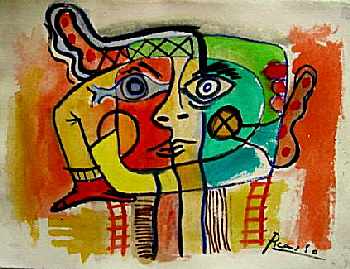 Watch this item
The seller, adampf94188zms, Woodbury, New York, United States:
This beautiful watercolor/gouache signed Picasso and titled "The Acrobat" is one of a few original pieces that I will be offering on EBay. The piece is nicely sized at 283 mm x 379 mm (11.14 x 14.92 inches). Paper is Arches paper from France, slightly oxidized along the top edge; overall excellent condition.
It is well documented that Picasso was interested in circus performers that frequented Paris and expressed his own disorientation with the position of artists in society. "Artists, like circus performers, were expected to entertain the public, yet theirs was often a life of poverty, and like gypsies, they were shunned by society"
"The Acrobat" was obtained from the son of a British government official who inherited his fathers art collection in 1972. It was known that the father was a collector of the arts who knew many artists personally. This picture has been in storage for some 35 years and as such is unframed. This will be detailed in the Provenance that will go to the highest bidder. It will be on my letterhead and notarized. This original piece is not a lithograph or reproduction of any kind and is a special piece for a true collector. Signature is bold and typically executed.
Piece is offered AS IS. Do your own research. ALL AUCTION RESULTS ARE FINAL. Ask all questions before the auction is over. I will only accept Bank Check (no Personal Checks), Bank Wire, or PAY PAL. BID WITH CONFIDENCE.
artfakes.dk:
What a wonderful fairytale by Hans Christian Andersen.
---
Back
Next