Tuesday, 20 September, 2005, 01:00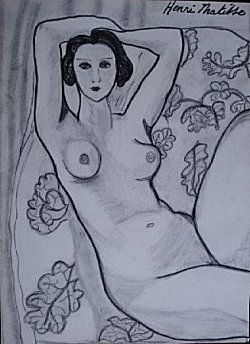 Watch the sale:
http://cgi.ebay.com/ws/eBayISAPI.dll?ViewItem&item=7352003752
The seller, Goldielox2, one of the leading art fakers at eBay:
This original charcoal drawing signed Henri Matisse, is one of a number of paintings and drawings that will be offered for auction on ebay. Not a lithograph or print of any kind. There is no reason to go on about this great artist.. Henri Matisse. The charcoal drawing measures 12.7 inches in height and 9.3 inches in width. The drawing has been kept unframed for many years. This work, as well as a number of other works of varied artists, has come to me via my grandparents. Grandfather was russian born and traveled extensively as a violinist, and concertmeister for ballets, etc. There were many stories of him traveling and working with famous artists and musicians. As a practical matter this drawing is offered as attributable to artist. Will go to the highest bidder. No reserve. Bid with confidence.
artfakes.dk:
Put the seller in jail, Heís getting above himself this great, big art swindler.
---
Monday, 19 September, 2005, 22:59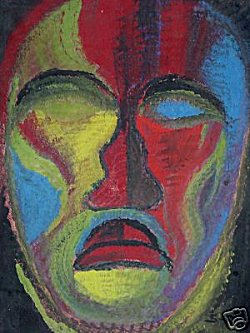 Watch the sale:
http://cgi.ebay.com/SCHMIDT-ROTTLUFF-KARL-OILPAINTING-signed_W0QQitemZ7350021194QQcategoryZ20132QQrdZ1QQcmdZ
The seller:
A very fantastic painting (without COA), painted in oil on cardboard, I think about the years 1950-1960.
artfakes.dk:
Don't you have a COA?
NOT a problem, just write to Mr. Eric I. Spoutz in Detroit and get it.
You probably can get it for free.
Mr. Spoutz's e-mail: slaenterprises@yahoo.com
---
Sunday, 18 September, 2005, 01:53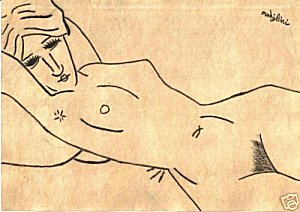 The sale has ended:
http://cgi.ebay.com/Modigliani-Nude-Charcoal-Pencil-Drawing_W0QQitemZ7350057782QQcategoryZ20121QQrdZ1QQcmdZ
The seller:
Modigliani Nude Charcoal/Pencil Drawing
artfakes.dk:
Is it a Modigliani? No! Is it signed Modigliani: Yes! But then, I donít understand??
How right you are! Itís a falsification - once again.
---
Saturday, 17 September, 2005, 01:00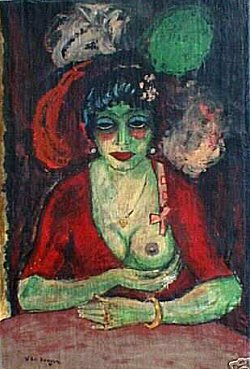 Watch the sale:
http://cgi.ebay.com/Kees-Van-Dongen-Oil-12-x-17-1-2-30x-44-cm_W0QQitemZ7351106958QQcategoryZ20132QQrdZ1QQcmdZ
The seller:
P.S. This is the second listing as described that will last for 10 days(eight days now..Lol. ) so plan your bidding accordingly...
P.S.S. As there are more than a few bidders who request additional time to have it inspected I would recommend not bidding this time (letting the auction run out) but keeping it on your watch list as Ebay will notify you (or you can check my auctions) when this is relisted in two weeks for an additional 10 days. Hopefully this will give everyone time to have their own expert inspect it so they can bid with confidence.
artfakes.dk:
Pay no $30.000 for this painting, not in a millions years.
Can you get it for $150 then go ahead! Buy it, but only if you like it.
---
Friday, 16 September, 2005, 01:00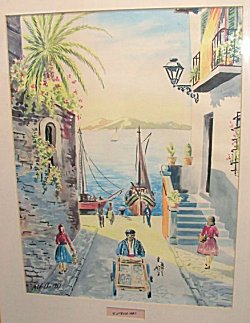 Watch the sale:
http://cgi.ebay.com/ws/eBayISAPI.dll?ViewItem&item=7349978150&ru=
The seller:
Here is a superb watercolour signed M Utrillo and dated 1937.I believe this to be a genuine watercolour by Maurice Utrillo,however,there is no provenance,so please examine the photos and make up your own mind.
artfakes.dk:
Here is a very nice watercolour bought by the seller on his holiday trip to Italy this summer.
---
Back
Next