Monday, 20 February, 2006, 17:53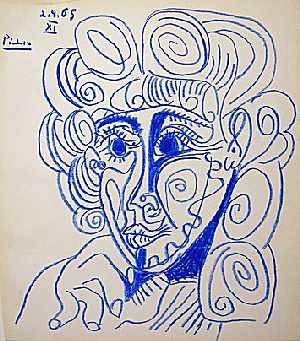 Watch this item
The seller, snappyauctions6, Atlanta, GA, United States:
Pablo Picasso Drawing Signed Dated Numbered 1965 CrayonFull Provenance, Authentification, & Appraisal Provided.
This auction is for a delightful and engaging crayon drawing by Pablo Picasso, signed, dated, and numbered. The piece has been affirmed and authenticated (provenance including appraisal, ownership history, and documents upon request). According to the papers of authentication this drawing dates from 1965.
artfakes.dk:
Impossible to read the document. But the drawing is NOT a genuine work by Pablo Picasso.
---
Sunday, 19 February, 2006, 01:24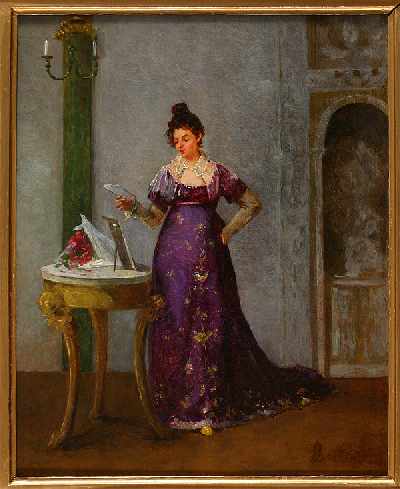 Bidding has ended for this item. Winning bid: $2,650.00
The seller, paintingmaster, wrttemberg, Germany:
We are professional art dealers over 30 years with a great experience and excellent feedback reputation. 100% authenticity guaranteed - bid with confidence!
This painting shows one of his favorite themes: the wealthy chic woman in a fancy and luxury environment reading a loveletter. On the rear is a note with points out who the lady is (please, view pictures) : Madame de . , Paris
The painting was slightly overcleaned, but restored by a professional restorer. The signature is a bid frictioned but still to identify - see in the Benezit .
artfakes.dk:
This painting is too bad painted, has too many bad details, to be a genuine work by Alfred Stevens.
---
Saturday, 18 February, 2006, 12:28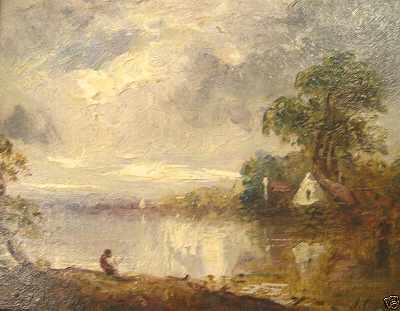 Watch this item
The seller, jcossy, East Lancs, United Kingdom:
Superb JOHN CONSTABLE 1824 oil "Fisherman at lake", NR
PROVENANCE - Came out of a private house in Sussex where it had been in the family collection for at least 50 years (probably a lot longer). Historically the family had been weathly collectors for the least few generations. So far every other item, ie pictures, ceramics and furniture which have come out of this estate has been passed as genuine and of quality.
Sold without reserve is this high quality, 1824, oil on English oak panel painting of an angler fishing in a lake which is signed in initials and dated "J.C. (18)24" - see photo, which we believe is by the renouned English painter JOHN CONSTABLE (1776-1837).
artfakes.dk:
Sorry! This is NOT a genuine Constable.
Take a look at original works by Constable
---
Friday, 17 February, 2006, 22:32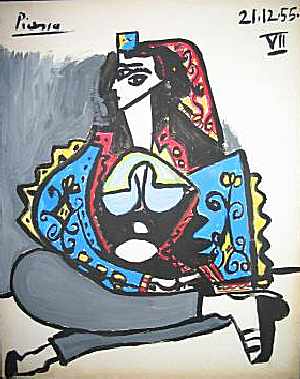 Watch this item
The seller, the well-known fake seller, oceangallery, Kent, United Kingdom:
PABLO PICASSO gouache painting with provenance.
It is not a print,lithograph or copy.
artfakes.dk:
NO, it is a fake!
---
Thursday, 16 February, 2006, 14:43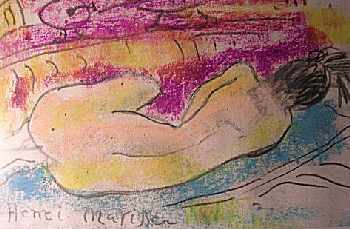 Watch this item
The seller, nellymuse, United Kingdom:
Original Pastel Drawing Signed Henri Matisse. 1 of 2 pieces being auctioned separately.
I aquired both these piece several years ago when I had them framed and they have been part of my personal collection hanging in my living room ever since. I aquired the piece without documents and the only provenance I can give is that I have owned it for 2 years. I am unable therefore to guarantee its authenticity.
artfakes.dk:
"...and the only provenance I can give is that I have owned it for 2 years".
What a funny seller!
---
Back
Next