Tuesday, 18 April, 2006, 00:00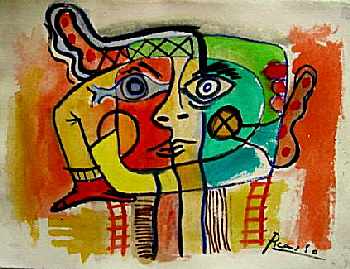 Watch this item
The seller, adampf94188zms, Woodbury, New York, United States:
This beautiful watercolor/gouache signed Picasso and titled "The Acrobat" is one of a few original pieces that I will be offering on EBay. The piece is nicely sized at 283 mm x 379 mm (11.14 x 14.92 inches). Paper is Arches paper from France, slightly oxidized along the top edge; overall excellent condition.
It is well documented that Picasso was interested in circus performers that frequented Paris and expressed his own disorientation with the position of artists in society. "Artists, like circus performers, were expected to entertain the public, yet theirs was often a life of poverty, and like gypsies, they were shunned by society"
"The Acrobat" was obtained from the son of a British government official who inherited his fathers art collection in 1972. It was known that the father was a collector of the arts who knew many artists personally. This picture has been in storage for some 35 years and as such is unframed. This will be detailed in the Provenance that will go to the highest bidder. It will be on my letterhead and notarized. This original piece is not a lithograph or reproduction of any kind and is a special piece for a true collector. Signature is bold and typically executed.
Piece is offered AS IS. Do your own research. ALL AUCTION RESULTS ARE FINAL. Ask all questions before the auction is over. I will only accept Bank Check (no Personal Checks), Bank Wire, or PAY PAL. BID WITH CONFIDENCE.
artfakes.dk:
What a wonderful fairytale by Hans Christian Andersen.
---
Monday, 17 April, 2006, 00:42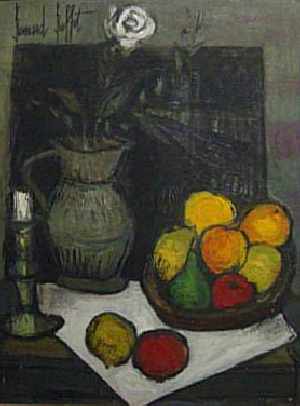 Watch this item
The seller, webewinn, Mount Clemens, Michigan United States:
SCHOOL OF PARIS OIL. Still life with Flowers and Fruit.
Oil on Heavy Artist Board. 25 1/2 x 19 1/2 Inches plus 2 1/2 inch frame. Signed. Please contact us if you have any questions.
See My Other Auctions All sales Final.
artfakes.dk:
All paintings offered by webewinn, Mount Clemens, Michigan United States and lady-frisko, MIchigan United States, one and the same person, are FAKES. They are signed Buffet, Picasso, Léger, Modigliani, de Chirico, Foujita, Chagall, Picabia, Magritte, Le Corbusier, Klimt, Utrillo, Dali, Paul Fischer and others.
But ALL of them are FAKES.
---
Sunday, 16 April, 2006, 00:00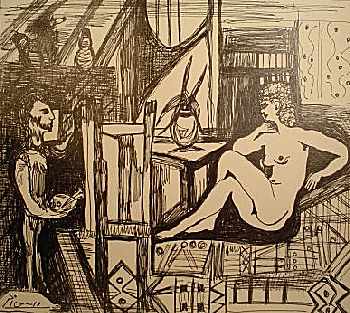 Watch this item
The seller, goldielox2, somewhere in the States. Feedback: 100% positive:
This original ink drawing signed picasso, is one of a number of paintings and drawings that will be offered for auction on ebay. Not a lithograph or print of any kind. There is no reason to go on about this great artist.......... Pablo Picasso. The drawing measures 9.4 inches in height and 10.5 inches in width. The paper is slightly yellowed with age, however the drawing is in overall excellent condition, and has been kept unframed for many years. This work, as well as a number of other works of varied artists, has come to me via my parents and grandparents. Grandfather was russian born and traveled extensively as a violinist, and concertmeister for ballets, etc. There were many stories of him traveling and working with famous artists and musicians. As a practical matter this drawing is offered... As is, with no paperwork, and will go to the highest bidder....do your own research before bidding, as all auction results are final. No reserve, bid with confidence.
artfakes.dk:
Mr. Goldberg, somewhere in the States, otherwise known as goldielox2 (how come I don't feel a sense of "gildness" here?) is in full swing selling grandpa's false paintings.
His grandfather, Joseph Goldberg, was born 1881 in Russia. He died in the U.S.A. in 1946.
goldielox2 is a disreputable fake-art-seller and well known to eBay. Buy nothing from him. He is a swindler, and all of his paintings and drawings offered at eBay are falsifications.
---
Saturday, 15 April, 2006, 00:21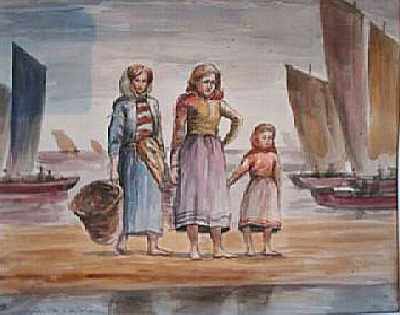 Watch this item
The seller, paddy_wacks, Downpatrick, Down, United Kingdom:
Winslow Homer (American, 1836-1910)
watercolour on paper
25.5cm by 32cm (10" by 12 1/2") - watercolour
35.5cm by 42cm (14cm by 16 1/2") - mount
A leading realist painter, Winslow Homer was among the most complex American artists of his generation. He possessed an uncanny ability to penetrate the psychology of his subjects and to portray dramatic confrontations between humans and nature.
Trained as a lithographer, Homer became a freelance illustrator for magazines such as Harper's Weekly. During the Civil War he visited the front as an illustrator and also documented military camp life. After the war he studied painting in New York and Paris. In the 1870s and 1880s Homer favored American rural genre scenes and worked in both oil and watercolor. He traveled widely and also painted in the Adirondacks, Canada, Bermuda, Florida, and the Caribbean.
In 1890 he began a series of Maine seascapes in oil that explore the elemental relationship between humans and the sea. These late works combine remarkable naturalism with a strong, simplified sense of design.
This painting was bought from an art and antiques fair, no further provenance is available.
Please ask all questions for before bidding.
artfakes.dk:
This amateur painting is the second Homer falsification within a week.
Take a look at the other one
---
Friday, 14 April, 2006, 12:11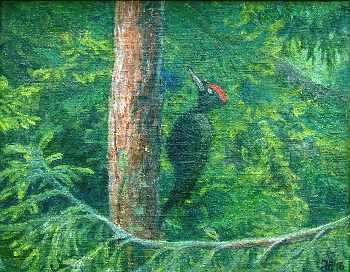 Watch this item
The seller: lauritz.com, Denmark:
Johannes Larsen 1867-1961 cd. Black woodpecker
Lot number: 713552
Description:
JOHANNES LARSEN Oil on canvas. Motif from Båxhult, Sweden with large black woodpecker in a fir-tree. Dim: 47 x 59 cm. Signed in monogram. J.H. 1916.
artfakes.dk:
WARNING! artfakes advises you to make a long detour round this Danish auction house.
Johannes Larsen (1867-1961) is one of the most famous Danish artists but in our opinion this painting is NOT an original work by him.
---
Back
Next