Saturday, 18 March, 2006, 00:00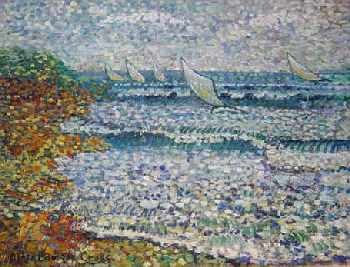 Watch this item
The seller, webewinn, Mount Clemens, Michigan United States:
FRENCH POST-IMPRESSIONIST oil. Pointillist Sailboats. Description: Oil on canvas, 16 X 20 inches. SIGNED Henri Edmond Cross. Please contact us if you have any questions. All sales Final.
artfakes.dk:
The painting is a FAKE.
---
Friday, 17 March, 2006, 15:10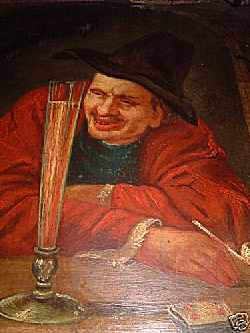 Watch this item
The seller, cheyz-yed, Wigan United Kingdom:
An Opertunity to aquire an Oil Painting by a TOP ARTIST, Signed and Dated by DAVID TENIERS 11nd, 1650, OIL ON METAL (COPPER) aprox; 7 and a quarter inches by 8 and a quarter inches. a peasant at the inn, with wine glass, pipe, and cards. to be owned world wide.
artfakes.dk:
The seller knows nothing about art
This painting has nothing to do with some artists named Teniers.
---
Thursday, 16 March, 2006, 21:49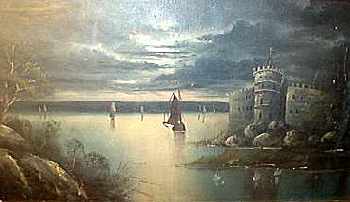 Watch this item
The seller, farley294, Maria_Town United States:
Original Johan Dahl Oil on board painting, depicting cloud landscape, river and castle.Faint Sigature L.R.: J.Dahl. Circa.1820's-40 .(100% Money back guarantee). Frame is in fair condition, no breaks, just old varnish, painting needs cleaning.
artfakes.dk:
This is a very bad painting made by an amateur.
It has nothing to do with the famous Norwegian artist J.C. Dahl (1788-1857).
It's a FAKE.
---
Wednesday, 15 March, 2006, 14:30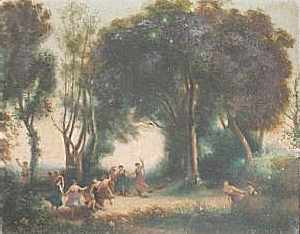 Watch this item
The seller, usa_time, München Germany:
Corot, Jean-Baptiste Camille 1850. From a private collection after about 80 years appear this painting , now on auction. It´s a rare and unknown Oil on canvas painting. Signed by Corot, or at least have this name in back. Original old frame and painting not recovered. Available more pictures via Email, good size.
artcult.com:
"Already in 1875, there were thousands of copies of Corot's paintings on the market not to mention that Corot himself had put his signature on many of those works that were submitted to him apparently because he felt honoured to be copied. One of Corot's imitators was Paul Désiré Trouillebert who was himself a good Barbizon painter".
"The numbers in the joke change frequently it seems, but it more or less goes like this:
Jean-Baptiste-Camille Corot painted 2,000 canvases in his life, 5,000 of which are in America".
artfakes.dk:
I'd be surprised if it wasn't a joke.
---
Tuesday, 14 March, 2006, 00:00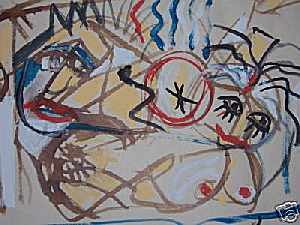 Watch this item
The seller, swimmingtropical, Delaware United States:
Rare original watercolor painting of a nude women signed Picasso. The painting is an abstract of what a first glance seems to be a man and a lady but the more examining of the art the more deeper it seems. The watercolor looks old and is in good condition measuring 8.5"x12" and comes framed as shown 14"x17".This art was purchased without paperwork so it is sold as attribute to Picasso due to its quality, style and characteristics, a Transfer of Ownership with the previous owner will accompany this piece.
I have sold numerous Pieces of Art and have a Perfect FEEDBACK SCORE, EXAMINE this GREAT Piece of Art for 7 days, if your not happy return for a FULL REFUND!
artfakes.dk:
Each and every day more than one hundred falsifications (signed Picasso) are to be found on the Internet, most of them at the Internet auction ebay.
This watercolour is just one single such item.
---
Back
Next