Saturday, 18 February, 2006, 12:28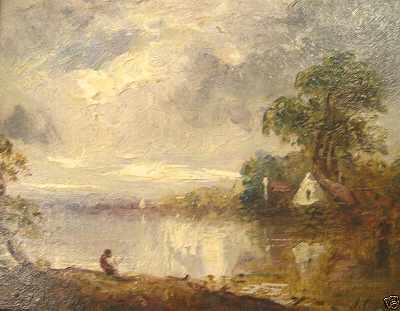 Watch this item
The seller, jcossy, East Lancs, United Kingdom:
Superb JOHN CONSTABLE 1824 oil "Fisherman at lake", NR
PROVENANCE - Came out of a private house in Sussex where it had been in the family collection for at least 50 years (probably a lot longer). Historically the family had been weathly collectors for the least few generations. So far every other item, ie pictures, ceramics and furniture which have come out of this estate has been passed as genuine and of quality.
Sold without reserve is this high quality, 1824, oil on English oak panel painting of an angler fishing in a lake which is signed in initials and dated "J.C. (18)24" - see photo, which we believe is by the renouned English painter JOHN CONSTABLE (1776-1837).
artfakes.dk:
Sorry! This is NOT a genuine Constable.
Take a look at original works by Constable
---
Friday, 17 February, 2006, 22:32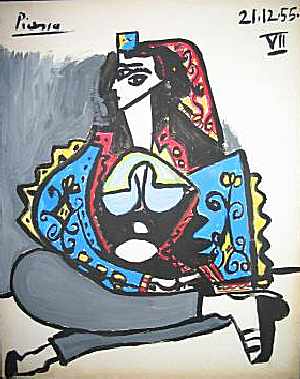 Watch this item
The seller, the well-known fake seller, oceangallery, Kent, United Kingdom:
PABLO PICASSO gouache painting with provenance.
It is not a print,lithograph or copy.
artfakes.dk:
NO, it is a fake!
---
Thursday, 16 February, 2006, 14:43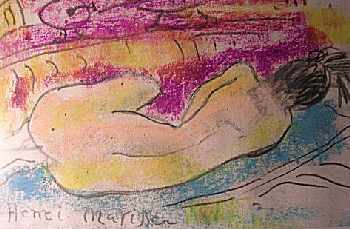 Watch this item
The seller, nellymuse, United Kingdom:
Original Pastel Drawing Signed Henri Matisse. 1 of 2 pieces being auctioned separately.
I aquired both these piece several years ago when I had them framed and they have been part of my personal collection hanging in my living room ever since. I aquired the piece without documents and the only provenance I can give is that I have owned it for 2 years. I am unable therefore to guarantee its authenticity.
artfakes.dk:
"...and the only provenance I can give is that I have owned it for 2 years".
What a funny seller!
---
Wednesday, 15 February, 2006, 22:33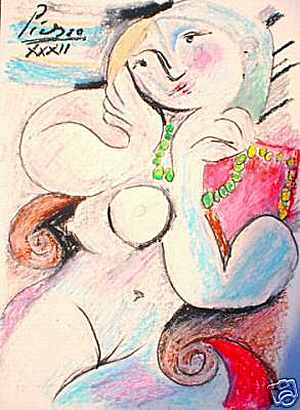 Watch this item
The seller, janine730, Hereford, United Kingdom:
It is drawn on cartridge paper - slightly marked on the reverse - but overall in excellent condition. Possibly a drawing of his nubile teenage lover Marie-Therese? An aggressive and sumptuous piece of work. Every vigorous stroke and stab of his pastel seems to speak of his haste to finish his drawing and sink himself into those voluptuous and fleshy curves !! I cannot guarantee the authenticity - unfortunately - because the work has lost its detailed provenance; but it was bought by my grandfather on a trip to Northern Spain, just before the second world war. The work will be sent unframed, as the glass is too likely to break and damage the work.
artfakes.dk:
Bought by the sellers grandfather!
We love these wonderful stories.
---
Tuesday, 14 February, 2006, 01:34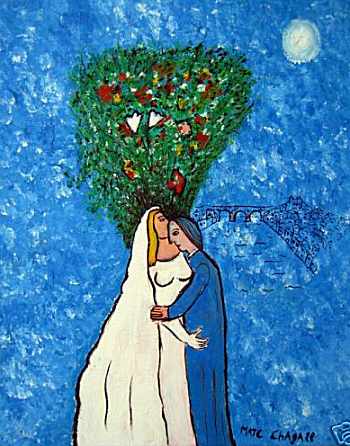 Watch this item
The seller, the well-known art faker, pavarotti1969, France:
I sell an incredible original painting on canvas signed MARC CHAGALL, that I have in my own collection for some time now. The painting is absolutely beautifull and represents a married couple with a Paris landscape on the background along the river. I will give to the winner a BILL OF SALE / PROVENANCE paper that I will sign and where I will indicate the name of the previous french collector from whom it was bought and the date of purchase. (PROVENANCE) For confidentiality reasons, I cannot state it on ebay right now.
artfakes.dk:
This "Chagall" is not the first falsification delivered by pavarotti1969.
---
Back
Next