Saturday, 15 April, 2006, 00:21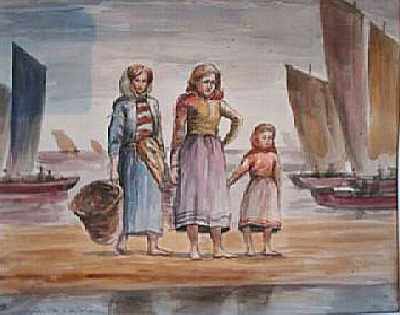 Watch this item
The seller, paddy_wacks, Downpatrick, Down, United Kingdom:
Winslow Homer (American, 1836-1910)
watercolour on paper
25.5cm by 32cm (10" by 12 1/2") - watercolour
35.5cm by 42cm (14cm by 16 1/2") - mount
A leading realist painter, Winslow Homer was among the most complex American artists of his generation. He possessed an uncanny ability to penetrate the psychology of his subjects and to portray dramatic confrontations between humans and nature.
Trained as a lithographer, Homer became a freelance illustrator for magazines such as Harper's Weekly. During the Civil War he visited the front as an illustrator and also documented military camp life. After the war he studied painting in New York and Paris. In the 1870s and 1880s Homer favored American rural genre scenes and worked in both oil and watercolor. He traveled widely and also painted in the Adirondacks, Canada, Bermuda, Florida, and the Caribbean.
In 1890 he began a series of Maine seascapes in oil that explore the elemental relationship between humans and the sea. These late works combine remarkable naturalism with a strong, simplified sense of design.
This painting was bought from an art and antiques fair, no further provenance is available.
Please ask all questions for before bidding.
artfakes.dk:
This amateur painting is the second Homer falsification within a week.
Take a look at the other one
---
Friday, 14 April, 2006, 12:11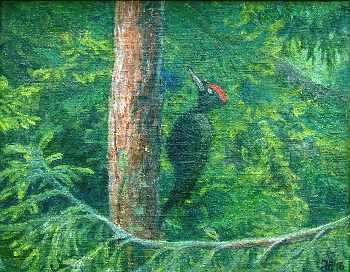 Watch this item
The seller: lauritz.com, Denmark:
Johannes Larsen 1867-1961 cd. Black woodpecker
Lot number: 713552
Description:
JOHANNES LARSEN Oil on canvas. Motif from Båxhult, Sweden with large black woodpecker in a fir-tree. Dim: 47 x 59 cm. Signed in monogram. J.H. 1916.
artfakes.dk:
WARNING! artfakes advises you to make a long detour round this Danish auction house.
Johannes Larsen (1867-1961) is one of the most famous Danish artists but in our opinion this painting is NOT an original work by him.
---
Thursday, 13 April, 2006, 00:00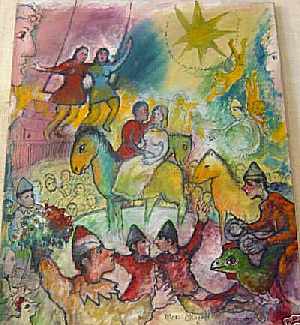 Watch this item
The seller, lady-frisko, MIchigan United States:
RUSSIAN FRENCH POST-IMPRESSIONIST OIL, Circus scene
Oil canvas, 28 3/4 X 23 3/4 inches, SIGNED Marc Chagall.
Please contact us if you have any questions.
All sales are final. Buyer must contact the seller within 3 days of auction end. We ship UPS. Attention foreign buyers; In the past some items have been stopped at customs and given additional charges and taxes. Should these occur, they are the responsiblity of the buyer.
artfakes.dk:
If you feel like buying a genuine painting by Chagall don't go for this. It's a FAKE.
---
Wednesday, 12 April, 2006, 00:00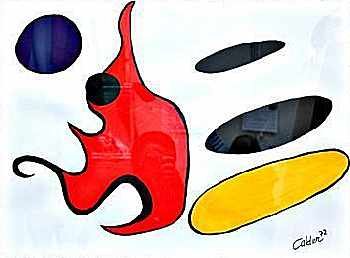 Watch this item
The seller, isoldit.ca0184, Alamo, CA 94507, United States:
ALEXANDER CALDER - ORIGINAL GOUACHE ON PAPER - NO RES!
artfakes.dk:
Signed Calder but not painted by Calder.
---
Tuesday, 11 April, 2006, 00:00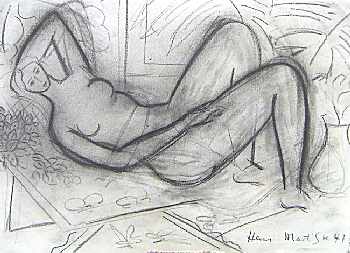 Watch this item
The seller, cubogall, Canada:
PENCIL DRAWING NUDE FIGURE SIGNED MATISSE WITH COA.
This is the auction of a wonderful scene of a beautiful nude girl, reclining on a pillow. The work of art comes with documents.
artfakes.dk:
Thousands of falsifications signed Matisse are for sale all over the world. This drawing is one of them.
---
Back
Next