Wednesday, 15 March, 2006, 14:30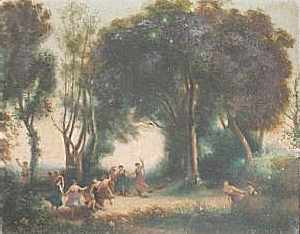 Watch this item
The seller, usa_time, München Germany:
Corot, Jean-Baptiste Camille 1850. From a private collection after about 80 years appear this painting , now on auction. It´s a rare and unknown Oil on canvas painting. Signed by Corot, or at least have this name in back. Original old frame and painting not recovered. Available more pictures via Email, good size.
artcult.com:
"Already in 1875, there were thousands of copies of Corot's paintings on the market not to mention that Corot himself had put his signature on many of those works that were submitted to him apparently because he felt honoured to be copied. One of Corot's imitators was Paul Désiré Trouillebert who was himself a good Barbizon painter".
"The numbers in the joke change frequently it seems, but it more or less goes like this:
Jean-Baptiste-Camille Corot painted 2,000 canvases in his life, 5,000 of which are in America".
artfakes.dk:
I'd be surprised if it wasn't a joke.
---
Tuesday, 14 March, 2006, 00:00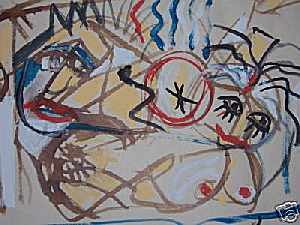 Watch this item
The seller, swimmingtropical, Delaware United States:
Rare original watercolor painting of a nude women signed Picasso. The painting is an abstract of what a first glance seems to be a man and a lady but the more examining of the art the more deeper it seems. The watercolor looks old and is in good condition measuring 8.5"x12" and comes framed as shown 14"x17".This art was purchased without paperwork so it is sold as attribute to Picasso due to its quality, style and characteristics, a Transfer of Ownership with the previous owner will accompany this piece.
I have sold numerous Pieces of Art and have a Perfect FEEDBACK SCORE, EXAMINE this GREAT Piece of Art for 7 days, if your not happy return for a FULL REFUND!
artfakes.dk:
Each and every day more than one hundred falsifications (signed Picasso) are to be found on the Internet, most of them at the Internet auction ebay.
This watercolour is just one single such item.
---
Monday, 13 March, 2006, 21:25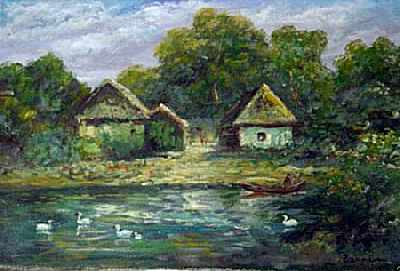 Watch this item
The seller, lady-frisko, MIchigan United States:
FRENCH IMPRESSIONIST OIL. Pond with Ducks
Oil on Canvas, the dimensions are 10" X 14" SIGNED Renoir.
Please contact us if you have any questions.
artfakes.dk:
All paintings offered by lady-frisko are fakes, painted by the same art faker.
---
Sunday, 12 March, 2006, 17:22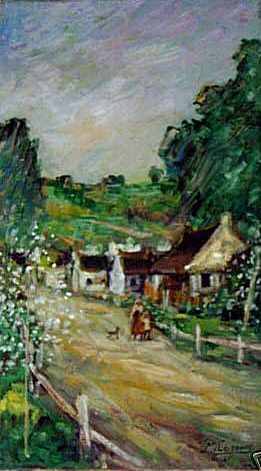 Watch this item
The seller, lady-frisko, MIchigan United States:
FRENCH IMPRESSIONIST OIL. Country Road with Figures
Oil on Canvas, the dimensions are 18" X 10" SIGNED P. Cezanne.
artfakes.dk:
Maybe signed P. Cézanne but NOT painted by the famous Paul Cézanne.
Just one more fake from the Michigan art faker lady-frisko.
---
Saturday, 11 March, 2006, 11:14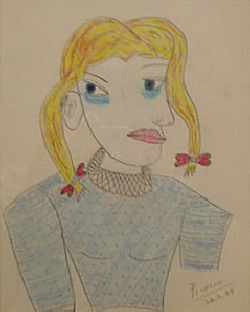 Bidding has ended
26 bids. Winning bid: US $860.00.
The seller, stylistlife, North Royalton, OH United States. Feedback: 100% Positive:
The provenance letter reads: "This Picasso drawing has been in my family since my father received it from Pablo in 1964 during an art show he was sponsoring. My father received a total of 12 drawings that day from Pablo and I believe he was going to publish them. My father died a year later and I have had them ever since. This piece is of a girl with blond hair and a purple shirt. She has two red bows in her hair also. This piece is dated 26.2.64 and appears to be drawn in crayon and pencil. Regards, Jörg H. Hanz"
artfakes.dk:
This lady with one arm was NOT drawn by Picasso. The seller's daughter did it seven years old.
The seller, stylistlife, North Royalton, OH United States:
We will only be taking bids from buyers with more than 97% positive feedback rating because of the high value of this particular piece.
artfakes.dk:
What a funny seller!
---
Back
Next