Wednesday, 15 February, 2006, 22:33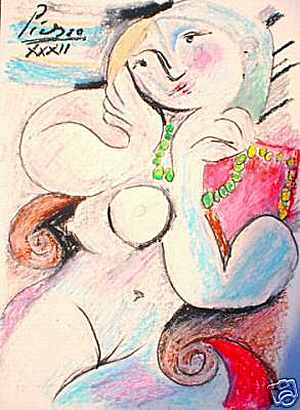 Watch this item
The seller, janine730, Hereford, United Kingdom:
It is drawn on cartridge paper - slightly marked on the reverse - but overall in excellent condition. Possibly a drawing of his nubile teenage lover Marie-Therese? An aggressive and sumptuous piece of work. Every vigorous stroke and stab of his pastel seems to speak of his haste to finish his drawing and sink himself into those voluptuous and fleshy curves !! I cannot guarantee the authenticity - unfortunately - because the work has lost its detailed provenance; but it was bought by my grandfather on a trip to Northern Spain, just before the second world war. The work will be sent unframed, as the glass is too likely to break and damage the work.
artfakes.dk:
Bought by the sellers grandfather!
We love these wonderful stories.
---
Tuesday, 14 February, 2006, 01:34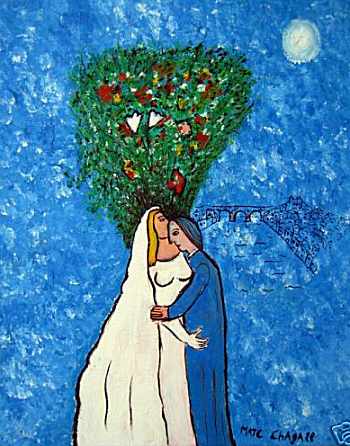 Watch this item
The seller, the well-known art faker, pavarotti1969, France:
I sell an incredible original painting on canvas signed MARC CHAGALL, that I have in my own collection for some time now. The painting is absolutely beautifull and represents a married couple with a Paris landscape on the background along the river. I will give to the winner a BILL OF SALE / PROVENANCE paper that I will sign and where I will indicate the name of the previous french collector from whom it was bought and the date of purchase. (PROVENANCE) For confidentiality reasons, I cannot state it on ebay right now.
artfakes.dk:
This "Chagall" is not the first falsification delivered by pavarotti1969.
---
Monday, 13 February, 2006, 00:53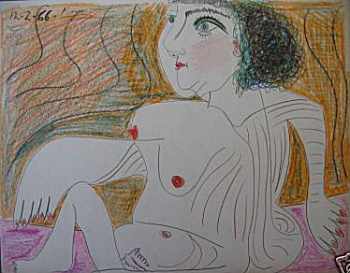 Watch this item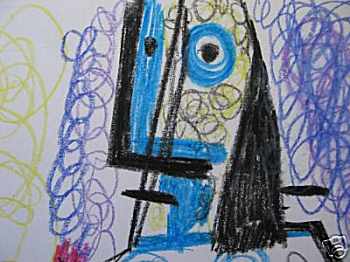 Watch this item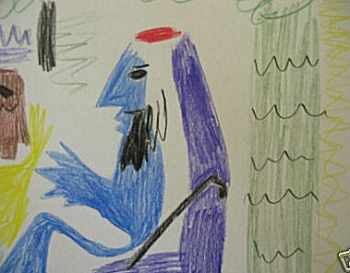 Watch this item
The seller, oceangallery, Kent, United Kingdom:
Provenance
These three drawings comes with a letter from the present owner detailing the provenance of the pieces.
The details are as follows:
These artworks were acquired by Louis Bucha of St.Tropez, France, in 1970 directly from Picasso. He was a friend of Picasso's. They were then gifted to Dr Pedro Vengas of Madrid, Spain in 1979. They were then gifted to the present owner Mr James Aldridge of Chelsea, London in 1986. This information was told to us by Mr Aldridge and he has provided the letter of provenance to give to the winning bidders. We will issue a transfer of ownership letter to the winning bidders.
The artworks being sold based exclusively on the aforementioned provenance without any other representations.
artfakes.dk:
One more time: NOT genuine works by Pablo Picasso. All three are FAKES.
---
Sunday, 12 February, 2006, 00:00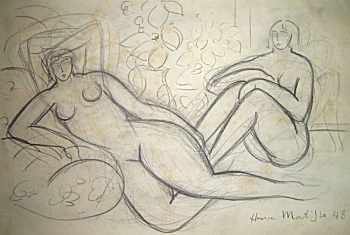 Watch this item
The seller, cubogall, Canada:
Pencil drawing nude figures signed Matisse with coa.
Henri Matisse drawing nude figures with documents.
artfakes.dk:
NO! NOT a drawing by Matisse.
---
Saturday, 11 February, 2006, 22:44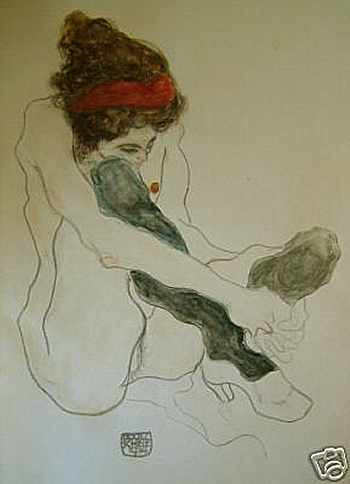 Watch this item
The seller, cubogall, Canada:
This is the auction of a nude figure, signed Egon Schiele and dated 1914. Media: Pencil and Gouache on paper. Dimensions: height 14.5 inches, width 10.5 inches. The artwork is professionally framed ready to hang. This item comes with COA and provenance.
artfakes.dk:
The provenance comes from the local bike-mender next door.
Nice girl, nice "copy" but NOT a genuine drawing by Schiele.
---
Back
Next