Wednesday, 14 December, 2005, 00:00
Watch this item
The seller.
:
El Greco (Saint Francis of Assisi in meditation)16th Century original oil on copper with original frame.
Approx 5" width by 6.25" height. Many oils by El Greco have been sold at Auction for: Saint Francis Kneeling $1,200.000.00 Christies Auction House USD . Saint Francis Standing $520,000.00 USD. House This Beautiful piece is being sold from a Private Collection. You can own not only an original oil on copper but one of just a few of El Grecos Finest. Respectfully less then a hand full of these exist.To own a piece of History is a wonderful thing, To own a Historical Item and artists painting is an unprecedented feeling. You will be envied by your fellow collectors.Painting can and will be sold to any Collector or Museum. Dont let this auction go by, it wont happen again. We reserve the right to end this Auction at any time, it is on the market so if the right offer is made this auction will end.
RCSCROLLS@AOL.COM
Our buy it now price is reasonable. All reasnonable offers will be consideredJust Contact us. Email
artfakes.dk:
Estimates:
The painting $100,00
The frame $500,00
---
Tuesday, 13 December, 2005, 17:07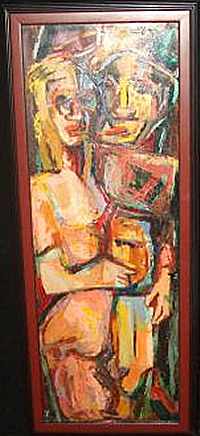 Watch this item
The seller, lvaughn100, Ft Lauderdale, FL, United States:
Asger Jorn-Danish Expressionist Oil Painting-CoBrA- NR
A DYNAMIC, ORIGINAL, DANISH EXPRESSIONIST, OIL PAINTING, VINTAGE, cobra PAINTING, SIGNED, ASGER JORN "TWO NUDES" 29" x 11" * OIL ON PAPER * EXCELLENT CONDITION * c1960 (?) C1960 * SIGNEDLOWER RIGHT * NEWLY DECORATOR FRAMED, NO RESERVE!
This dynamic, CoBrA School painting, features a stylized depiction of a nude female and male...who seem quite happy in each other's presence. Measuring 29"x11", oil on heavy paper, excellent condition, signed lower right. New, contemporary, wood, designer frame.
Consigned without documentation, from the contents of an abandoned storage unit sale. although we see the signed artist's name listed, we have not determined that this is the same individual. It is guaranteed to be an actual, original painting, and not any form of print or pouchoir. Why not add this viable work of contemporay art from Denemark, to your collection, now? Please see the other paintings from this lot, now auctioning on my eBay Seller's List? Thanks!
artfakes.dk:
This amateur work is not at all painted in the well-known Cobra style, and for that reason only far from an Asger Jorn painting. This you can also see from the signature. Take a closer look! It says V.S. be wary! This seller is a grotesque conman and an amateur too, not altering the signature, as do most of the conmen selling false paintings at eBay.
---
Monday, 12 December, 2005, 15:28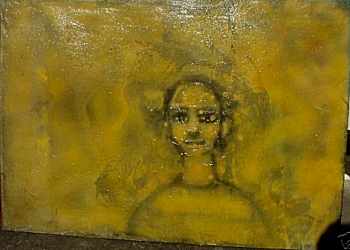 The front of the picture. The painting has nothing to do with Asger Jorn.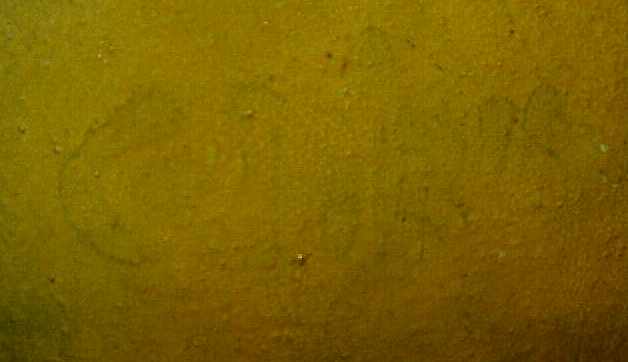 The signature but not a Jorn-signature. The name is something like C. Jiris.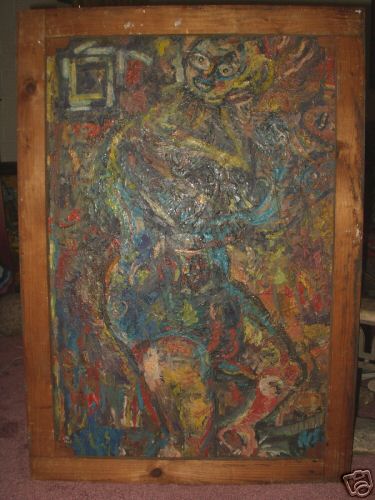 On the reverse you can see the above painting. But Asger Jorn did not paint it.
Watch these items
The seller: carsey1, Florida, United States of America
This is a very unique painting with art work on two sides. The face side is signed Asger Jorn (see photo for signature). The canvas has been cut and turned around with the original work on the backside. It has been glued along the edges not defacing the original painting as much as posible. It is starting to come loose a little bit on one side, this should not be to hard to get off the stretcher. I can see under the stretcher that the painting is to the edge in good shape. I believe this is the original stretcher for the original painting. I am not sure who painted the back of what looks like a women holding a kid? If you turn this painting upside down you will see another figure made from the original figure. If I was to loosen off the canvas i might be able to see if it is signed Jorn also. I want to think the heavier painted side is older than the otherside?
There is a slit about 1 1/2 inches in the canvas that is very hard to see because the painting is so heavy (it is down along the edge of the stretcher). This can be very easily fixed by a professional.
If I had to guess the age of the stretcher i would say 40's, 50's? The paintings on canvas measures 39 1/4 x 29 1/2.
I purchased this painting from a man that had come from london england that was an antique dealer there as he still is here in the states. He told me the history that he had bought the contents of a castle in torino, itlay and that the castle was called the torino castle. The agent of the castle was matta arte do not hold me to the spelling. I was shown the chandeliers in the sotheby's catalog that he had sold at sotheby's auction house in london in 1993 that had come out of this estate.
I figured that I will put it up for auction to see if I can get a fare figure for it. If not I will just have to do more research to obtain more provenance. If someone lives in the Torino,Italy area this would not be hard to do. If you need more photos or information email me at
paulnboys@verizon.net
.
artfakes.dk:
This awful picture is NOT an original artwork by the famous Danish Cobra artist but an original falsification. Can you sell it for one hundred dollars, then go on sell it right away.
---
Sunday, 11 December, 2005, 00:00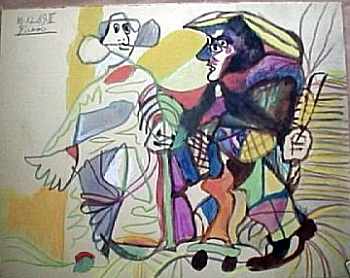 Watch this item
The seller, duke3003, eBay, Germany:
Highlights: This original Drawing by Pablo Picasso, one of the most greatest Artists of the 20th Century. The Dimensions are 32,5 x 41 cm. It is signed Picasso and dated 16.12.69 II and it is Crayon on Paper. This wonderful Motif looks as the Title says. This Drawing is very colourful, it is in good and old Condition and it has a red Stamp on the Back (unfortunately unreadable).
The COA (Certificate of Authenticity) is signed with John W. Steininger and a Value of 400.000 - 1.2 Million US$ and will be send along with the Drawing to the winning Bidder.
The Picasso Masterpiece will be professionally packaged.
artfakes.dk:
Picasso fake number five million.
---
Saturday, 10 December, 2005, 00:00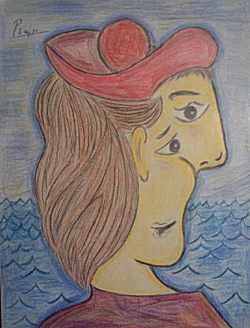 Watch this item
The seller, dav63128, USA, United States:
For auction is an original colored pencil drawing signed PICASSO that is offered with no reserve to the highest bidder in this auction. This drawing is GUARANTEED to not be a lithograph or print. It is a drawing done in colored pencil, and is signed PICASSO in the lower left corner. This amazing piece is in excellent condition. Its measurements are about 9 inches in width by 12 inches in height and is done on paper. This piece comes from an extensive collection acquired over the years, mostly from Europe. It does not come with any associated paperwork. This drawing is offered as attributable to the artist. BID WITH CONFIDENCE.
artfakes.dk:
This awful drawing has been made by the seller himself or maybe by his grandchild.
Read more about attributed
---
Back
Next