Friday, 14 October, 2005, 19:25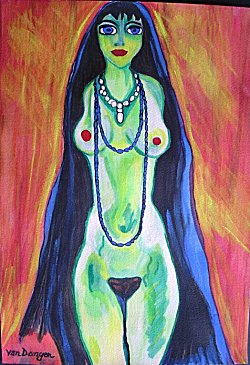 Watch this item
The art fake seller goldielox2:
Has come to me via my grandparents.
artfakes.dk:
Mr. Goldberg otherwise known as goldielox2 (how come I don't feel a sense
of "gildness" here?) is in full swing selling grandpa's false paintings.
His grandfather, Joseph Goldberg, was born 1881 in Russia. He died in the U.S.A. in 1946.
---
Thursday, 13 October, 2005, 13:14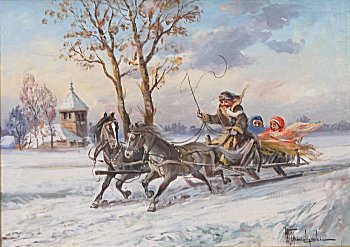 Watch this item from the Danish Auction House www.lauritz.com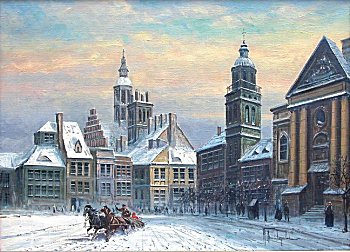 Watch this item from the Danish Auction House www.lauritz.com
Many auction houses are selling Wladyslaw Chmielinski forgeries. Chmielinski is one of the world's most used artists exposed to faking. The two paintings shown above are both falsifications. Just now they are exhibited for sale at the Danish auction house www.lauritz.com. The lower part of the paintings is indeed to be sold as a genuine Chimkinsky, but this is due to the fact that the auction house cannot read the Polish signature, which quite obviously one has tried to imitate as a Chmielinski. There is no painter by the name of Chimkinsky.
Read more about the Polish artist Wladyslaw Chmielinski
---
Wednesday, 12 October, 2005, 13:16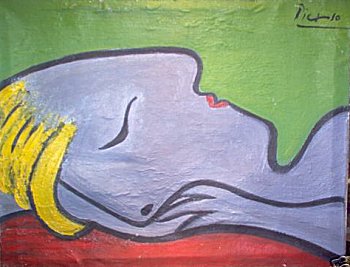 Watch this item
The seller:
This is oil on canvas painting of Maria-Teresa Walter...Picasso muse from around the year/s 1932. If you look up the paintings during this period of her resting/sleeping with the same tone, colors, psychology (hands covering the mouth) recorded. This one has managed to escape such recordings making it possible more valuable since there are not prints in reproduction of her. Being that she has NOT YET been cataloged there is no danger of conflict of ownership where she is concerned. She has seen better days and the pictures show where she was once framed and the canvas has been torn upon the removal of the original frame work.
Her story as I know it is that I obtained her on auction from a lady in the Philippines who bought her from a Russian estate (addresses of providence available to buyer…also important to note that Picasso was married to a Russian lady during the time of creation for this painting)…the lady in the Philippines said that she was afraid to go any further with her due to a corrupt government and that she was informed that if she were deemed a national treasure the government could confiscate the painting. Upon research, I accept this as adequate reasoning.
artfakes.dk:
Read more fairytales from this fake-art-seller, we're sick and tired of these for ever and ever going tiresome stories.
---
Tuesday, 11 October, 2005, 01:00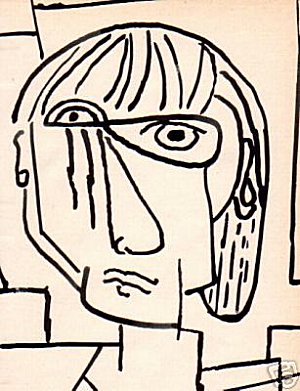 Watch this item
The seller:
This is an unframed, original old black ink drawing. (This is not a print of any kind).
It has been hand signed Picasso and dated in black ink in the bottom right hand corner. The size of the drawing is 150 mm x 240 mm. (5 3/4 x 9 1/4 inches)
artfakes.dk:
The seller: "This is the best I can do, learned it in the nursery school 50 years ago!"
The buyer: "Buying this item makes me a complete fool."
---
Monday, 10 October, 2005, 14:36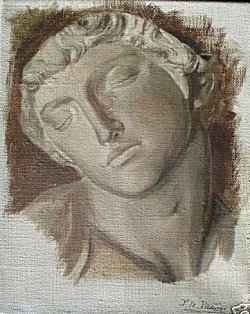 Watch this item
The seller goldielox2, United States, Member since May-15-99, Power Seller, Positive Feedback 100%
This original oil painting signed P R picasso depicts a study of the face of a statue. It is one of a number of paintings and drawings that will be offered for auction on ebay. Not a reproduction of any kind. There is no reason to go on about this great artist ...... Pablo Picasso. Certificate of appraisal reads as follows...... " it is rare to find a painting by picasso signed p r picasso". Circa 1899-1900((technically, at this point he was a starving art student (studying in cafes, not school)" -doing whatever he could to fund his trips between barcelona and paris." the painting was purported to have been brought from europe at or near the turn of the century. It is in good condition for its age.. It measures 19.75 inches in height and 16 inches in width. This oil painting is unknown and has been kept unframed and hidden away in storage for many years. This work, as well as a number of other works of varied artists, has come to me via my grandparents. Grandfather was russian born and traveled extensively as a violinist, and concertmeister for ballets, etc. There were many stories of him traveling and working with famous artists and musicians. As a practical matter this painting is offered as attributable to artist. Certificate of appraisal states "......market value of 1.5 million dollars and replacement value of 1.875 million dollars." have your own expert look before bidding. All auction results are final. Will go to the highest bidder. No reserve. Bid with confidence
artfakes.dk:
goldielox2 is a disreputable fake-art-seller and well known to eBay. Buy nothing from him!
---
Back
Next