Saturday, 14 January, 2006, 00:00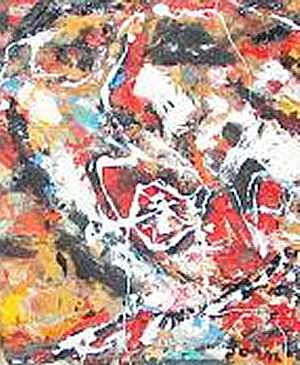 Watch this item
The seller, lvaughn100, Ft Lauderdale, FL, United States:
Asger Jorn-Small CoBrA Oil Painting-NR.
ORIGINAL, DANISH EXPRESSIONIST OIL PAINTING
FINE, SMALL OIL PAINTING ON CANVAS MOUNTED ON
MASONITE, SIGNED ASGER JORN. UNTITLED PORTRAT, c1966
9"X11" IMAGE SIZE * SIGNED * DATED '66
artfakes.dk:
This painting has nothing to do with the famous Danish Cobra painter Asger Jorn.
---
Friday, 13 January, 2006, 18:29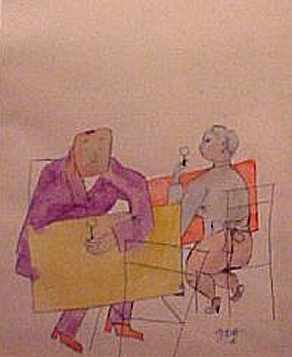 Watch this item
The seller, leelanauonlineauctions, Suttons Bay, Michigan, United States:
George Grosz Untitled Ink and Watercolor 1916 Framed NR.
artfakes.dk:
George Grosz did NOT paint this watercolour. It's far from his style.
---
Thursday, 12 January, 2006, 19:01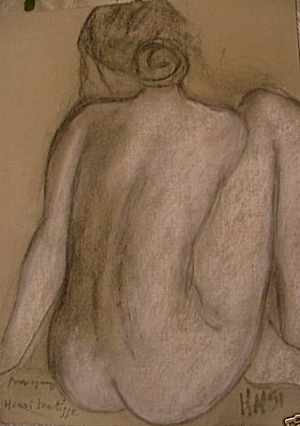 Watch this item
The seller, tune18899, United Kingdom:
RARE OLD ORIGINAL CHARCOAL DRAWING ON PAPER SIGNED HM51 (bottom right) & signed Henri Matisse (bottom left) with an inscription above the signature (cannot make out what it says). ORIGINAL DRAWING NOT A PRINT OF ANY KIND & IS HAND SIGNED. PURCHASED WITHOUT PAPERS/PROVENANCE FROM HOUSE CLEARANCE SALE, HENCE SELLING AS SEEN WITHOUT RESERVE.
artfakes.dk:
Did Matisse not do this drawing at eBay? Matisse number 2 000? Or didn't he?
---
Wednesday, 11 January, 2006, 22:29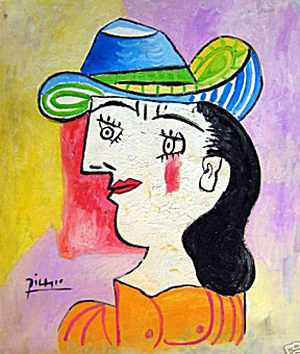 Watch this item
The ART FAKER, loveart2005, France:
I sell an incredible original painting signed PICASSO made on canvas, that I have in my own collection for some time now.
IT IS a genuine original piece. I am a serious seller, look at my feedback.
There is a stamp (on the back) coming from the shop where the canvas was bought.
I will give to the winner a BILL OF SALE / PROVENANCE paper that I will sign and where I will indicate the Antique place in the south of France where it was bought and the date of purchase. (PROVENANCE)
For confidentiality reasons, I cannot state it on ebay right now.
The size of the canvas is approx. 22x18 inches and is in fair condition althought some obvious signs of aging.
I would really appreciate Paypal payments since it is fast and easy.
I offer LIFETIME money back if the piece does not give you FULL SATISFACTION.
artfakes.dk:
"I offer LIFETIME money back"!
Don't trust this art swindler. You will never get ONE cent back.
If you buy this falsification taking it to be a genuine work of art you are an idiot.
---
Tuesday, 10 January, 2006, 00:30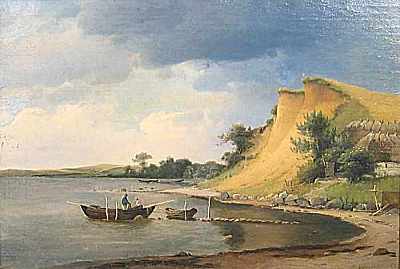 Watch this item

artfakes.dk:
The signature is very dim it doesn't say V. Petersen, but without doubt Wichfeld. The picture is painted by either Jørgen Wichfeld or by his wife Warenka Wichfeld. They both had a great affection for art. This is simply a copy, the work of an amateur and done in 1847 after an original work from 1847 by Vilhelm Petersen.
The seller, www.lauritz.com, Denmark:
Description:
VILHELM PETER CARL PETERSEN. Oil on canvas. Coast scenery with sunlit cliff and two fishermen taking care of net in a boat near the shore. Signed V Petersen 1847, on stretcher: "Tilhører Stamhuset Engestofte" (belonging to the Stamhus Engestofte). 46 x 68 (61 x 82). With fine craquelures and minor peelings along the left edge (see photo). Provenance: Originally belonging to the Wichfeld family, Stamhuset Engestofte on Lolland Falster and probably acquired by Jørgen Wichfeld (1800-1888). He had done a legal final university examination and had a strong interest for art and science, in particular in the area of history and archaeology. Especially his interest for the arts was shared by his talented wife Warinka Wichfeld, born Rosenkrantz. In 1967 the painting was sold at Brunn Rasmussens Auktioner (auction No 210. lot No 171) and it has until now been in private ownership. "It's not until the recent years that Vilhelm Petersen has stepped forward from the relative oblivion as an unknown painter of the 'Guldalder' (The Golden Age) into being on of the more important landscape painters in the Danish painting of the 1800s, ... his landscape painting can without difficulty claim itself among the later highly appreciated open-air painting of the period." Quotation Weilbach, of which one moreover can read more about Vilhelm Petersen and the bigger National Romantic works, this being a rare example.
artfakes.dk:
In Denmark the criticism is pouring down over the online auctions. On the 9'Th of January 2006, according to communication director Mette Rode, the auction house lauritz.com, dissociates itself (as one can read in the net edition of the Danish magazine Danish Computerworld) from auction places like eBay and Qxl.
She states:
"Lauritz.com differ from the above mentioned auction places by having its starting point within the traditional line of auction. Our role is that of the intermediary expert between buyer and seller in contradiction to the pure net auction places like eBay and QXL, where buyer and seller agree with one another without any safety for quality and value."
Yet real life shows quite a different view. The Internet part of lauritz.com has no experts, it follows naturally that they sell far from the quantum of false paintings that eBay does, but compared to the latter they actually keep it up pretty well with eBay. 10 false paintings have been revealed lately from lauritz.com. And today, on January 10 2006, artfakes is able to disclose the above shown painting as another falsification. The Danish painter from the golden age Vilhelm Petersen (1812-1880) did not paint this picture; it's a work of art by a much poorer painter. The value of the painting has deliberately and wrongfully been set to DKK 100 000 by lauritz.com, and this is actually more than 16 000 dollars!
Below the same motif can be seen, it's a genuine painting by Vilhelm Petersen. It should be possible for anyone to tell the difference by studying his way of painting as well as the composition as a whole.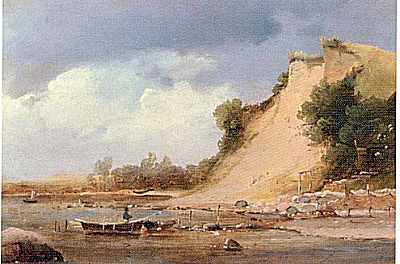 Sold at Bruun Rasmussen, Copenhagen, March 2005, auction 739 lot 1748, painted 1865, 19x29 cm.
Both paintings shown in a bigger size
---
Back
Next