Wednesday, 12 April, 2006, 00:00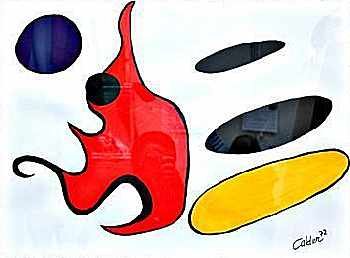 Watch this item
The seller, isoldit.ca0184, Alamo, CA 94507, United States:
ALEXANDER CALDER - ORIGINAL GOUACHE ON PAPER - NO RES!
artfakes.dk:
Signed Calder but not painted by Calder.
---
Tuesday, 11 April, 2006, 00:00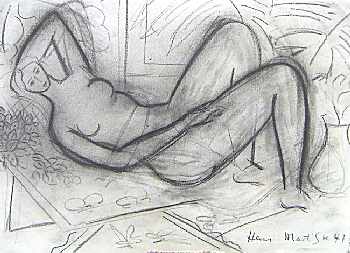 Watch this item
The seller, cubogall, Canada:
PENCIL DRAWING NUDE FIGURE SIGNED MATISSE WITH COA.
This is the auction of a wonderful scene of a beautiful nude girl, reclining on a pillow. The work of art comes with documents.
artfakes.dk:
Thousands of falsifications signed Matisse are for sale all over the world. This drawing is one of them.
---
Monday, 10 April, 2006, 21:55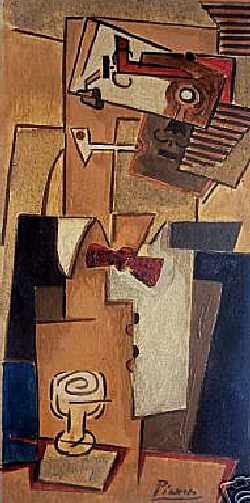 Watch this item
The seller, timber2120, Olathe, KS, United States. Feedback: 100% Positive.
Oil and Sand on Board
Man with Pipe
Approximately 30.5 cm tall, 16.5 cm wide
Owned by family member-but not much is known.
No paperwork when family member bought it, but taken to an art expert and received the following comment:
During 1914-1915 Picasso depicted the figure of a pipe-smoker in many of his compositions - see for instance "Homme à la pipe (Le fumeur)", "Homme à la pipe attablé", "Homme à la pipe attablé", "Homme à la pipe attablé, or "Homme" .
The painting is definitely interesting, and it has some of the characteristic features of
other works by Pablo Picasso such as the shapes of the glass - see "Verre, as de trèfle, bouteille sur une table" - and the pipe - see "Pipe, verre, boîte d'allumettes" . For instance, the simple, flat-color-panel depth representation clearly places the work after 1914.
Also, the constitution of the face as made up of superimposed clear-cut patterns is also frequently found around that year.
The glass properly corresponds to the abstract interpretation of the face, but the table it
rests on is left undefined and the area under the glass is not convincing either as a shadow or as saucer. Finally, while the corrugated-cardboard pattern of the face is quite common in works executed soon after 1917, the different planes do not show the harmonious relations of other works by Pablo Picasso.
The work is not a mere "copy" of an existing work and it has enough potential to be purchased as "attributed to Pablo Picasso".
A full study will probably tell more.
We don't have the proper paperwork or know the process to authenticate and need the money right now.
artfakes.dk:
It's a long story telling nothing.
If you must know: A genuine Picasso or not? You're free to ask Sotheby's, Christie's or all other well-known auction houses. If you own an original Picasso they'll probably kiss your bum...and on top of that you'll get 10-20 million dollars.
---
Sunday, 9 April, 2006, 21:35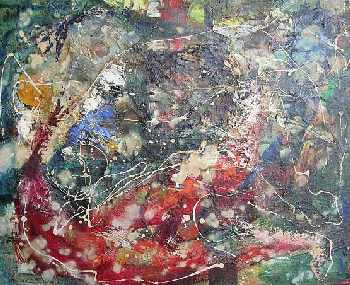 Watch this item
The seller, gallery-arts, Toronto, Ontario, Canada:
This painting is being sold as an attribution to JACKSON POLLOCK. Size is 16 x 20 inches, with ANCO BILT (Glendale, N.Y.) marked into the stretcher bars. It is my understanding Pollock used this company to buy supplies. The dating of the work can easily be assigned to the 1950's based on stretcher and canvas patina and type of paint used, which certainly is house paint, oil and enamel. Also the edges of the canvas are nailed into the stretcher bars. Tiny bits of crackling consistant with the age (1950's). The frame may not be period. When I was photographing the painting the signature was discovered - its certainly not obvious, I had not known it existed on the piece. Looks like a real Jackson Pollock, it is my understanding that at the moment there is no one, no committe to authenticate his work.
Provenance: New York City.
artfakes.dk:
"Looks like a real Jackson Pollock".
No it doesn't. Not at all!
Jackson Pollock is one of the most famous painters in modern American art but he doesn't paint like this.
---
Saturday, 8 April, 2006, 13:08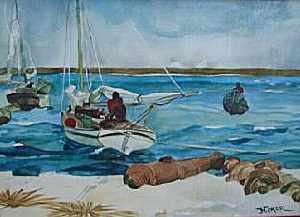 Watch this item
The seller, tophatventuresltd, Saugerties, NY, United States:
a Very Beautiful and Highly Important watercolor painting circa about 1900 of FIGURES IN BOAT AT COASTAL SHORE...CANNONS BURIED IN SAND....OTHER BOATS IN WATER -- has a signature on the front: HOMER.....[a National Academy artist]....WINSLOW HOMER a very well listed American Artist in Who's Who of American Art; Davenports Art Reference and Price Guide, and on Askart.com....artist is famous for doing this type of scene...the provenance of this piece is from a private New York collector..it is in EXCELLENT CONDITION with great colors...has a good vintage frame...the image size is a large 10 inches by 14 1/2 inches .... professionally matted and framed with the outer dimensions are 21" x 26";......I will sell this painting to the highest bidder at no reserve......buyer pays $25.00 postal priority shipping...QUESTIONS?????????.....E-Mail before bidding.
artfakes.dk:
See for yourself, here are some genuine works by the American artist Winslow Homer (1836-1910)
---
Back
Next