Friday, 9 December, 2005, 00:00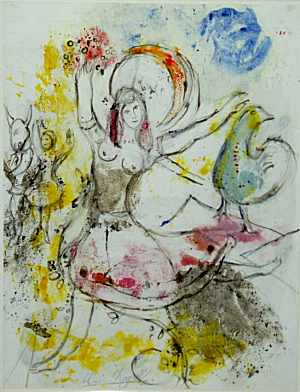 Watch this item
The seller, artsy7345, Illinois, United States. Positive Feedback: 100%:
Beautiful "Ballet Dancer" painting signed in the lower left "Marc Chagall".
Consisting of watercolor and graphite medium on heavy paper, this very special painting is symbolic of Chagalls passion for the Ballet.
Paper is in good shape and is nicely sized at aprox. 38.2cm x 30.4cm. Preserved with all archival framing and hinges with classic fabric matting and protective UV3 Plexi-Glass. Frame measures aprox. 62.3 cm x 54.5cm.
The "Ballet Dancer" painting was part of the estate of Mr. Terry O'laghlen, a retired geologist by profession. It was acquired by him at an art auction in Frankfurt, Germany, he recalled it between the years 1957 and 1959. I acquired the piece through a series of private auctions that were held to liquidate some of his fine art collection as a result of his retiring from Calgary, Canada to his new home in Ireland, his native country. Mr. O'laghlen was in his mid 80's when we purchased this lovely painting.
The original letter to us from Mr.O'laghlen will accompany the painting along with our own transfer documentation.
Health and retirement force the sale of this very special painting from our private collection.
Please remember that this is not a print of any kind, it is an original watercolor painting. Please ask all the questions you like. All sales are final. Thank you for having a look.
artfakes.dk:
Oh, what a fascinating Chagall falsification.
We love it!
---
Thursday, 8 December, 2005, 01:36
Watch this item
The seller, guada07, BOCA RATON FL, United States:
THIS FANTASTIC PAINTING (GOUACHE ON RICE PAPER) IS SIGNED "DIEGO RIVERA" REPRESENTS: "GIRL" VERY NICE COLORS. VERY GOOD CONDITION - UNFRAMED. UNFORTUNATELY I DON'T HAVE A CERTIFICATE . THIS PIECE WAS PART OF A LATIN AMERICAN ART COLLECTION IN PALM BEACH. BUT I CAN GUARANTEE THE PIECE IS OLD AND HAND MADE. I WAS SOLD 2 PIECES OF THE SAME COLLECTION AND I HAVE 4 MORE PIECES FOR SALE. LOOK THE QUALITY OF THIS WORK OF ART. MEASURES: 25" X 15"
artfakes.dk:
The seller guarantees that the painting is old and handmade.
We guarantee that the painting is an original falsification.
---
Wednesday, 7 December, 2005, 00:00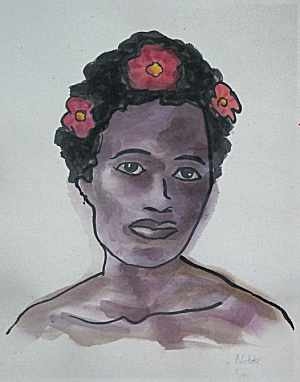 The sale has ended
Winning bid: US $400.00 (Reserve met)
The seller, rarefinearts , Hampshire UK, United Kingdom:
Original Watercolour Painting, Signed Nolde.
Here we have an original work in watercolour and indian ink on paper.
The drawing is signed in pencil to the lower right: 'Nolde'
The subject is of course a lovely portrait of a female with flowers in her hair. This may well date back to Emil Nolde's well-documented expedition to the South Seas in 1913 - 14.
artfakes.dk:
Take a look at original art works by Emil Nolde
---
Tuesday, 6 December, 2005, 00:00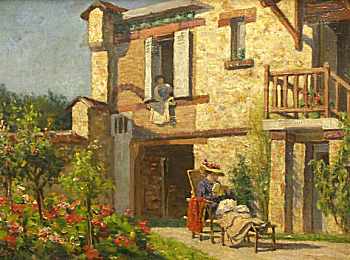 Watch this item
The seller:
BERTHE MORISOT (b1841-d1895) FRENCH - LISTED - ATTRIBUTED w/a Low Reserve. "IN MY GARDEN". PROVENANCE: From The Estate Of A European Collector. OIL on CANVAS: 10.75" X 13.75".
Read about attributed
artfakes.dk:
Take a look at genuine paintings by Morisot at The National Gallery, Washington DC
---
Monday, 5 December, 2005, 00:00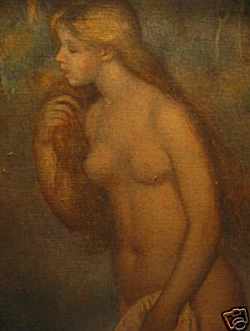 Watch this item
The seller, dvsonemiami, Sunrise, Florida, United States:
Renoir's Woman Bathing , Painting Oil on Canvas is in excellent condition - 81x60 cm - no signature. Part of estate sale in the late 1990's - offers of $5,600 were made earlier this year. Asking price 6,000. Various Antique items are; Pepper Mill Musical Boar'shead, Watercolors of Paris by Arno (set of 3 ).
artfakes.dk:
For the second time within a few days a Renoir falsification is offered for sale at eBay.
Take a look at the other one
according to the seller sold for $20,000,000.00.
---
Back
Next