Sunday, 9 April, 2006, 21:35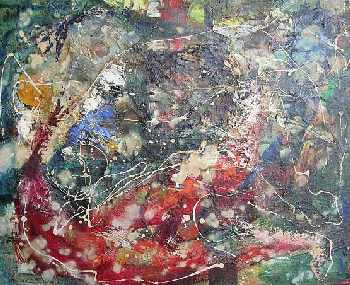 Watch this item
The seller, gallery-arts, Toronto, Ontario, Canada:
This painting is being sold as an attribution to JACKSON POLLOCK. Size is 16 x 20 inches, with ANCO BILT (Glendale, N.Y.) marked into the stretcher bars. It is my understanding Pollock used this company to buy supplies. The dating of the work can easily be assigned to the 1950's based on stretcher and canvas patina and type of paint used, which certainly is house paint, oil and enamel. Also the edges of the canvas are nailed into the stretcher bars. Tiny bits of crackling consistant with the age (1950's). The frame may not be period. When I was photographing the painting the signature was discovered - its certainly not obvious, I had not known it existed on the piece. Looks like a real Jackson Pollock, it is my understanding that at the moment there is no one, no committe to authenticate his work.
Provenance: New York City.
artfakes.dk:
"Looks like a real Jackson Pollock".
No it doesn't. Not at all!
Jackson Pollock is one of the most famous painters in modern American art but he doesn't paint like this.
---
Saturday, 8 April, 2006, 13:08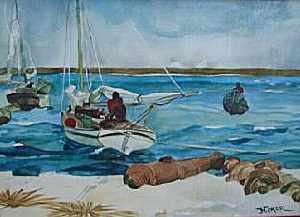 Watch this item
The seller, tophatventuresltd, Saugerties, NY, United States:
a Very Beautiful and Highly Important watercolor painting circa about 1900 of FIGURES IN BOAT AT COASTAL SHORE...CANNONS BURIED IN SAND....OTHER BOATS IN WATER -- has a signature on the front: HOMER.....[a National Academy artist]....WINSLOW HOMER a very well listed American Artist in Who's Who of American Art; Davenports Art Reference and Price Guide, and on Askart.com....artist is famous for doing this type of scene...the provenance of this piece is from a private New York collector..it is in EXCELLENT CONDITION with great colors...has a good vintage frame...the image size is a large 10 inches by 14 1/2 inches .... professionally matted and framed with the outer dimensions are 21" x 26";......I will sell this painting to the highest bidder at no reserve......buyer pays $25.00 postal priority shipping...QUESTIONS?????????.....E-Mail before bidding.
artfakes.dk:
See for yourself, here are some genuine works by the American artist Winslow Homer (1836-1910)
---
Friday, 7 April, 2006, 21:17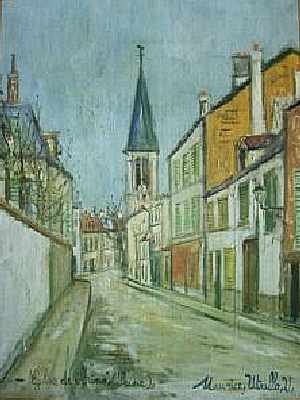 Watch this item
The seller, annemarie4013, East Meadow, NY, United States:
This is an original painting by Maurice V. Utrillo. It measures 22-l/2 x 28-l/2 inches. It is very well framed. It is watercolors on canvas. Signed by artist.
artfakes.dk:
Is it a painting or a watercolour?
And who has never seen watercolour on canvas?
---
Thursday, 6 April, 2006, 19:25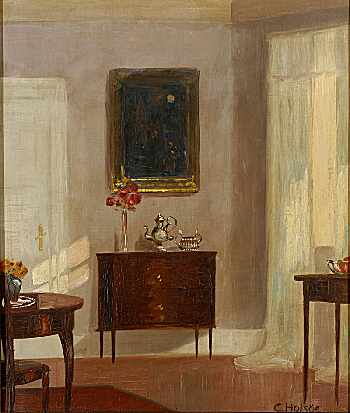 watch this item
The seller, northwest-spb, Solna, Sweden:
Interior Scene ca 1920s Signed Oil Canvas Dannish?
Work of Art
Title: Sunlit Interior
Creation Year: ca 1920-30ss
Technique: oil painting on canvas
Measurements (unframed): 40cm by 34 cm
Measurements (framed): 52 * 45.7
Style/subject: realism/impressionism/
Inscription: signed LR "C.Holsoe"
Condition: excellent, see enlargements.
artfakes.dk:
A Swede isn't ignorant of the famous Danish artist Carl Holsoe (1863-1935). Half his paintings are painted in Sweden.
This painting is a FAKE; the details are rather poor.
---
Wednesday, 5 April, 2006, 00:00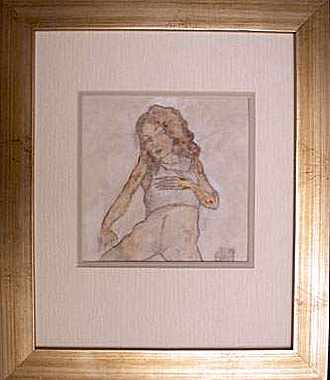 Watch the item
The seller, kreaita, Canada:
No Reserve Beautiful nude Signed Schiele. Watercolor
artfakes.dk:
Signed Schiele but not painted by Schiele.
This is clearly the work of an amateur.
It's a fake
The seller doesn't have a coa, he claims.
No! Of course he hasn't, this conman is trying to sell a fake.
Don't trust him!
---
Back
Next