Thursday, 6 October, 2005, 21:09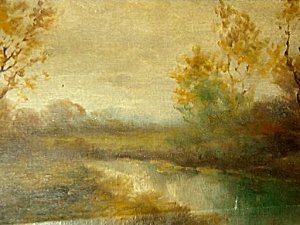 Watch this item
The seller:
19 century painting oil on canvas. By RING, Lauritz Andersen, circa 1890's. Some professional cleaning is needed. faded Signature but visable.
Ring, Laurits Otherwise, 1854-1933, template. *15.8.1854 i Ring, Hammer Sogn, †10.9.1933 i Skt. Jørgensbjerg ved Roskilde, urne i Roskilde (Skt. Ibs Kgrd.) Kaldte sig Ring fra 1881, navneskift 29.6.1896. Forældre: Husmand, tømrer, hjulmager Otherwise Olsen og Johan Andersdatter. ß25.7.1896 i Næstved avoided templates Sigrid Kähler, *12.5.1874 smst., †9.5.1923 i Skt. Jørgensbjerg, datter finished keramikeren Herman August K. og Jansine Elisabeth Christine Store.
artfakes.dk:
Very nice indeed to read Danish and English language mixed together.
But listen carefully: This painting has nothing to do with one of our most famous Danish artists L.A. Ring. Your painting is at most a 12-dollar picture, NEVER a 10.000-dollar painting - ever!
Read a funny story about L.A. Ring and Sotheby's
---
Wednesday, 5 October, 2005, 23:53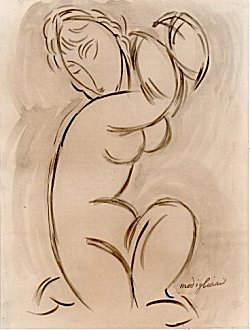 Watch this item
The seller: biddlet, Switzerland:
The drawing presently belongs to a European Private Collection and was purchased in Italy around the 1950's from a private collector, and has remained in the same family ever since. All history that is known will be provided to the winning bidder, please ask any questions during the auction process. The winning bidder should also be aware of the payment instructions below.
(THIS IS AN ORIGINAL DRAWING, NOT A PRINT OR MODERN REPRODUCTION)
artfakes.dk:
This ten-dollar drawing is a modern falsification
---
Tuesday, 4 October, 2005, 22:04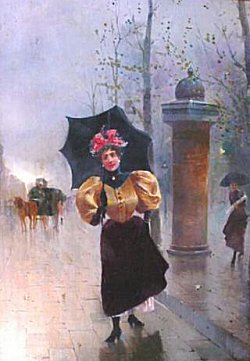 Watch this item
The seller:
The artist is very well listed. Jean Beraud (1849- 1936} Born in St. Petersburg Russia , in 1853 his family moved to Paris France. He's known for his Genre, Portraits, Interiors, Compositions, Paris, Cafes, Can Can & Nudes.This painting was purchased in a very fine Manhattan Estate Sale. The painting has not been researched or authenticated ,and therefore I am starting it very low priced to sell, no reserve.
artfakes.dk:
You are right! Jean Beraud is a very well listed artist.
But he did not paint this picture.
---
Monday, 3 October, 2005, 22:35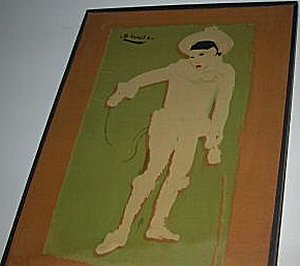 Attend to the sale
The seller:
Picasso Signed watercolor painting, authenticity unknown, burden of proof rests with buyer, figure of clown with whip, painted in orange and lime green background. Painting measures approximately 18 by 24 inches including black wood frame...some water damage in corner. Signature comparable to known Picasso signatures...
Burden of authenticity up to buyer to prove. Painting dating from early Picasso period I believe. Picture frame is of simple black painted form. Wood backing..
Last Picasso painting to sell at public auction went for over $100 million dollars! Highest amount ever paid for a Picasso....This may be another find!!
artfakes.dk:
Thanks to artfakes socially useful and untiring work we now hear different tones coming from the conmen's front row. Now it's entirely up to the buyer to proof identity (told twice!). He's got a nerve has he that salesman! And why do we need to know about the last sold Picasso painting for, as it has absolutely nothing to do with this home-made daubing? Oh yes it's Picasso signed all right, but Picasso didn't sign it, it's a fake, I'll eat my old hat to that. So you cannot earn a penny at eBay – you can only lose by buying this item. Don't even consider it!
---
Sunday, 2 October, 2005, 21:47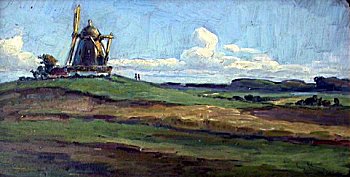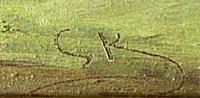 Attend to the sale
The seller:
Susanne Risom the leader of the Site www.gauguin.dk says the following about this painting:
Dear Preben,
It's of interest that you give the piece of information that one can see no Krøyer in the picture. I say: the clouds are very characteristic. As you well know he was sick at the time where he painted this picture. He probably steeled his way out from Middelfart Mental Hospital to walk around in the surroundings for the reason (among others) to pay a visit to the island Fænø from where this painting comes.
I've discussed the signature with several persons amongst those also Mette Bøgh Jensen, the museum curator at the Skagens Museum and should it be a fake one must say that it's an incredible good imitation. The letter K has a more distinct turn than usually seen by him but exactly this "turn" is so striking to Krøyer's handwriting in general. Furthermore it would harshly be such an insignificant picture that one should like to falsify if this was the case!
I certainly do not insist to be right – should the opposite arguments be weighty. But in this particular case I do not go along with you.
Sincerily yours
Susanne.
artfakes.dk:
Preben Juul Madsen, artfakes.dk:
Dear Susanne,
In my book Art under the hammer 2005 to be published on October 14, I write in the preface that Annette Johansen the curator at Skagens Museum is the most imaginative Museum curator ever seen. I probably also should have written that Susanne Risom is the most imaginative auction holder in this country. Writing on your part: "As you well know he was sick at the time where he painted this picture…"
I can tell you that I for my part am not at all aware of the time when Krøyer is supposed to have painted this picture, as you claim that I am. This you cannot tell from your visiting site. Moreover have I clearly declared that Krøyer did NOT paint the picture? He never painted in this ordinary way, he was a great artist and could never paint in this non-artistic and composition-like poor way. And speaking about the clouds in the way you do is plain rubbish talk. Krøyer did not paint the picture so you can put your wisecracks on all salaried and roughly connected employees at Skagens Museum. Not one single Krøyer signature that could draw any attention to the above mentioned is known. But in fact the signature is not important in this case, as the picture has nothing to do with Krøyer. You'll find no Krøyer signatures on any paintings, which do not come from him.
It's simply too bad that you can be duped so easily. When people cannot have their pictures sold at Bruun Rasmussen (www.bruun-rasmussen.dk) they can apparently have it at www.gauguin.dk or at www.lauritz.com, who sometimes can't tell a fake from a genuine painting, from which the crooks benefit. You haven't been able to reveal that some individual has put a false KDrews-signature on one of your paintings, which has absolutely nothing to do with Kai Drews (now erased from your site). The signature is a lousy imitation of the one seen in Tims signature book.
Best regards
Preben
---
Back
Next