Wednesday, 5 October, 2005, 23:53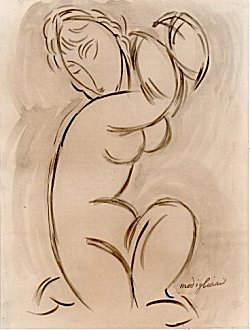 Watch this item
The seller: biddlet, Switzerland:
The drawing presently belongs to a European Private Collection and was purchased in Italy around the 1950's from a private collector, and has remained in the same family ever since. All history that is known will be provided to the winning bidder, please ask any questions during the auction process. The winning bidder should also be aware of the payment instructions below.
(THIS IS AN ORIGINAL DRAWING, NOT A PRINT OR MODERN REPRODUCTION)
artfakes.dk:
This ten-dollar drawing is a modern falsification
---
Tuesday, 4 October, 2005, 22:04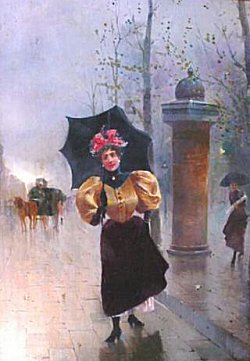 Watch this item
The seller:
The artist is very well listed. Jean Beraud (1849- 1936} Born in St. Petersburg Russia , in 1853 his family moved to Paris France. He's known for his Genre, Portraits, Interiors, Compositions, Paris, Cafes, Can Can & Nudes.This painting was purchased in a very fine Manhattan Estate Sale. The painting has not been researched or authenticated ,and therefore I am starting it very low priced to sell, no reserve.
artfakes.dk:
You are right! Jean Beraud is a very well listed artist.
But he did not paint this picture.
---
Monday, 3 October, 2005, 22:35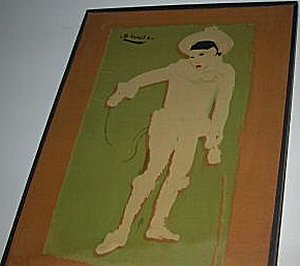 Attend to the sale
The seller:
Picasso Signed watercolor painting, authenticity unknown, burden of proof rests with buyer, figure of clown with whip, painted in orange and lime green background. Painting measures approximately 18 by 24 inches including black wood frame...some water damage in corner. Signature comparable to known Picasso signatures...
Burden of authenticity up to buyer to prove. Painting dating from early Picasso period I believe. Picture frame is of simple black painted form. Wood backing..
Last Picasso painting to sell at public auction went for over $100 million dollars! Highest amount ever paid for a Picasso....This may be another find!!
artfakes.dk:
Thanks to artfakes socially useful and untiring work we now hear different tones coming from the conmen's front row. Now it's entirely up to the buyer to proof identity (told twice!). He's got a nerve has he that salesman! And why do we need to know about the last sold Picasso painting for, as it has absolutely nothing to do with this home-made daubing? Oh yes it's Picasso signed all right, but Picasso didn't sign it, it's a fake, I'll eat my old hat to that. So you cannot earn a penny at eBay – you can only lose by buying this item. Don't even consider it!
---
Sunday, 2 October, 2005, 21:47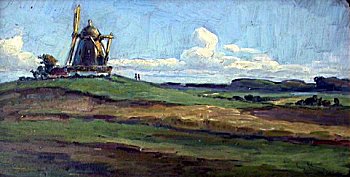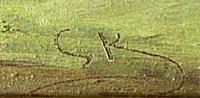 Attend to the sale
The seller:
Susanne Risom the leader of the Site www.gauguin.dk says the following about this painting:
Dear Preben,
It's of interest that you give the piece of information that one can see no Krøyer in the picture. I say: the clouds are very characteristic. As you well know he was sick at the time where he painted this picture. He probably steeled his way out from Middelfart Mental Hospital to walk around in the surroundings for the reason (among others) to pay a visit to the island Fænø from where this painting comes.
I've discussed the signature with several persons amongst those also Mette Bøgh Jensen, the museum curator at the Skagens Museum and should it be a fake one must say that it's an incredible good imitation. The letter K has a more distinct turn than usually seen by him but exactly this "turn" is so striking to Krøyer's handwriting in general. Furthermore it would harshly be such an insignificant picture that one should like to falsify if this was the case!
I certainly do not insist to be right – should the opposite arguments be weighty. But in this particular case I do not go along with you.
Sincerily yours
Susanne.
artfakes.dk:
Preben Juul Madsen, artfakes.dk:
Dear Susanne,
In my book Art under the hammer 2005 to be published on October 14, I write in the preface that Annette Johansen the curator at Skagens Museum is the most imaginative Museum curator ever seen. I probably also should have written that Susanne Risom is the most imaginative auction holder in this country. Writing on your part: "As you well know he was sick at the time where he painted this picture…"
I can tell you that I for my part am not at all aware of the time when Krøyer is supposed to have painted this picture, as you claim that I am. This you cannot tell from your visiting site. Moreover have I clearly declared that Krøyer did NOT paint the picture? He never painted in this ordinary way, he was a great artist and could never paint in this non-artistic and composition-like poor way. And speaking about the clouds in the way you do is plain rubbish talk. Krøyer did not paint the picture so you can put your wisecracks on all salaried and roughly connected employees at Skagens Museum. Not one single Krøyer signature that could draw any attention to the above mentioned is known. But in fact the signature is not important in this case, as the picture has nothing to do with Krøyer. You'll find no Krøyer signatures on any paintings, which do not come from him.
It's simply too bad that you can be duped so easily. When people cannot have their pictures sold at Bruun Rasmussen (www.bruun-rasmussen.dk) they can apparently have it at www.gauguin.dk or at www.lauritz.com, who sometimes can't tell a fake from a genuine painting, from which the crooks benefit. You haven't been able to reveal that some individual has put a false KDrews-signature on one of your paintings, which has absolutely nothing to do with Kai Drews (now erased from your site). The signature is a lousy imitation of the one seen in Tims signature book.
Best regards
Preben
---
Saturday, 1 October, 2005, 14:16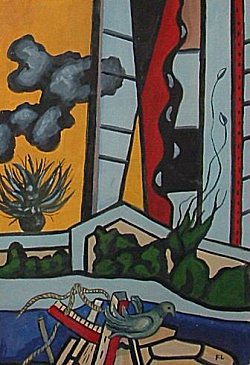 Watch the sale:
http://cgi.ebay.com/ws/eBayISAPI.dll?ViewItem&item=7354641279

The painting (shown above) is an original fake in our opinion from the notorious world-wide known fake-art seller Mr. Eric I. Spoutz from Detroit, Mi.
The seller, di-laurenti-auctions (private) Oviedo, Florida:
THE EXPERTISE FOR THE ARTWORK THIS EBAY AUCTION REPRESENTS, COMES FROM DR. ERNST SCHEYER:
Dr. Ernst Scheyer (Born: July 3, 1900; Died: December 4, 1985),was born and educated in Germany, where he received his doctorate in political science (rer. pol.) at the University of Freiburg, and his Ph.D. in Art History at the University of Cologne. Formerly professor of art history at Wayne State University in Detroit, he was also the assistant curator at the municipal museums of Cologne and Breslau, and honorary research fellow at the Detroit Institute of Arts. Mr. Scheyer's personal, professional, and research related documents are archived in the National Collection of Fine Arts: The Smithsonian Institution: Archives of American Art located in Washington D.C.
For additional information regarding Dr. Ernst Scheyer visit:
http://www.getcited.org/mbrz/10186453
Dr. Ernst Scheyer Authored the Following Books:
The Circle of Henry Adams: Art & Artists: Art & Artists;
Wayne State University Press, 1970. Author: Ernst Scheyer.
Biedermeier in der Literatur- und Kunstgeschichte. Mit Bildern schlesischer Künstler aus der ersten Hälfte des neunzehnten Jahrhunderts; Würzburg (Kulturwerk Schlesien) 1960. Author: Ernst Scheyer.
Breslau so wie es war; Vorwort von Grundmann; Droste, 1969. Author: Ernst Scheyer.
Lyonel Feininger: Caricature & fantasy; Wayne State University Press.1964. Author: Ernst Scheyer.
Eugen Spiro Clara Sachs; Delp, 1977. Author: Ernst Scheyer.
Breslau so wie es war. Ein Bildband. Vorwort von Günther Grundmann; Düsseldorf, Droste 1969. Author: Ernst Scheyer.
Das Eichendorff-Portr?t von Franz Kugler. Zur Problematik der Eichendorffdarstellungen. Aurora 1975. Author: Ernst Scheyer.
Hans Wildermann - Werkfolge. Regensburg, Bosse 1933. Author: Ernst Scheyer.
Schlesische Malerei der Biedermeierzeit; Weidlich, 1965. Author: Ernst Scheyer.
Die Kunstakademie Breslau und Oskar Moll; Würzburg, 1961. Author: Ernst Scheyer.
Schlesische Malerei der Biedermeierzeit. Mit 124 Abbildungen.
Wolfgang Weidlich, 1965. Author: Ernst Scheyer.
Lyonel Feininger: The Formative Years;
Detroit. Detroit Institute of Arts. Author: Ernst Scheyer.
ALBERT BLOCH (1882-1961).
University of Kansas Museum of Art, 1963, Lawrence, 1963. Author: Ernst Scheyer.
GERMAN EXPRESSIONIST PRINTS, DRAWINGS AND WATERCOLORS: DIE BRUCKE. Detroit Institute of Art, 1966. Author: Ernst Scheyer.
The Graphic Art of Rolf Nesch; The Detroit Institute of Arts, 1969. Author: Ernst Scheyer.
THE ARTWORK REPRESENTED BY THIS EBAY AUCTION WAS FORMERLY OWNED BY CELEBRITY, QUENTIN CRISP:
Quentin Crisp (December 25, 1908 – November 21, 1999), was a writer, artist's model, actor and raconteur known for his memorable and insightful witticisms who became a gay icon in the 1970s after the publication of his memoir The Naked Civil Servant brought to the attention of the general public his defiant exhibitionism and longstanding refusal to conceal his homosexuality. Singer, Sting, wrote the song "Englishman in New York" as a musical hommage to Crisp. [Credit: Wikipedia]
For additional information regarding Quentin Crisp, visit:
http://en.wikipedia.org/wiki/Quentin_Crisp
-------------------------------------------------------------
THE ARTWORK REPRESENTED BY THIS EBAY AUCTION WAS FORMERLY OWNED BY CELEBRITY, SUSAN SONTAG:
Sontag, Susan,(Born: January 16, 1933; Died: December 28, 2004), American writer and critic, b. New York City. She grew up in Arizona and California and studied philosophy at the Univ. of Chicago, Harvard, and Oxford. Regarded as a brilliant and original thinker and highly visible as one of the most prominent public intellectuals of the second half of the 20th cent., Sontag became known for her vividly written critical essays on avant-garde culture in the 1960s. Most of these were collected in Against Interpretation (1966), in which she popularized the word camp, referring to exaggerated reproductions of the style and emotions of pop culture. Her other works include short stories and such novels as The Benefactor (1963), Death Kit (1967), and the best-selling historical fictions The Volcano Lover (1992) and In America (2000). Her essays on radical politics are collected in Styles of Radical Will (1969). She meditated on the nature of photography in On Photography (1977), explored the ways in which disease is demonized in Illness as Metaphor (1978) and AIDS and Its Metaphors (1989), analyzed various modernist writers and filmmakers in Under the Sign of Saturn (1980), and reassessed her ideas on photography's relationship to human suffering in Regarding the Pain of Others (2003). Many of her short nonfiction pieces from the 1980s and 90s were collected in Where the Stress Falls (2001). Sontag also wrote and directed motion pictures, including Duet for Cannibals (1969) and Promised Lands (1974), directed theatrical productions, and was the author of a play, Alice in Bed (1992). [Credit: The Columbia Encyclopedia, Sixth Edition.]
artfakes.dk:
One out of several new false Léger-signed pictures with equally false certificates which the seller as often before wants us to believe comes from dead art experts, who would never in a lifetime dream of lending their names to the fraud that he persistently draws attention to.
The proveniences to well-known individuals are as much sham as are the pictures. The question arises once more: Why is it that eBay does absolutely nothing to prevent this fraud from happening? How come that no authorities like the F.B.I for instance seem to care? When do those people give the alarm? When will they stop this swindler from performing his shady task, the very person who bears the veil of the chameleon, who now calls himself di-laurenti-auctions, and who in our opinion is identical with the big-time crook Eric I. Spoutz, the very same individual who for many month now is playing his mean tricks on innocent, honest buyers?
---
Back
Next